Someone call him a legend, others a shock-rocker. The 69 years old rock 'n roll hero keeps leaving his fans wanting more and tonight it's no different. Alice Cooper is reuniting his original band for what will be a brilliant gig we won't be able to forget easily. In the 70's he could have been compared to a modern Marilyn Manson for his controversial music and performances but today his on stage theatrical skills mixed with legendary music represent a constant winning formula for this artist who succeeds to fill every arena and is constantly at the peak of his success.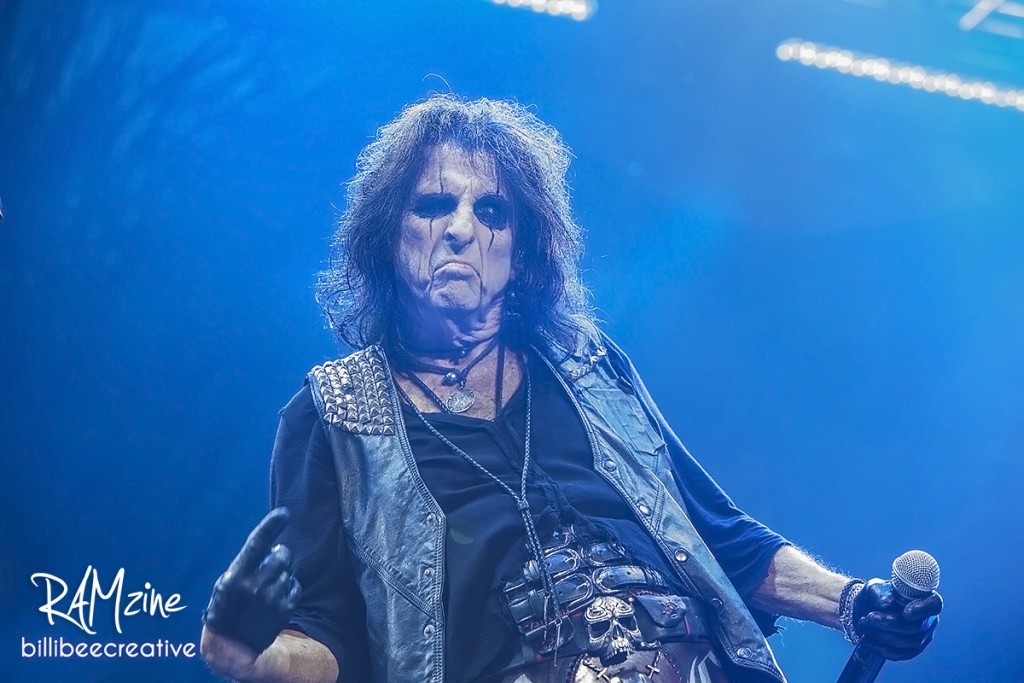 When the curtains fall the backdrop shows a macabre face with panda eye make up. Here comes a first-class talented and youngish band and of course the main man himself appears to his fans – Alice Cooper dressed in leather and standing on a small raised platform. And thank goodness for that podium! Unfortunately the only down side of the night must have been our allocated seats at the very back of the venue from where it was almost impossible to see the whole pantomime very clearly. This glorious entrance was accompanied by the notes of 'Brutal Planet' which anticipates what will be the very start of this horror and eccentric show filled with blood, guillotines, dead dolls and of course several outfits change.
His band is made of greatly skilled musicians that don't want to be and ultimately are not in anyway overshadowed by the king of horror. I am quite sure that if Cooper is still known for putting up one of the best live gigs in the business, part of his favourable outcome is also due to these guys. Drummer Glen Sobel doesn't miss a beat and his powerful energy shines throughout the whole show. Chuck Garric, on bass who is also known for his collaboration with Ronnie James DIO, keeps slamming every chord and gives away powerful energy from start to finish. And who can forget the three brilliant guitarists Ryan Roxie, Tommy Henriksen and Nita Strauss! Each of them earned their spots and succeed to keep the spotlight without having to fight for it and performing fascinating solos while making each song even more special thanks to their unique involvement. Together they never fail to show their row, heavy but still very tight sound and that's what helps Alice's feast to become even more extraordinary, if that's possible. In fact their frontman is this indispensable conjunctive piece that gives the machine that extra push in order to work at its best. Cooper acts like the principal conductor of an orchestra and his theatrical concept always rewards him with great accomplishment and triumph because this man, despite his age, doesn't slow down for a second and never ever have lowered the bar since 1971.
Strauss represents the pride of all women in the current rock 'n roll scene as she is the only female in the band, and even Alice seems to be prone to share the public attentions with her. It's impossible not to be impressed by her impeccable guitar solo between 'Woman of Mass Distraction' and 'Poison'. What a killer performance, no one in the audience was able to take their eyes off this kicking ass musician! By that time I was lucky enough to have met someone I knew from production and so I got to enjoy the second part of the show side stage and the difference was quite clear! It was great to experience the whole macabre pantomime from such a close spot. During 'Feed My Frankenstein' Alice got electrocuted and emerged in the shape of a 12-foot monster. 'The Ballad Of Dwight Fry' saw the entrance of the infamous guillotine who keeps appearing since fifty years and here's another surprise. The nurse who usually comes to rescue Cooper tonight is actually his wife Sheryl taking over Calico's job. In two hours he performed some of his best songs, and having such a vast back catalogue I have to say this was overall a great selection of a set list with some rarities and astonishing new tunes put in the middle.
The second part of the show saw the original band finally reuniting on stage together with Ryan Roxie who never left. They start this amazing throwback display of talent and flamboyance with 'I am Eighteen' in which Alice is dressed in matching gold sequinned blazer and trousers. Then they continue with 'Billion Dollar Babies', 'No More Mr. Nice Guy' and 'Muscle Of Love' all executed perfectly and with full support of their audience that is now unanimously singing while standing up from their seats. Literally everyone is living for this moment and actively participating to the fun. The set closes with 'School's Out' which terminates in 'Another Brick In The Wall' from Pink Floyd. Multi coloured confetti and balloons are thrown to the crowd and every single person in the public is left satisfied and also quite honoured to have witnessed such a great spectacle and a rare re-union many of us have been waiting for a long long time. Tonight demonstrates once again why Alice Cooper will never stop being one rock 'n roll milestone we can't enough of.