Post-hardcore melody makers Dreamshade will make their debut UK appearance this March, starting in Manchester on the 21st, ending in London on the 26th. We spoke with Kevin (Vocals) and Fella (Guitars, Vocals) for a pre-tour catch-up.
RAMzine are loving your new album Vibrant. What made you go with the theme of reflecting upon relationships?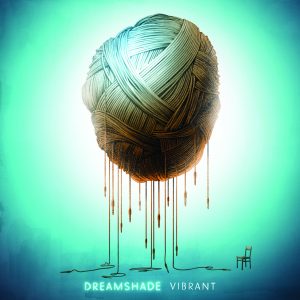 Fella: We always had very deep and personal lyrics in every album, but felt that the average listener didn't pay much attention to that. With this new album, we wanted to give the listener the opportunity to have a deep look into our lives. We opened up and those lyrics are what came out. Pure, simple, and real emotions.
I was intrigued by the cover image, what's the story behind it?
Fella: For this artwork, we wanted to work with Nevercrew, a great artist from our city. They have been doing awesome graffiti all over the world, you can check them out here: http://nevercrew.com/
The cover represents a huge mass of Jack Cables that is floating thanks to the vibration of the sound. It symbolises the power of the music itself. Even when you have a heavy weight on your shoulders in your life, music will always be there to lift you up and overcome the hard times!
Personally, I love every track on the new album. But 'Dreamers Don't Sleep' is the holy grail! Tell us about the track…
Kevin: It's a song with a huge potential and we have immediately seen it as a hymn for our fans, that's why we call them 'Dreamers". This one is about following our dreams and keep believing. We must not give up on something just because we are afraid of not succeeding. Sometimes the most important goals are also the hardest to reach and it doesn't mean that we should stop trying. Our everyday choices, big or small, determine our future. We must have the courage to make mistakes and to be able to raise and continue to fight for what we believe in.
We first came across you when you released The Gift of Life in 2013, the first track that we heard was 'Photographs'. You have always played with such melody, it certainly stands out as the Dreamshade style, has that always been the goal? 
Fella: Ha! Yes, Melody has always been our main point. It is the reason why we wanted to make music in the first place. When we started this project 10 years ago we noticed that most of the other bands at that same age were trying to be the "Heaviest" on the market, you know with Breakdowns, pig squeals, low guitar tuning and stuff like that.
We didn't want to sound like everyone else or be part of a wave. We just wanted to be associated with great melodies and emotional songs that people can relate to. I think Vibrant shows many abilities of the band that have never seen light before but most of all it shows the importance we gave to vocals and lyrics.
What was the story behind not re-signing with Spinefarm Records/Universal Music? How are Artery Recordings treating you?
Fella: Our contract with Spinefarm was meant to be for two albums, so it ended after the release of The Git of Life. Both of the parties didn't want to renew the contract so here we are with a new label. The best thing about Artery, in my opinion, is that they have been fans of our music for a long time before signing us. When both partners (band and label) are excited for a product then everyone will do their best to really get things moving.
You have your UK tour coming up this month! We are very excited to see your live performance. This is your first time playing here, right?
Kevin: Yeah it's our first time in the UK. We are super excited and can't wait to be there! I'm sure it will be a great experience and a lot of fun. For years, we have been waiting for the opportunity to play in your country and now we finally have the chance. We want to give our best and take advantage of this new adventure!
Are you excited to visit any particular part of England?
Kevin: WOW! There is so much to visit and learn from your country but I don't have a part in particular that I want to visit and I don't want to plan anything. I want to let myself be surprised by anything and I want to take advantage of it as much as possible and find out all I can do during those days. Maybe you can suggest some place we just can't miss?
Well, there is certainly a lot to see in London! Buckingham Palace, Big Ben, Westminster Abby. Although you simply must explore Camden, it's a hub of alternative culture.  
Fella: I've only been to London a couple times in the past but never actually played there. I'm really excited to see every city we are going to and most of all to meet the English and Scottish crowds for the first time!
What is it that drives you to make music, as a band?
Kevin: The ability to communicate with people. I think that music is a way to speak. We're talking about us or situations that we live on our skin every day. I also find it a way to make our listeners feel that we are real and not just musicians who they can see just on the stage or in some pictures, you know? We want to create a bond with them and make them feel close to us as a big family. It's very important for a band to give a certain type of stimulus and message, especially to future generations. We want people to feel part of what we're doing.
Is there a message that Dreamshade promote?
Kevin: Sure! Be "VIBRANT" in everything you do in life! 😉
Fella: Haha yes, and also this: Metal doesn't necessarily need to be dark and angry. We're trying to show that it can also be Energetic and Positive. We want our listeners to be hopeful when they listen to our music :).
Would you like to tell us anything else?
Kevin: We are looking forward to playing in the UK, smash the stage and party hard together! See you soon guys and thank you very much!
Fella: Those who met us in the past know that we LOVE to meet our fans and make new friends at our shows, so if you see us around the club just come meet us and let's have a Pint together! 😉