The Living End are an Australian punk rock band, which formed in 1994. Since 2002 the line up consists of Chris Cheney (vocals, guitar), Scott Owen (double bass, vocals) and Andy Strachan (drums). The band rose to fame in 1997 after the release of their double A-sided single, 'Second Solution' / 'Prisoner of Society' which peaked at No. 4 on the ARIA Singles Chart. The Australian punk rockers will also be taking to the stage in support of Green Day on the 1st of July. The trio is gearing up for the BTS show in Hyde Park with a tour of their homeland in March before bringing fresh material to the UK from their brand new album Shift (out May 13th). Crowds can expect exciting new tunes to combine with classic fan favourites 'Prisoner of Society' and 'Roll On'.
Chris Cheney has kindly answered to our questions about the new album and their imminent and future plans with the band.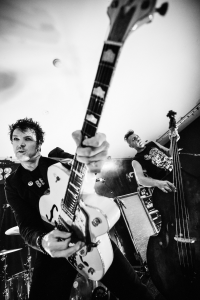 What are you currently up to with the band?

We are busier than we have been for a few years. It's great. We released our seventh album last year and have toured it in Australia twice and the US twice. We have another US tour coming up and of course we are so excited to be coming back to the UK again. It's been too long between visits. We're also going to some places in Europe we've never been before.
How's things since the release of the new record 'Shift'?
Things are great within the band. We're like brothers. We think that some of the live shows we have done recently are our best. There's more fire and energy than ever and obviously a wider choice of songs to pick from for the set list.
This new album is a favorite of ours although it wasn't an easy album to write. Lots of blood sweat and tears went into it but it was well worth it.
How would you describe it?
Dark, tough, ballsy, melodic and deeply personal. It has loads more energy than our last two albums and it feels like it has a lot more in common with our second album Roll On. There's a depth and emotion to some of the tracks that we could never have achieved on our earlier records when we were younger. We dug deep and feel we made our strongest collection of songs.
What's different between this album and the previous ones?
We captured an energy that the last album didn't have. It's textured but it sounds tough and gritty. The songwriting took a long time, I tend to really labor over parts and am relentless in trying to extract the biggest hook I can out of a song. I reckon we have a lot more in common with Oasis than we ever had with say 50's roots music which I think is what we're probably known for. We are a song based band, the riffs and energy come after we have the songs.
Are you guys excited to come to the UK and play at this huge BTS show?
Yes, very!!!! How could we not be? We have a long history with Green Day so it's wonderful to be on this bill playing with them again. They've just gone from strength to strength. We also love the other bands playing, like Rancid and The Hives and The Damned! It's a truly special opportunity to be on this kind of gig. The living End in Hyde park!? Who would've ever thought!
You are going to share the stage with Green Day and you guys have got history with them, how do you feel about it?
See above! They were the first international band to ever give us a support spots and we signed to their label for 2 albums in the US. They've always been such great supporters of TLE. They're a kickass band for sure.

Any other tour or festival you are looking forward to?
We're playing in Barcelona for the first time which will be great fun. Germany is always a good time as we get to see our old mates Die Toten Hosen who are an amazing band, biggest band ever over there!!
Also we are doing some US dates with Aussie legends Midnight Oil later in the year. Oh, and we just announced some UK shows in June with our friends from Boston, Dropkick Murphys. Make sure you come out for those gigs, they're going to be some huge nights. So many cool shows coming up. Twenty years later we're speeding up, not slowing down!
How do you guys cope with all the constant changes in the music industry? Do you think you are still the same or did you have to adapt in a way?
We had to get our head around the internet and downloading etc because it didn't exist when we first started but you gotta move with the times and take it all in your stride, you also just gotta focus on writing good songs. That's the bottom line. Songs first, everything else second.
What are your imminent plans?
Get on a plane, have a couple of whiskeys, pick up a guitar and rock the shit out of the UK. Sounds good right?
What would you like to say to your fans in the UK?
Top of the morn Guvnor! No actually, I'd like to say we're sorry it's taken us so long to get back but we are on our way and we will make it count. Can not bloody wait.