Hard rockers are the best fans in the world.
This is the widely held view that buzzes around the Boston Music Room in London on this, one of the hottest nights of the year. It's a night that we can almost certainly guarantee will be one of only a handful of such evenings that we're likely to see this summer.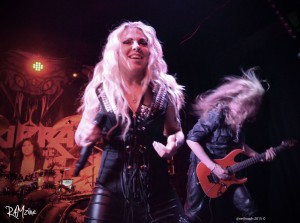 And why are we here? Why are we in this blackened upstairs pub room, on such a rare and sultry English evening? To see one of our favourite metal bands in the world, that's why. Forget sipping sweet cocktails on a sunny terrace. Heavy rock is serious stuff. And we are here to engage with it. We are here for the Kobra and the Lotus show. Let's be honest, this band have made it all the way over from Calgary, in Canada to entertain us here in North London. And we are truly excited to see them. The electric buzz of anticipation nearly kills us when when KATL finally step to the stage.
The guys have been busy recording and promoting their "Words of the Prophets" EP. It is a collection of cover-songs ( you should check out "Black Velvet" BTW, originally performed by Alannah Myles — it is wild.)
When the classical singer and High Priestess of Metal arrives on stage, the crowd are uncontrollable. Kobra Paige is the epitome of stage-cool. With swaggers and audacity she commands the London stage. It is difficult to remind yourself that Kobra is actually quite diminutive in size, petite even, but she assumes full authority and stage-mastery. Yes, she is a goddess.
The crowd were crazy for songs like 'I Am, I Am', which is quite a complicated number, yet fuelled with accurately accelerating guitar-work and with perfect percussive artistry.
This song provided several opportunities for Kobra to reach those stratospherically high notes that she is famous for — she ranks, easily, as one of the world's finest metal singers.
'Hold On' has simmering guitars. These burn like a cauldron of fire under those zealous, lively vocals. Here, Kobra commands and insists one moment, before appeasing and conciliating the next. It is rock on an operatic scale.
And the supporting cast of musicians are on excellent form: The blond demon-guitarist besides The Priestess is Jasio Kulakowski [gosh, he reminds us of Johnny Winter] and twinned with him [yet contrasting in every way] is the vampire-black haired Bill Hudson. And Brad Kennedy, the Furious Crusher is on bass guitar. God, he is thumping good too!
The excitement at the Boston is palpable. And even though it's crazy-hot, the crowd go wild. And why not? This music is pure, unbridled excitement.
A nitrous blend of super-excited battle cries and wonderfully symphonic metal. The High Priestess battles and wins over assorted wraiths, under-lords and various hordes of imagery brought to us through the KATL songs… It's all scintillating stuff… With marching beats, battle-ready choruses, and so many flaming licks of guitar they eventually spit out into the night air like dragons breath.