It's late into a damp Wednesday afternoon. I've bombed it from work to Bournemouth to get to The Old Fire Station just in the nick of time. A tall, smiley gent opens the door and introduces himself as the tour manager. He is terribly sorry, but the boys are running a little late due to a heavy night last night, could I please come back at 7pm? Music to my ears; 25 years on and Skid Row can still bring the party.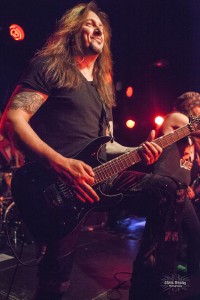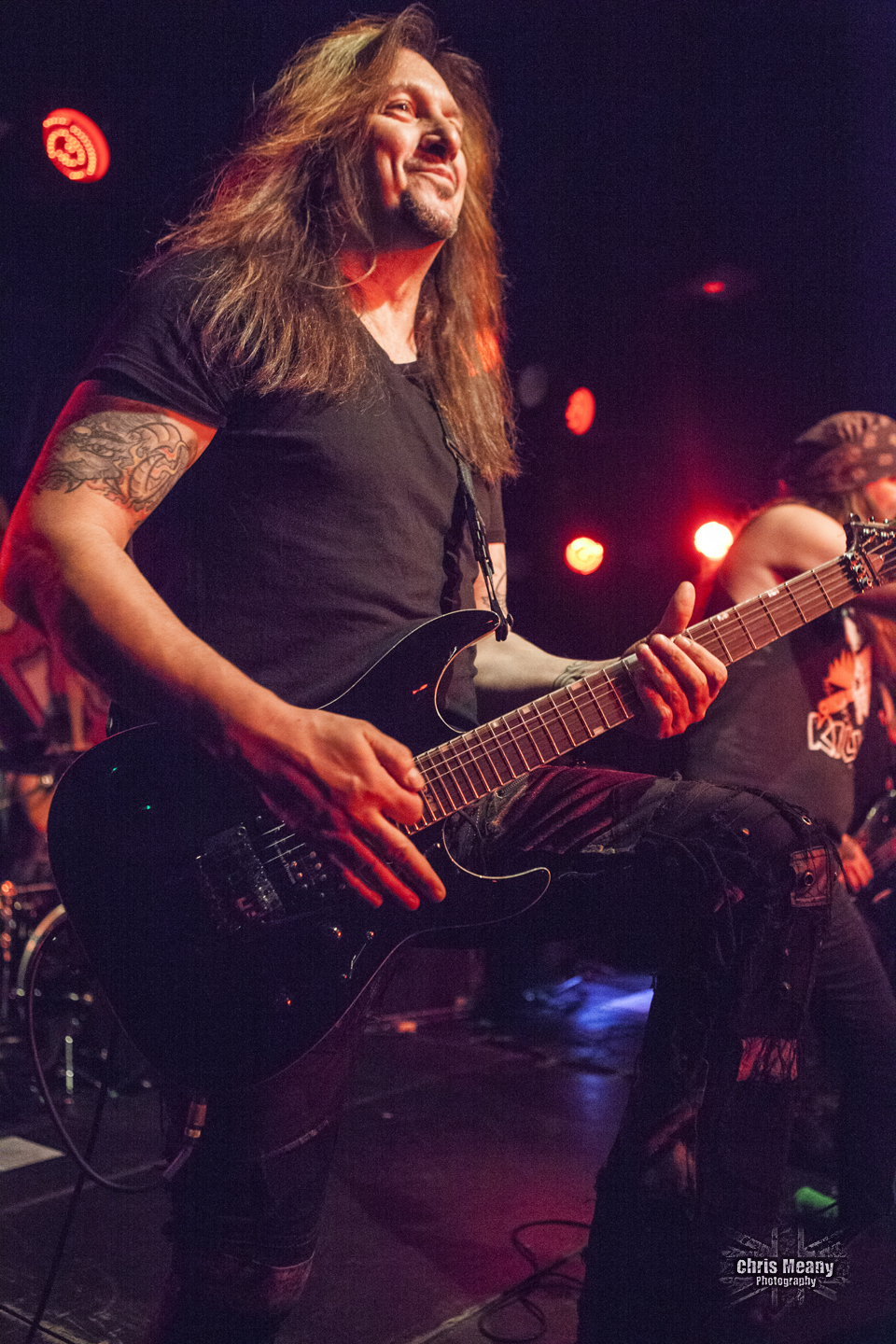 I returned tentatively at the specified time after being fed & watered by local mates, and heard that the boys were almost ready for us. Waiting near the open doors, watching the queue form, the age range of those waiting patiently in line struck me suddenly. How often do you go to a gig where there is a pretty even mix of those who could be your Dad, your Grandad, you, or your younger sibling? I'm going to guess at not often, but that's exactly what Skid Row had waiting for them. Exactly why became obvious in the opening bars.
From the very second they opened, Skid Row lit up the stage with a raw energy which was reflected straight back at them by the highly charged crowd. From the start people were squeezing to the front, jumping, head-banging and grinning their faces off. 'New' singer Johnny Solinger (in the band a meagre 15 years) wasted no time, going straight into 'Let's Go', followed by a minimal amount of chat, but just enough to hype the congregation into even more of a frenzy before rapidly throwing himself straight into the classic 'Piece of Me' which sent everyone completely mental. By the second chorus the crowd had taken over the singing and the band were sharing fleeting glances with each other looking completely stoked.
Alternating old and new, next on the set list was 'Give It the Gun' from Rise of the Damnation Army Chapter Two of the United World Rebellion EP trilogy. The majority of the crowd seemed familiar with this offering from the latest release. The majority of this audience clearly weren't just here to see the hits, these were Dorset's Skid Row lifers. By this point the crowd were putty in Solinger's hands, and ever the craftsman, he kept them going like a kid with a bucket full of E numbers all night long.
Next, the room went momentarily weak at the knees for the opening chords of 'Eighteen and Life', as lighters waved in the air and the audience swayed almost in unison. Solinger climbed the barrier to be close to the crowd and share the vocals with them, himself occasionally grinning like a nutter at the intensity of the room. This was followed by Kings of Demolition, another well received newbie, and a good opportunity for Snake, Scotti, and Rachel to show off their enviable talents with something a bit different. By this point the while room is bouncing to the kick ass drumming of Rob Hammersmith as he throws Psychotherapy into action.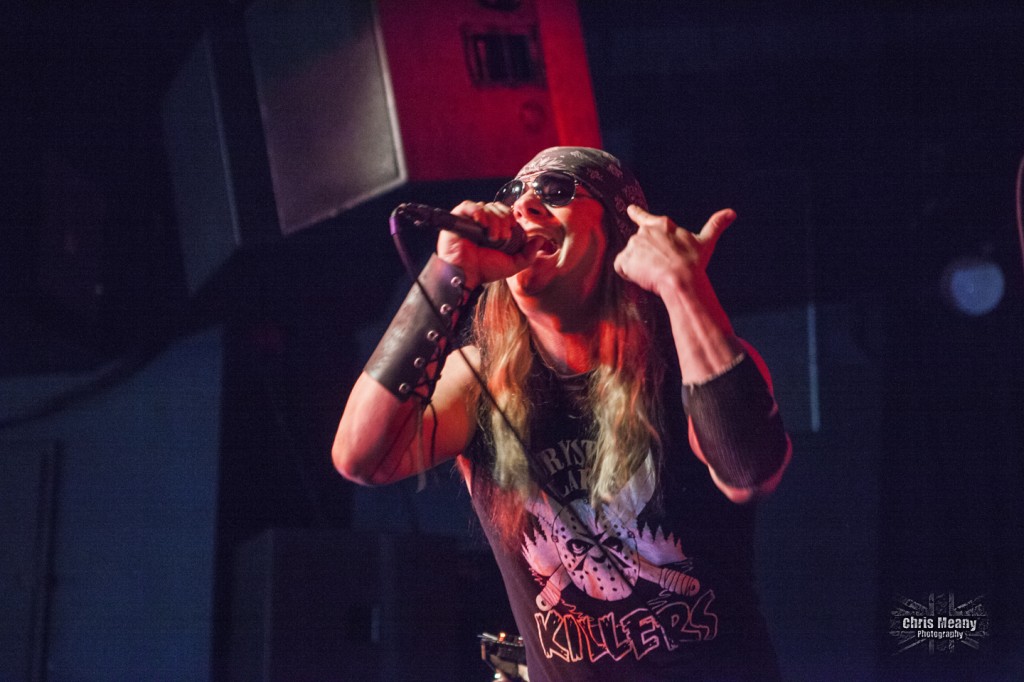 It was awesome to see a band who tour so much and have been in the business so long still showing nothing but modesty and gratitude to their fans, and I have to say our interview with Snake was the most insightful and interesting I have had the pleasure of conducting so far, you should totally watch it if you're a Skid Row fan, you'll love them even more!
By the time the acoustic guitar appeared out of the darkness and squarely in front of Snake I think everyone knew what was coming, and as Solinger introduced their 'forever song' audience was itching with anticipation, and I watched three, maybe even four generations sing 'I Remember You' to the rest of the room. The mood of the room soon switched back in to full rock mode as 'Monkey Business' kicked in and the head-banging and bouncing resumed.
Being such a short stage the band found that at the point where they would normally disappear, and go through the tedious rigmarole that usually precedes an encore, there was nowhere really to go. So they stayed put and Johnny Solinger created a fake one, getting the crowd to imagine they had left, sound effecting a crowd chant into the mike for us to follow, pretend darkness, fake explosion, the lot! Not only was this bloody funny to watch it kept the audience intensely engaged to see what was coming next , which turned out to be 'We Are The Damned', quickly followed by a Skid Row rendition of Queen's 'We Will Rock You' to finish the show.
Snake and Rachel played a virtually textbook perfect set, and Solinger impressed, hitting notes at the top end I have seen other old school rock acts fail to hit, or fail to even attempt any more. Even most Bach purists would have to admit this guy's got a hella voice, and it was built to sing these songs. The sound at Old Fire Station was spot on tonight, the venue just the right size, and I have never seen a crowd have so much fun at a gig. How often do you get to see a handful of generations of sports kids, poppers, geeks, money kids, metallers, and rockers, young and old, all in it together, loving every minute of their gig? Like a sleuth of happy bears punctuated with long hair, eye liner and denim in every form it was ever sold, the crowd was as diverse as they come, showing Skid Row's universal and unerring appeal.
That was bloody marvellous.
The rest of the tour looks like this, and I reckon Underworld will be a blinder.
Tuesday 28 October 2014 – The Underworld, London, UK Thursday 30 October 2014 – Aladin Music Hall, Bremen, Germany Saturday 01 November 2014 – Turbinenhalle, Oberhausen, Germany Sunday 02 November 2014 – Live Music Hall, Cologne, Germany Tuesday 04 November 2014 – Garage, Saarbrücken, Germany Monday 10 November 2014 – VoxHall, Aarhus, Denmark Friday 14 November 2014 – Huxley's Neue Welt, Berlin, Germany Sunday 16 November 2014 – Roxy, Prague, Czech Republic Tuesday 18 November 2014 – Posthof – Großer Saal, Linz, Austria
Review Overview
Summary : Like a sleuth of happy bears punctuated with long hair, eye liner and denim in every form it was ever sold, the crowd was as diverse as they come, showing Skid Row's universal and unerring appeal.