For the second time in a week, ex-Misfits frontman Michale Graves decided to play Cardiff's legendary Fuel Rock Bar. The highly anticipated punk legend certainly made an impression after selling out four nights previously, but returns to an oversold crowd of 30 people or so. Though not the biggest of venues, this difference turns Fuel into a condensed powder keg of punk infused nutcases that's ready to kick the fuck off.
The fiendish wordplay isn't lost on us as So Long Until The Séance (we'll let you work that out) are a decent opener that come packing with a lot of fun and energy. Wearing their horror influences on their sleeves, this Northern Irish five-piece mix an entertaining cocktail of pop-punk, glam metal and classic hardcore. Not sparring on their goulish get up, lead guitarist Tommy D.Bauchery's full green neon tiger spandex leaves very little to the imagination and has us wondering where we can get a pair of our own?
Opening to the Nightmare On Elm Street theme was a great move, if a tad cliché. However, it was the sudden record scratch to Starship's 'Nothing's Going To Stop Us Now' that really added some class. Keeping up the energy throughout, a good combo of cheese and decent tunes has the crowd picking up what they're throwing down. Not a bad way to get things kicked off in the slightest.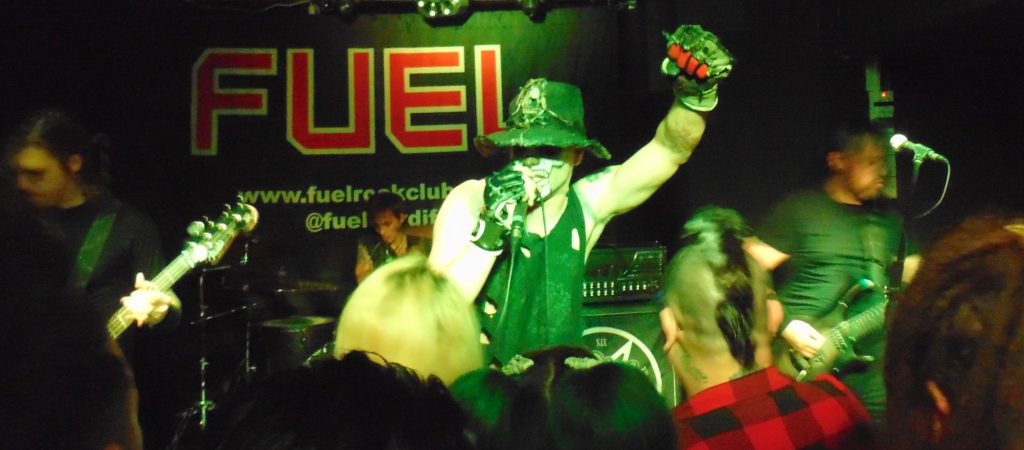 With a rush to the front, Graves enters fully face painted in the classic fiend skull get up that gets all the nostalgic feels going. Though Graves may not have the gravitas of Danzig, there's a darker broodiness to his menacing presence that can't be replicated. The swarming audience are treated to a dosage of underrated Graves-era Misfits classics as well as his solo material that range from the sing-a-long to an all-out mosh assault. When you play 'American Psycho', 'Speak Of The Devil' and 'Walk Among Us' one after the other, it's just game over, man; We're fucking hooked! Though taking a handful of songs to get his vocals up to scratch Graves does deliver the goods with fist in the air conviction and presence that gets us pumped.
Stopping here and there for a few words with the crowd stemmed the flow a tad in what seemed to be mini lectures, but otherwise Graves came, saw and kicked ass. Ending his encore on the criminally under-appreciated 'Dig Up Her Bones' seals the deal as the rush coming off from that belter is like stepping off Oblivion for the first time, but with zombies. A cracking tour and a show too good to miss for any Misfit fanatic.