They're a band who has brought a lot to the table over the past few years garnering the interest of many since the release of 2014s I Am King which turned heads from hardcore and metal fans alike. Code Orange recently returned triumphantly to the UK as they joined the might of metal kings themselves Gojira who were also back in the UK in support of their latest album Magma. Of course they were not the only ones celebrating a new release. Code Orange are currently busy scaling the globe as they plug their own new album Forever which hit shelves back in January.
As we were backstage there was a certain sense of calmness before the storm hit. For those never having seen the band live, the chaos on stage as bodies move around everywhere is certainly an experience to witness. We sat down with guitarist Eric Balderose to talk about all things Code Orange and how, what is possibly one of the biggest tours they have been on was going.
Eric: It's been great! It's been awesome to play some of these cities that we've never been to like Helsinki, Oslo places like that, and it's pretty sweet. It's awesome to be on tour with Gojira, Super glad they took us out!
RAMzine: Any highlights so far?
Eric: Birmingham yesterday was pretty sweet. The UK has always been really great for us so hopefully London tonight should be pretty insane as well. We played here with At The Gates back a few years ago which was a good first experience for sure.
RAMzine: How has the new material gone down live?
Eric: It's been a real struggle trying to figure out how exactly we need to arrange ourselves to pull it off but through a lot of trial and error it coming together really well. I play a lot of the electronics live and I switch off between that and guitar so our childhood friend Dom has joined the band as our 3rd guitar player.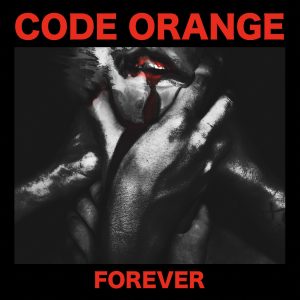 RAMzine: You guys have such an interesting mashup of sounds within your music and it's showcased on Forever massively. How did that come about?
Eric: Ever since the band started it's been the same people pretty much so we've always grown together and had our own separate influences in music and different styles of music playing and on this record we all really put forth our best sides and put it together. Me, I'm always into the weirder side of things. The weird stuff you hear on the records, that's my gimmick in the band and Reba writes a lot of the riffs, the heavier side of things. I think this is definitely our best work for sure.
RAMzine: There's always been many people defining Code Orange as this type of genre or that type of genre. It's interesting how there doesn't seem to be a consistent answer when you get people's opinions. What would you say you guys were? What is your genre?
Eric: I say we're a hardcore band. We'll always be a hardcore band as long as we're still Code Orange. We really try to push the boundaries of what that really means. We always wanted to bring that same energy of a hardcore show. The music has influences from all different dark heavy genres but we just really only ever wanted to play hardcore shows but at the same time being who we are, we don't like being complacent with the music we are making so we've always tried to push the boundaries for what that means. Sometimes, depending on who you're talking to though, it's just easier to say that we are metal if people ask rather than try to explain what Hardcore is.
RAMzine: Festival season is coming up! A huge thing we all look forward to in the UK. Any exciting things the band has coming up? What are you guys playing this year?
Eric: We will be back in June! We're playing a lot of the big fests actually so we will be back for sure. [Editor's Note: It was not confirmed at the time but Code Orange will be playing this year's Download Festival, Be sure to check them out!] We've played Download Festival before. Rock Am Ring, Rock Im Park, Nova Rock and that whole circuit. We did that last year and that was pretty cool. Festivals here and in Europe are so weird, it's the camping. In America it doesn't happen unless it's like a giant fest. There's only two or three that people in America would camp for. But it's not really a music thing, it's more of a culture, like, drugs! Here in the UK and Europe it's crazy. Every single festival, hundreds and hundreds of tents and its muddy and it's raining and am surrounded by people who are out of their minds! [Laughs]
RAMzine: So what about after festival season? What else is coming up?
Eric: Right after this we go home for about four days and then we head back out on a US tour with Anthrax and Killswitch Engage for about three weeks which should be awesome. Really excited to play with Anthrax again. We went out with them at the time of 'I Am King', it was good for us then but hopefully it will be even better this time.
RAMzine: No rest for the wicked then! We should wrap this up with some quick fire questions then! Who is your favourite band to tour with?
Eric: Deftones! It was one of the greatest tours of my life. Doing that tour was like a childhood dream.
RAMzine: Favourite country to play?
Eric: Japan! It's just so cool man and it's so genuine. It's just so different to any other place we have ever been. It's so crazy because the culture is so different and there's so many differences in the way people treat you and the way they respond to music.
RAMzine: And lastly, the favourite song from 'Forever' to play live
Eric: My favourite song from the new album is 'Hurt Goes On'. I pretty much composed the whole song with Jamie and that was a pretty awesome thing. I really like that song with the flow of the album but the favourite song to play live is probably 'The Mud'. We're playing it tonight, it's awesome.
RAMzine Thanks Eric, appreciate your time.
Code Orange 'Forever' is available everywhere now through Roadrunner Records. The band play Download Festival 2017 this year on the Avalanche Stage. Trust us when we say that you'd be a fool to miss it!