Hype Theory are best described as a full on assault of loud guitar, fans of raw rock presence get that but singer Katy's sweet & sincere vocals make a few hearts flutter in the meantime. The band are touring off the back of their great 2013 album 'Captives' (which you can see a review for in our top albums of 2013 article) and have a brand new song they are trying out for this new tour – so I am told.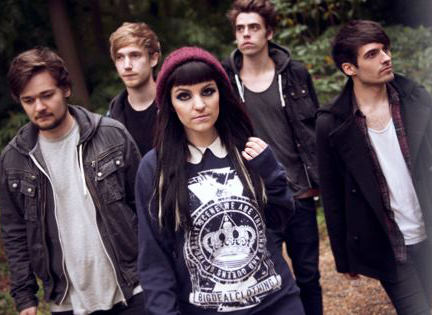 The Hype Theory are a well kept secret recently in alternative music that is fast escaping , hailing from Essex they are constantly at odds with the orange skinned , spiritually stunted music pop culture mass produced there .A proper guitar rock band lead by petit, multi-animal whispering rock chick/goddess Katy, the band are sweaty heavy mosh rock through and through but they have potential for other places in music with some of their songs proving to be tender, poetic ballads.
Their gig at Unit club is going to be their third Southampton gig to date and they are likely to be picking up rocking both Southampton Universities, especially  after their blistering set at Takedown 2013.
You will enjoy them as they have so much energy live and  the end result is always going home with a buzz. The Hype Theory always keep good company on the road with other excellent bands at previous gigs (they played Takedown 2013 with fellow Small town records band '  Violets') ,I don't think this Friday will be much different with 5 acts on the line up. Measuring from what I have heard & seen from 'support acts 'Crooks' online I predict another excellent set so there is scope to enjoy the entire gig. You won't forget the reason why you went in the first place though, HYTH rock.
The doors open at 9pm with the Hype Theory on about 9ish im told so the fun starts early.