Nirvana defined a generation. There's just no escaping that fact. Millions of teenagers in American during the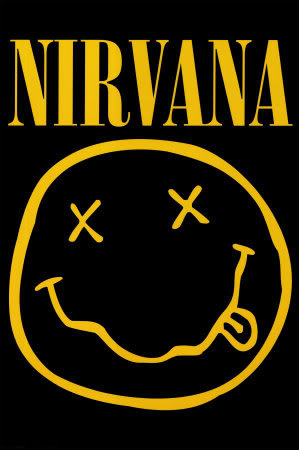 early 90s needed music that they could identify with. Up stepped legendary frontman/guitarist Kurt Cobain, criminally underrate bassist Krist Novoselic, and amazing drummer and all-round good guy Dave Grohl with Nirvana's seminal masterpiece "Nevermind".
The album kicks off with the song which defined the grunge movement, that Nirvana spearheaded. The song is of course "Smells Like Teen Spirit". With its signature chorded riff and pounding drums, the song is clearly a work of musical genius in how to keep things simple, heavy and effective. Cobain's lyrics filled with demands for entertainment really connected with the youth of the day, and the youth of the current day as well. A classic opening to a classic album.
Next up is another highlight, the wonderfully dark "In Bloom" which has a wonderfully bass led groove. It's just a song which you can bang your head to, and really shows the heavier side of grunge. The chorus in particular is catchy, yet dark and brooding, offering another identifiable slant on teenage life in the 80s and 90s.
Following these juggernauts is the haunting "Come as You Are", the real highlight on this album. The spine-chilling riff and lyrics combine perfectly to create what can be best described as a cry for help. Cobain's lyrics here refer to a guy calling out the girl to just come round however she is, he doesn't care at all. This message connects with anyone who has ever experienced rejection and comes flying out of this timeless piece of music.
Up next is the punk influence "Breed" which comes out of the speakers like an iron fist to the face. This shows Nirvana's true influences of 70s and 80s punk and hardcore. The speed is astonishing from a band who are known for their broody grunge songs with a serious message. The message is still here, but the sheer pace of the song expresses it in a more energetic way.
Next is "Lithium", returning to the classic heavy broody style Nirvana made famous. It's dark lyrics and clean guitar over the verse is almost scary, and once the chorus kicks in it is almost like a release of the anger of the verse. Personally, my head was banging and my foot tapping. It's a wonderful way to structure a song, and a way that has become more evident in modern music as Nirvana's influence spread.
Following on from this is the clean and upbeat "Polly", which is upbeat in tempo only. With reference to a being who just wants to be loved, Cobain takes a real nihilistic look at the life of those alone. His negative outlook on things really was a signature of Nirvana's songwriting and sound. Without his haunting lyrics, they would not have been half the band they became.
Next up is "Territorial Pissings", with its chaotic classic punk guitar and drums coming right to the fore. This track sounds like early Ramones crossed with The Clash and is just a real surprise. The aggression is unbelievable and belies the previous track, which was clean and upbeat. The versatility of Nirvana's sound is astonishing and this track in particular is an unexpected highlight.
Up next is "Drain You", which opens with Cobain's signature jangly guitar propping up his dischorded vocals. The full band enter and the effect is quite simply awesome. How such a depressing song can bring a smile to the listener's face is amazing and Nirvana manage this with the majority of their songs. It is upbeat without being happy.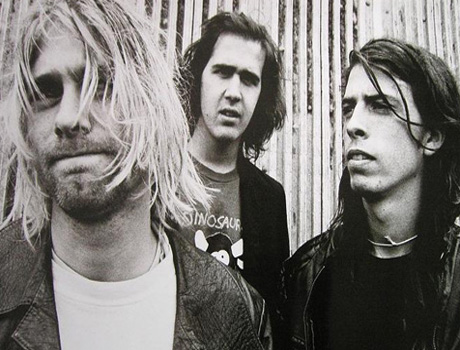 Following this is "Lounge Act". This is a song with a real funky bassline, which develops into a great indie-grunge song. Again, this is a completely different aspect of Nirvana's song and the main riff in particular is fantastic. It really gets stuck in the head of the listener.
Next up is "Stay Away" a song which is very much drum-led. Dave Grohl may be known as the frontman for Foo Fighters these days, but there is no doubt that his heart lies behind the drums. This is probably his best drum performance on the album, and he really carries the song. The platform he builds along with Novoselic's bass really allows Cobain's vocal dischords to run riot over a frenetic guitar riff and makes this song a surprise highlight.
Following on from this is "On A Plain", which is built upon powerful guitar chords and droning vocals, which are harmonised beautifully. The harmony effect almost puts the vocals in key, yet they keep the signature Nirvana dischord. The song as a whole defnes Nirvana; a solid band who have a frontman with a distinct voice, which is just far enough out of key to catch the ear of the listener.
Up next is "Something in the Way", an acoustic led ballad which is probably the darkest song on the album. It is really down tempo and haunting again, which again defines Nirvana. Millions of dis-affected teenagers would have made this their night-time anthem as they struggled to deal with their problems. A wonderfully poignant, relevant song which people can take to their hearts.
Closing the album is "Endless, Nameless", a hardcore riot of a song. Cobain's screams match his guitar dischords perfectly. The way the song breaks down into a spooky clean part in the verse is brilliant and the variety of sounds created once again show how versatile Nirvana really are.
In closing, this truly is an album that defined a generation. With its varied sounds, identifiable messages and sheer musicianship this is an album which everyone in the world can like and relate to. Thank you Nirvana. May your legacy live on, as there are plenty more teenagers in need of this album and your influence.
FOR FANS OF: Soundgarden, Pearl Jam, Temple of the Dog