If you have not heard of Feed The Rhino – the chances are the stone you live under is fairly nice, warm and comforting. There is however, a time and a place for Feed The Rhino in your lives, that time is now and the place is in your ears! The five-piece band from Kent have started to blow up in the faces of everyone they come across! They played an annihilating set at this years Hammerfest in March, and have now gone on to do the same at venues around the UK. They embarked on their UK adventure with The Howling and Zoax with another five dates left before Feed The Rhino take too the Pepsi Max stage at Download Festival in June.
Feed The Rhino tear up every stage they grace their presence with, Oxford O2 was no exception. The crowd was boiling with excitement and the air filled with electricity! The mosh-pit was with compliments of the band. Lee jumped down into the mosh a couple of times and prepared people for a friendly moshing experience while everyone on the outside still rocked out just as hard as anyone else. As if it was set in stone – my pants got rocked off.
We caught up with Lee Tobin before their set, to talk to us about the start of Feed The Rhino, favorite bands and influences, their amazing set at this years Hammerfest, along with a bit out their forthcoming release 'The Sorrow and the Sound' – Out June 16th 2014!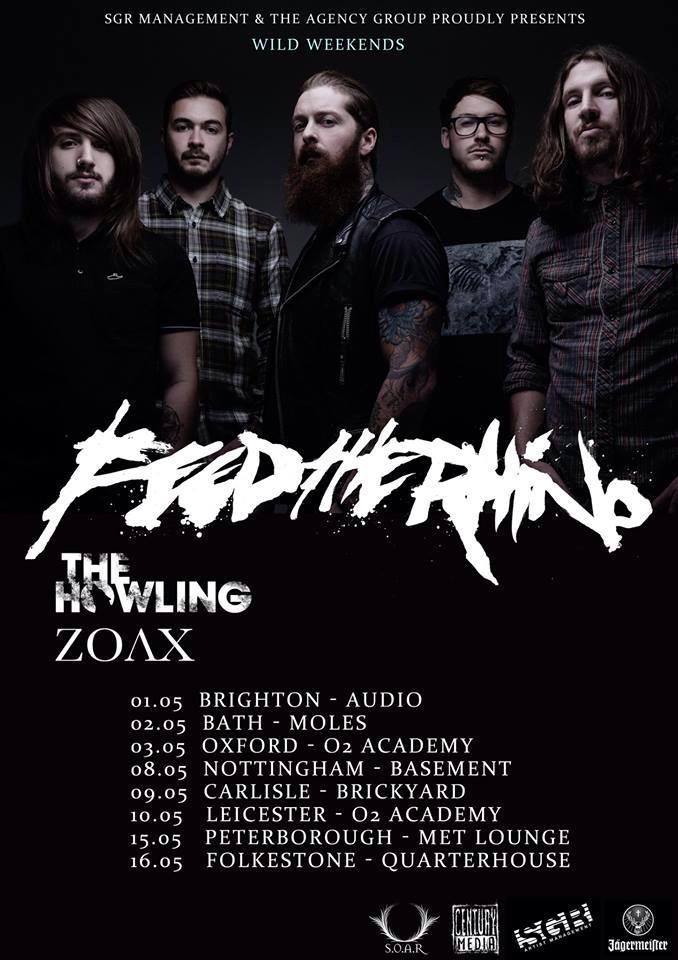 RAMzine: Can you tell us how the band was formed?
"Me and James have been friends for quite a few years – Sam, Chris, James, James little brother Sam who was really young then, all knew each other. James and I were talking about writing some music and seeing what happens. The band James was in at the time was breaking down a little bit and I told him – 'I really wanna write some f**king heavy music, what ya sayin?' He was like 'Naah I'm not really up for it'. So it was dead in the water"

"Then a few weeks later James called me and said 'Do you wanna come hear this riff I wrote', I said 'Yeah let's go have a jam' – which is actually funnily enough the first riff we ever wrote which is from 'The Butchers' off of My Red Eye and I was like 'Yeah I love it' so we got everyone together had a jam. Within the first jam we had wrote 'The Butchers', 'My Red Eye' and I think another song called 'Sitting Ducks'… I think".
RAMzine: How did the name come around?
"The name was down to James. James just thought we are a bunch of guys that don't take ourselves seriously and we like to have a bit of fun so there was no thought process behind it, Feed The Rhino might be a silly name to some people but he said 'Why don't we call ourselves Feed The Rhino' and we just said 'Yeah f**k it".
RAMzine: Tell us about your writing process?
"We all come up with ideas, see how they work bounce off each other and take it as it comes. Now we all know how each other works it's a much faster process"

"We have a new album coming out next month called 'The Sorrow and the Sound' the writing process behind that was completely different to the last two – the last two we was banging heads together working solid and it took us a long to write and in theory there is a sense of we didn't really write it to the best of our ability."

"With this album it's flowed so nicely – James, Oz, Sam, and Chris are four of the most talented people I have ever come across in my life – they are fantastic musicians I love watching them create – they always have ideas. We are now at a point in our career where we can just write Feed The Rhino".
RAMzine: What are you main influences in music?
"Anything that's good really! We all have our own music we listen too, we like a lot of the grunge bands from the 90's and stuff like that along the lines of Deftones and bands like that but there is no real band we have based our sound on, we just want to sound as individual as possible. We hope that the people are going to see that with our next album".
RAMzine: What song gets played the most on your Itunes?
"I listen to a range of stuff one minuet it will be Metallica and the next it will be Black Sabbath and then Slipknot and even more recent bands like Bring Me the horizon and When She Sleeps but at the moment I can't stop listening to 'Cross of Lorraine' from the previous Gallows album – I love that song".
RAMzine: Who would you most like to tour with past and present?
 "Hmm past it would have to be Black Sabbath – that would be insane, we was lucky enough to play Download the same year that they headlined – they was f**king awesome! Present I would of loved to tour with Rage Against The Machine that would be amazing, I would say as well –  I know they are not a band any more but Pantera".
RAMzine: How did you find the reception at Hammerfest this year?
"I loved it! Hammerfest is one of the first festivals we ever played and it was amazing. We played so many places and the crowds are so different to the Metal Hammer crowds, they are more old and experienced so the reception is awesome, the room was buzzing it was great to see everyone jumping and having fun. I would love to go back and play again!"
RAMzine: You have five more dates after tonight left of your UK gigs, are there any more to come after?
"Yes, there are a lot more to come – this is not the last you will hear from us this year. We have been in the shadows a bit last year so you will hear a lot more from us this year".
RAMzine: Thanks Lee for speaking with us – we all look forward to hearing more from you guys in 2014 and listening to your new album 'The Sorrow And The Sound' which is out June 16th 2014!
Video: Feed The Rhino – Tides