Due to exceptional demand Brian Downey's Alive And Dangerous have added a second London date at the Nells Jazz & Blues in London on Saturday 25th November to mark the 40th anniversary of one of the greatest live rock and roll albums of all time – Thin Lizzy's Live and Dangerous.
As recently reported at Ramzine the band, headed by legendary Thin Lizzy co-founder Brian Downey himself along with Brian Grace, Matt Wilson and Phil Edgar had announced the night before on Friday 24th November at Nells Jazz & Blues as their first and only UK concert for 2017. Unsurprisingly, Downey's many fans and those who have grown up hearing about the band craved more.
Influenced by his father who played in a local Dublin pipe band, Brian Downey took to the drums from an early age, the sounds of the The Kinks, The Beatles and The Rolling Stones coming across the sea during the sixties lead to him joining several bands while still at school including The Liffey Beats, Mod Con Cave Dwellers, and briefly The Black Eagles (with school friend Phil Lynott). He went on to perform in a local band, Sugar Shack and first tasted success in Ireland with a top 20 hit single cover of 'Morning Dew' before persuading Lynott (who by then had sung in legendary Irish rock band Skid Row) to join him in Orphanage, rounded out by Joe Staunton (guitar), Pat Quigley and a guest member Terry Woods.
Orphanage did not last too long, and towards the end of 1969 former Them guitarist Eric Bell approached them about forming what became Thin Lizzy (a play on the name of a character in The Dandy comic). That band would go on to have numerous hit singles and albums including Live & Dangerous, and featured a roster of celebrated guitarists before they disbanded in 1983, with Downey being the only constant member alongside Lynott.
Having worked on Lynott's solo albums he followed him into the subsequent Grand Slam band project, but had moved back to Dublin around the time of Phil's untimely death on January 4th 1986. Demand for Downey as both a touring and session drummer continued and he regularly played concerts and recorded with guitarist Gary Moore. He would also go onto play in the tribute Thin Lizzy line-up with John Sykes, Scott Gorham, Darren Wharton and Marco Mendoza, but had been absent from many years until Gorham established a new line-up where Sykes was replaced by guitarist Vivian Campbell and former vocalist from The Almighty Ricky Warwick. This version of Thin Lizzy started an extensive world tour in January 2010 and continued to tour until early 2013, declining to join the subsequent Black Star Riders, and seemingly retiring. However, that did not last long and feeling himself invigorated formed his new band Alive And Dangerous.
"I got hooked on Thin Lizzy's music at the age of twelve," said Alive And Dangerous's lead guitarist and backing vocalist Brian Grace. "I'm a huge fan of those songs. It's such a dream to be playing with the best drummer in the world!  With a career spanning almost 30 years, Grace is a well-known musician in Ireland, first playing with the legendary Brush Shiels (Skid Row) in the eighties before playing and recorded worldwide with Rob Strong, Andrew Strong (The Commitments) and Juliet Turner. He was musical director on the Vibe for Philo festival in Dublin and was a major contributor every year since 1986.
Joining Grace on lead guitar and backing vocals is Phil Edgar, from Lisburn near Belfast in Northern Ireland. Heavily influenced by the music of Thin Lizzy, The Eagles and Peter Green he played in assorted local band before more recently receiving major exposure with The El Dude Brothers alongside Matt Wilson who rounds out the Brian Downey's Alive And Dangerous line-up as lead vocalist and bass player. Similarly born in Belfast and with a fervent love of blues, rock and soul, his own musical career began early early age as a boy soprano, flirting with various bands playing covers by the likes of Jimi Hendrix, Bill Withers and Funkadelic as a teenager and went on to become one of Northern Ireland's most sought after radio jingle and corporate vocalists.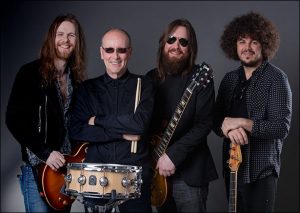 Commenting on the London debut gig for Brian Downey's Alive And Dangerous Brian Grace said: "The musicians in the band love and respect the Lizzy sound that we really try and recreate it true to the original sound. We can't wait to perform at Nells Jazz & Blues in November. We're ready and on top of our game."
Tickets for the gigs can be purchased from www.seetickets.com and the 24 Hour Box Office on 0871 220 0260.