Industrial metal giants, Ministry, have revealed a brand new live release taken from their sold-out show at Wacken Open Air festival in 2012 entitled, Enjoy The Quiet – Live At Wacken 2012.
The release, filmed in front of a crowd of 75,000 people, is said to capture the recently deceased guitarist for Ministry, Mike Scaccia, at is very best. Band mate and lead singer Al Jourgensen commented:
"Not only is this DVD a great recording of Mikey at his absolute best performance, in his element, having the time of his life, it's one of the last live official videos of the band ever. If you didn't see the tour, you'll want to catch what you missed. And if you were there, well, you saw a piece of history and the DVD will make a great souvenir — or a great drink coaster."
The album will come in various different formats including a 2 CD + DVD Digipack, Vinyl, Blu-ray DVD and special 'Direct To Consumer' Boxset. Check out the track listing and artwork below!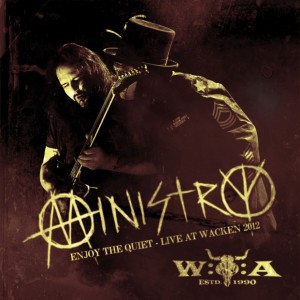 WACKEN 2012
01.  Ghouldiggers
02.  No "W"
03.  Rio Grande Blood
04.  LiesLiesLies
05.  99 Percenters
06.  Life Is Good
07.  Waiting
08.  Relapse
09.  New World Order (N.W.O.)
10.  Just One Fix
11.  Thieves
Bonus Disc:
WACKEN 2006
01.  Fear Is Big Business
02.  Señor Peligro
03.  No W
04.  Rio Grande Blood
05.  The Great Satan
06.  Waiting
07.  LiesLiesLies
08.  Worthless
09.  Wrong
10.  New World Order (N.W.O.)
11.  Just One Fix
12.  Thieves
13.  Khyber Pass
14.  Psalm 69
Enjoy The Silence – Live At Wacken 2012 will be released in the UK on August 5th. Ministry's upcoming album, From Beer To Eternity will be released September 6th.