Ten albums in, The Pineapple Thief look set for a mainstream breakthrough. Their last album, 'Magnolia', has entered the official UK charts at No. 2 on the indie album breakers chart and No. 8 on the indie album chart.  Following their acclaimed 2012 album 'All The Wars', 'Magnolia' (released via Kscope) proves to be an important turning point for the band, as they expand their musical horizons with a new sound that people have compared to Muse and Biffy Clyro.
Formed in 1999 by founder and chief songwriter Bruce Soord as an experimental bedroom project, The Pineapple Thief have pursued a distinctive and idiosyncratic path over the years; evolving, progressing, but always keeping the song itself the main focus. Previous albums like 'Someone Here Is Missing' (2010) and 'All The Wars' (2012) solidified their reputation and fan base, resulting in wider audience recognition.
"The band started as an experiment, really early on, and I had an 'Anything goes!' and 'Throw it all in the pot!' philosophy," Soord recalled. "Then it went through a dreamy, layered period with much longer songs and more atmospherics… and then, as we started to play live; the sound started to become more refined and tighter. The striking thing about the new album is that there are no long tunes. It still has progressive influences, but all I care about now is writing a good song. I don't think about whether it's rock or progressive or commercial or anything like that. It's just that as time went on, I discovered I could say everything I wanted to say within a shorter period of time."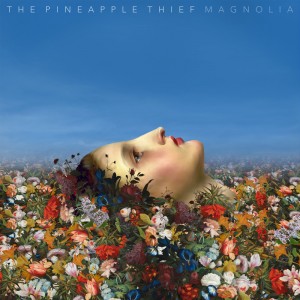 Recorded at Snap Studios and mixed at Strongroom Studios in London, 'Magnolia' has been described as a "devastating but uplifting collection of 12 beautifully crafted songs". As Soord explained, a combination of fresh blood and collective rejuvenation has taken his band to new heights.
"As always, I just picked up the guitar and let inspiration take its course but in the back of my mind I wanted to get the heavy, live energy that we have as a band to come across on the record. One of the deciding factors was that we got a new drummer, Dan Osborne. Unlike most drummers, he's got a really good musical ear! He's got a studio, he's a songwriter and he's brought a load of fresh energy. In a way he was the main producer for the album. It was refreshing to have someone to come back and guide the music. If there is a progression, it's Dan who's had a large part to play."
With fiery but elegant performances from Bruce Soord, drummer Dan Osborne, bassist Jon Sykes and keyboard player Steve Kitch, plus string arrangements courtesy of regular Pineapple Thief collaborator Andrew Skeet of The Divine Comedy and a final mix provided by engineer Adam Noble  (who has previously worked on albums from the likes of Placebo, Guillemots, Paul McCartney, Robbie Williams and Belgium alt rock band dEUS), 'Magnolia' is said to be the band's most emotionally diverse and powerful album so far, featuring songs that harness the highs and lows that modern life hurls at us, turning them into stirring anthems.
"All I ever wanted was to write catchy songs that stay with people," Soord has noted. "I just hope people listen and appreciate that. We're all immensely proud of this album and we can't wait to hit the road and play these songs for people."
'Simple As That', the lead track from 'Magnolia', has just been released as a video, directed by Pele Newell, and is exclusively available for viewing via to MUZU.TV