Virtuoso guitarist Steve Vai is releasing Modern Primitive as a limited edition record through his own Favored Nations Entertainment record label.
Modern Primitive features material written and partially recorded with Vai's band The Classified back in the early 80s, after his first solo record Flex-Able (1983) and prior to the writing and recording of the music of his seminal 1990 album Passion and Warfare. Indeed Modern Primitive was originally included as a companion disc to that record's 25th anniversary release.
"The music on Modern Primitive was written and recorded with virtually no expectations for its future," Vai said. "As a result, there was an opening up to a powerful and personal creativity that allowed me to find the most stimulation music I could conjure. So far it's my favourite album that I ever made."
Modern Primitive features Tommy Mars on keyboards, Chris Frazier on drums, Stu Hamm on bass and Sue Mathis on vocals and keyboards.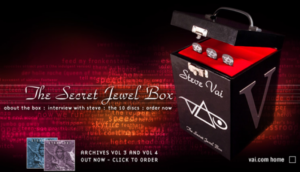 The record has been modified specifically for its limited release as the seventh instalment taken from the Steve Vai The Secret Jewel Box, an ambitious 10 CD box set that was originally released in December 2001.
Much of the recordings contained in The Secret Jewel Box comprised various material from dozens of different records including guest appearances, film soundtracks, bonus tracks, a piano reduction CD, and a full CD comprised of choice tracks that Vai contributed to while working with Frank Zappa in the early 80s. All of the rare and essential Vai recordings that do not appear on his solo records were collected, with a limited run of 7,000 units of the box set manufactured that sold out.