Ten Years After celebrate their 50th anniversary with the release of a brand new 10 CD Box Set by Chrysalis Record that will also gather their Deram label records for the first time. Encompassing the classic albums they made from 1967-1974 it will be released on 10th November.
"I'm genuinely excited about the new Ten Years After box set that we've been working on with Chrysalis due for release in November to celebrate the band's 50th Anniversary," said Ten Years After's founding drummer, Ric Lee.
"The box includes nine studio albums and a bonus CD that features the previously unreleased live album The Cap Ferrat Sessions," continued Lee. "Originally recorded in 1972 in the South of France using The Rolling Stones Mobile recording truck, the session tracks were gathering dust until now. I remember we recorded the live tracks in a villa in Cap Ferrat, South of France. Each of the instruments were recorded in a different room – drums in the ballroom. Between Chris Kimsey, our recording engineer and I, we managed to get one of the best drum sounds on any Ten Years After recording. Natural ambience from the villa's acoustics helped tremendously.
"The session tracks were originally planned for the Rock N Roll Music To The World album, but due to vinyl restrictions of the time, the tracks were not included in the final album release. More details are on the sleeve notes written for us by Chris Kimsey, who kindly agreed to mix the tracks for this boxed set release 45 years after they were recorded. This is a must-have collection for any avid Ten Years After fan, and any new fans that want to soak up the band's recorded history."
Formed in the Nottingham in the early sixties, the band would go through several name changes before becoming Ten Years After, and become part of the first British blues boom taking the music back to America. There mixture of blues and rock 'n' roll got both progressively heavier and more commercial at various periods of their career but it was their appearance at Woodstock and their subsequent appearance on the film that brought them worldwide attention as they powered through 'I'm Going Home'.
Ten Years After would subsequently disband in 1974 before reforming, with replacement members taking up vacant positions that see them playing to this day, but the box set will feature the classic line-up of the later Alvin Lee (guitar and vocals), Leo Lyons (bass), Chick Churchhill (keyboards) and Ric Lee (drums).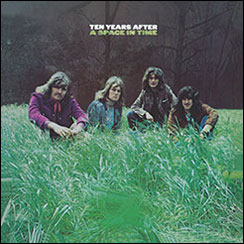 The full list of ten CDs included in the Ten Years After – 50th Anniversary CD Box Set 1967 – 1974 are: Ten Years After [Mono, 1967], Undead [Stereo, 1968], Stonedhenge [Stereo, 1969], Ssssh [Stereo, 1969], Cricklewood Green [Stereo, 1970], Watt [Stereo, 1970], A Space In Time [Stereo, 1971], Rock & Music To The World [Stereo, 1972], Positive Vibrations [Stereo, 1974] and The Cap Ferrat Sessions [recorded in 1972, mixed in 2017].
The box set will be limited to 1,500 copies worldwide and includes albums that have been remastered from the original 1/4″ production master tapes along with the aforementioned bonus disc of previously unreleased tracked entitled The Cap Ferrat Sessions, consisting of never before heard recordings from 1972, newly mixed by acclaimed record producer Chris Kimsey.  Fans can pre-order the box set from Pledge.
The box set comes in a luxury hardback format with slipcase and an accompanying book that includes a newly commissioned in-depth 10,000 word sleeve notes written by legendary Melody Maker journalist and early champion of the band, Chris Welch, charting the band's progress from their early beginnings right up to their eventual split in 1974. There are also extensive interviews with the remaining band members plus members of Alvin Lee's family, and additional recording notes by Chris Kimsey.