Whitesnake are set to return with their 12th studio album this spring. The Purple Album will be released in Europe on May 15th, the UK on May 18th and in North America on May 19th via Frontiers Music SRL.  The Purple Album is a reimagination of classic songs from David Coverdale's time as the lead singer for Deep Purple's Mark III and Mark IV and will feature songs first recorded on the studio albums Burn, Stormbringer and Come Taste The Band.
"It's a tribute.  A homage. It's a huge thank you from me to Deep Purple for the opportunity I was given over 40 years ago," said Coverdale. "As I said to Ritchie (Blackmore), you guys set me on an incredible journey that continues today and I couldn't have asked for better teachers. The university of Deep Purple is an extraordinary, amazing school to learn from.  We can't wait to play these songs in concert."
The reimaginings of the title tracks to those first two albums are available instantly from iTunes when preordering The Purple Album and a new video premiering 'Burn' itself has just been released and can be viewed here:
Formed in England in 1978 by Coverdale, Whitesnake the band themselves have released multi-platinum selling albums throughout the years and been known for hits such as 'Slide It In', 'Here I Go Again', 'Still Of The Night' and 'Is This Love'. Alongside Coverdale, the current ine-up features Reb Beach and Joel Hoekstra on guitars, Michael Devin on bass and Tommy Aldridge on drums who will collectively  hit the road this summer on a headlining world tour.
The Purple Album is currently available for pre-order in various configurations on Amazon – Standard Edition, Deluxe Edition featuring two bonus tracks, four music videos and a behind the scenes featurette on the recording of the album, and in a  double LP vinyl format.  Plans are also underway for a special limited box set edition with memorabilia and merchandise.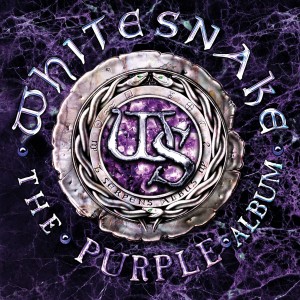 The Purple Album – Track Listing:
Burn
You Fool No One (interpolating Itchy Fingers)
Love Child
Sail Away
The Gypsy
Lady Double Dealer
Mistreated
Holy Man
Might Just Take Your Life
You Keep On Moving
Soldier Of Fortune
Lay Down Stay Down
Deluxe Edition Bonus Tracks:
DVD Content:
Lady Double Dealer – Music Video
Sail Away – Mix Music Video
Stormbringer – Music Video
Soldier Of Fortune – Music Video
Purple Album Behind The Scenes
Purple Album EPK