The British blues-rock quartet ALBANY DOWN have announced their third studio album entitled THE OUTER REACH [to be published Friday 10 June] and last night the band played a special show in London's legendary 100 Club in Oxford Street  to give their  fans and supporters "a sneaky peak" of the new songs. They also played a few carefully selected numbers from their back-catalog.
ALBANY DOWN are Paul Muir on vocals, Paul Turley on guitar, Donna Peters on drums and Billy Dedman on bass. The Lodnon-based rockers have already recorded two superb albums with award-winning producer Greg Havers [Manic Street Preachers] and are  best-known for their stunning live performances on UK blues-tours as well as their excellent songwriting ability,  and impressive musicianship.
The band launched their London set with the glorious 'Feeding the Flame'. This had baroque influences and some moving passion from Muir on vocals, whilst Turley's hurdy-gurdy guitar twisted and turned like a python on a hot skillet. The rhythms were consistently great, with robust low notes and clear, unequivocal drummery. This was a bewitching main-spring number and became the driving force for the rest of the show.
In the second and third numbers, though, the band lost much of this initial impulse and thrust, the respectful vintage sounding 'I Need You' lacked inner strength and vitality. Punters started to drift off to the bar.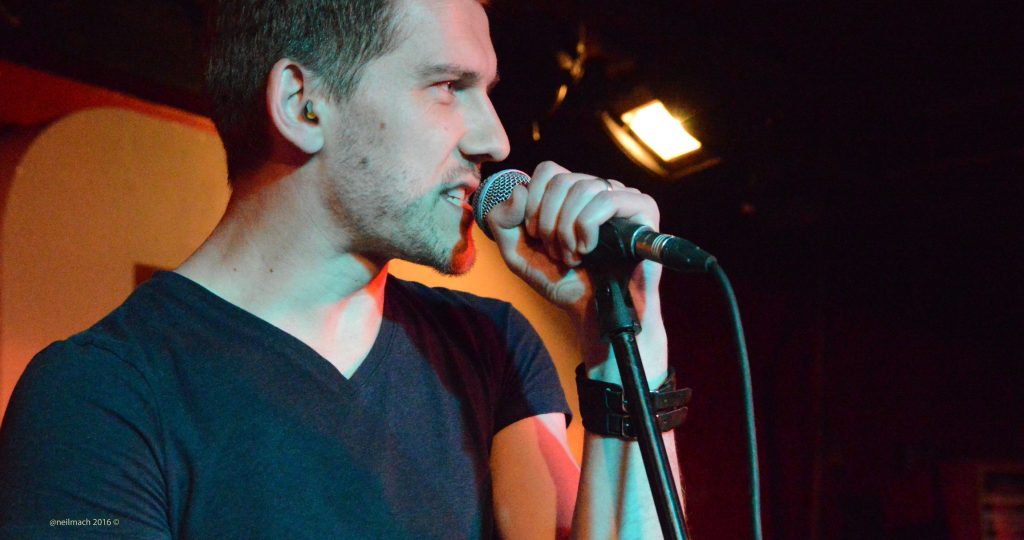 Luckily 'Like a Bullet' was a sensation. This type of progressively-building song bringd home the bacon for Albany Down. It reminded us of Nickelback  — I hasten to add, in terms of musicality and polish only, I would hate you to think that Albany Down are as unimaginative as their Canadian cousins  — the number has a heroic burst of guitar, a beautiful melody and the type of upheaval twinned with sense of betrayal that sends a shiver down your spine.
In the hazy summer-time blues number 'South of the City' from the AD album of the same name, we got (more than) a vague idea that the protagonist in the song had 'done away' with his true love (she was seeing another man, since you ask)  and consequently he had to leave town in a hurry, a fugitive on the run.
Now justice is to be served… And a song on the new album describes how the notorious killer has an early morning appointment with 'Mr Hangman'. Yes, it's part two of this torrid little melodrama. Like it's counterpart, on the earlier album, this has a hot and scuzzy riff that haunts like a mosquito bite on a wet day.  The chorus "I won't go… till the hangman goes…"  is a heroic refrain. And it was articulated particularly powerfully by Muir in his impeccablly feverish, blue-eyed soul voice. But in fact this song belonged to Turley whose muddy blues-twisted guitar wreathed like a twitching noose-rope, before  dramatically dropping like a smoking trapdoor.
The sound of ALBANY DOWN is typically heavier than the traditional electric blues. Their output would sit neatly within the album-oriented rock radio  classification. At the 100 Club we were frequently reminded of "Ritchie Blackmore's Rainbow " as a comparison, albeit without keyboards, but with the same guitar-centric foundation, Graham Bonnet type vocalizations and blues-based compositions that  seemed to turn each little ditty,  ambitiously, into mini-epics of cinematic proportions.