Formed by guitarist Goran Panic, Assignment have released two albums previously; Inside Of The Machine (available on Mausoleum Records) offers around 70 minutes of what they refer to as "art metal" but, to a low-life like me, it's progressive metal that tips its hat to the likes of Queensryche and Ayreon.
The band line-up is comprised of keyboard player Gert Sprick, bass player Heiko Maag and drummer Sven Pollkötter, but for this concept album they have also had guest vocalists take assorted roles for the musical storyline: Robin Beck plays The Mistress, Michael Bormann (ex-Ywngie Malmsteen) is Nick, Mats Leven (Bonfire) is The Preacher and Carsten Kaiser (formerly of Angel Dust) is The Machine. To that you can also add additional lead guitars from Bernie Versailles, Markus Knubbe and Christian Riepert.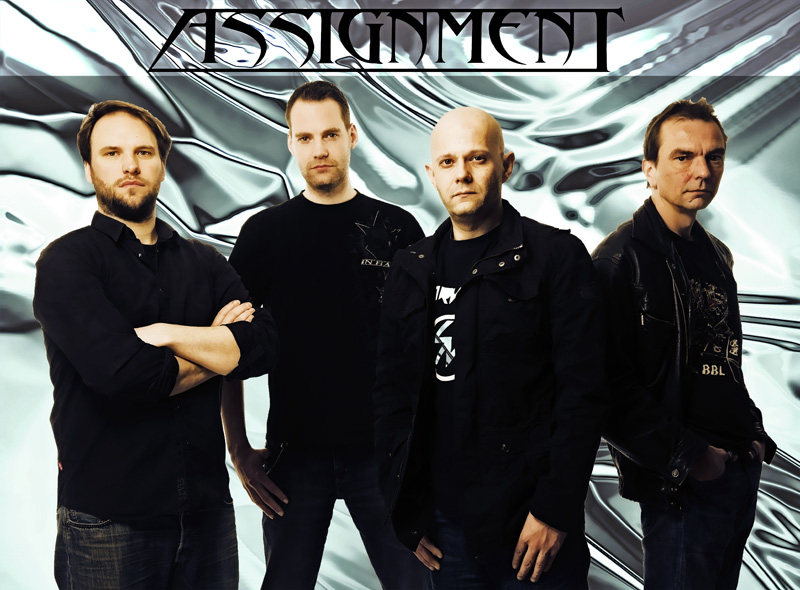 So, let's take things track by track: 'Upload The System' is a predominantly keyboard instrumental, mixing piano and synthesisers but with some guitars. There's a big Vangelis influence, but an electric six string playing the melody alongside, and as it moves to piano and acoustic guitar moment, then come the male choir keyboards and heavy guitar riffing.  The theme expands and retracts back accordingly with a metal blues shredding guitar solo pulled in for good measure. An arpeggio playing acoustic then shifts into a harmonic metal tune on 'The Intrusion' as assorted medieval prog stop-start timings and then first person vocals have us try to catch up on the theme intended for this rock opera in all but name, working out the goodies and baddies, and how that 'faceless Big Brother versus freedom of choice' niche market fits into it all
A tasty neo-classical riff brings us the more throaty, and initially effect laden, vocals of Kaiser, with some pleasant keyboard chord changes, and an old school whizzery-woo synthesiser solo later on in 'I Am The Machine'
'Resistance' has Rush 2012 styled riffing meets The Enid piano tinkling, in what becomes a more musical proceeding with various singers, including Beck. Then another whirly-gig keyboard solo making way as guitar takes a stronger melodic approach, but really one's head is trying to get behind the storyline. For 'Love Between Heaven & Hell' there's an altogether funkier shredding metal riff with male vocals, that becomes more melodic as Beck adds her voice and the pair duet. It's AOR prog that again has some nice synthesiser playing with strong male/female vocal harmonies but by now the storyline's becoming a load of tosh to me.
'Betrayal' mixes orchestration, male choirs (both presumably keyboard created) over techno beats, one of the bad guys singing, and some extended riffing that wraps a fine guitar solo into the package. 'Messiah's Fall' is all stops and starts, various vocals, but too melodramatic for me. The stately piano opening of 'Ending Love' moves into a more pleasant upbeat pomping AOR tune with catchy lyrics and some Wakeman style keyboard runs. 'Another Sacrifice' starts like Demons & Wizards era Uriah Heep with some throaty singing, before going off in a prog direction with added metal guitar then an extended bar-room blues and jazz tinkling piano solo before returning to its main theme. 'Electric City' again mixes prog rock and AOR with a speedy shredding guitar solo, followed by piano and male choir effects. 'Walk Alone' is pompy power metal mixed with lush ballad sections and 'Eternal Silence' features a guitar introduction before offering a overall Yes style tune.

'Bug In The System' offers a slower waltz prog melody, a 70s pop section, a jazzy flamenco section while being one step removed from muzack. Fortunately, 'End Of The Machine' is a fitting conclusion with guitars chugging with a rocking prog urgency amidst some whirling keyboards and guitar runs.
Musically there are some impressive progressive rock keyboard sounds and fine melodic metal touches worth hearing, but the songs themselves aren't always stand-outs and the storyline itself kind of faceless.
Review Overview
Summary : Some impressive progressive rock keyboard sounds and fine melodic metal touches worth hearing.