Avatar – words cannot describe how nuts and awesome they are live! Avenged Sevenfold personally picked Avatar as their support act across their European tour in late 2013. Due to this massive break for the band they have now received loads of bookings for major festivals such as Download, Bloodstock and Rock On The Range, for late 2014. If your going to any festivals they are playing then go see them. Trust me its an experience. We caught them at Hammerfest 2014, where we saw lead singer Johannes drink from a petrol can, and appear on stage in a range of dramatic clothing, most notably as 'The Clown'. Johannes says it was on 'Black Waltz' that the band really "got [their] sh*t together", Johannes goes on to say after 'Black Waltz' "something clicked… and seeing the clown make-up awakened something that wasn't their before.. suddenly the music had its face".
Now releasing their new anticipated album 'Hail The Apocalypse' they fail to disappoint. After a massive success with their last album, they strive and take name with their new album. They prove this with the first single off the new album 'Hail The Apocalypse' – the video is atheistically appealing, props to Director Johan Carlén. Who knew you could make a silent film work well as a metal video? This video and track proves that these guys are here to stay and to kick ass. This track has a very catchy guitar intro, along with the banging drums you will instantly want to start head banging. Along with the melodic lyric combination that reminds you (or just me) of being a pirate at sea, but with metal!
Next track 'Tower' is a little bit different than the others, however this is far from a bad thing.  It reminds me of a gothic poem, a bit like Repunzal's story but only gothic and of course metal. This soothing track is far from a let down its calming and hinders into a mini Ballard. It feels like Johannes is reaching out, expressing himself.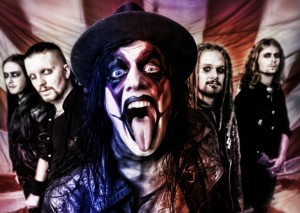 Now if you are a Nivarna fan you should instantly recognise the name of this track 'Something in the way'. Also I know some people will be like "oh not another band doing a cover of Nivarna" Don't just stop! This metal cover makes the song more odd if you listen to the lyrics carefully, is this a bad thing? Of course not! It's a classic track with a metal feel to it. Packing more of a punch.
'Bloody Angel' has a rather soothing guitar intro, then boom, bring on the heavy. This does have a good ratio of soothing and heavy beats to keep you in mind avatar is in your airwaves.
'Puppet Show' – Now this one has a sweet carnival rhythm to it. Reminding me of the old carnival words "Roll Up , Roll Up! Come see the show".
'Get in Line' – Now for this one, it shouted at me. It sounds assertive which also has a military feel to it if you listen to the lyrics carefully. Personally I feel Johannes is trying to give out a message. But you can have a good think about it when you get the chance to listen to it.
So let me wrap things up in a good nutshell – I would highly recommend getting your hands on this new album. 'Hail The Apocalypse' packs a punch with a varied mix of light and heavy beats that shows that Avatar do indeed have a few aces up their sleeves, as they show their unique style in stride – which won't be forgotten anytime soon. Personally I feel they are on a stepping-stone that is into something massive in the metal scene.
'Hail the Apocalypse' was recorded in Karma Sound Studio's in Thailand. To which Jay Ruston also recorded Stone Sour, Anthrax and Steel Panther. Avatar were indeed in safe hands, also being mastered by Paul Logus who has also worked with Voldbeat, Clutch and Killswitch Engage. Avatar has been described by many as a perfect mix of Rammstien, Alice Cooper and System of a Down – so if you like those then you will love these guys.
Avatar are set to release 'Hail The Apocalypse' on May 12th 2014 via Gain/Sony.
9/10
Video: Avatar – Hail The Apocalypse
Interview with Avatar at Hammerfest 2014