A traditional Welsh Cawl is made by filling a pot with bacon pieces, leek, lamb chops, handfuls of oatmeal and spoons of flour, slices of potatoes, swede, carrots and other savory herbs. Then the stew-pot is left to bubble for a while. This way you earn interest and taste. It's the national dish of the Welsh. In Wales it's all about working and waiting.
A traditional Welsh heavy metal band is created in much the same way as Cawl, alludes Ben Welch in his new biography about Bridgend's favoured sons Bullet for my Valentine [Scream Aim Conquer]. Apparently, "Bullet" was formed by putting together random bits 'n' bobs … then leaving the concoction to stew for a while. They came out tasty.
Once, before the miners' strike (1984-1985) the only way to escape the depressing Valleys of South Wales was to join the army or become a school teacher. But, when all the mines, iron works, factories and engine sheds were closed for good (by Thatcher) — the only place to find work in the valley was in a call center or on a street corner. The impulse to "get away" from Wales became increasingly urgent.
Thus the Manic Street Preachers (1986) Feeder (1991) Stereophonics (1992) Skindred (1998 — and their previous incarnation Dub War — 1993) Super Furry Animals (1993) Public Disturbance (1995) Catatonia (circa 1995) Lostprophets (1997) and Funeral for a Friend (2001) all came from the same rich fireclay of ambitious Welsh talent-bearing strata.
As the author Ben Welch points out, escape-thru-music was not a new phenomena (after all, Tom Jones left the "Green green grass" of Pontypridd back in 1964) ) but by the mid-to-late 1990's (largely due to the mega-success of "The Manics") and during the period that "Jeff Killed John" were playing the clubs and pubs in the Valleys, the Principality was being described as "the New Seattle."
Just like the Pacific city in Washington State, the kids of the region had come through a Gold Rush and fallen into a Great Depression… Before finding new hope and salvation in popular music. And the explosion of talent in South Wales was timely too … For the first time in years the 1990s were becoming lean … especially for the phenomenon known as the NWOBHM. Alternative rock — grunge in particular — was becoming the dominant force. Cobain was the "spokesman of a generation" and rock bands like Foo Fighters and nu metal Korn were heading off on their own to create post-grunge sounds. Leaving Brit-rock behind. British music was floundering.
Welch illustrates the formative "Jeff Killed John" years of BFMV (1998—2005) very expressively. He suggest that the band worked hard and toiled, they covered songs by Metallica and Nirvana till they became old hat (later these songs were replaced by Korn and Limp Bizkit numbers.) And the band members dreamed — kept dreaming — that one day they would be as big as Metallica and Maiden.
As it turned out, the winding road from the Valleys to the world's biggest arena stages was fortuitously protracted and lengthy. The way Welch describes the journey in his book — Moose (drummer), Padge (guitar) and Matt (singer) never seemed to have much of a plan anyway. They just learned real-fast and wanted to continue playing. Perhaps this was the secret of their success. They worked hard. They got lucky. They stood firm. So when the band decided to rename (after bassist Nick Crandle left) they also decided on a strategy to play big-chorus songs. It was a great idea. Shortly after this meeting (described in the book) the band released a sort of "pre-Poison" EP — and almost immediately Roadrunner Records offered them a deal.
In fact, they refused the deal with Roadrunner (another gold decision) and took up an offer, instead, to sign a five album deal with Sony BMG. The biography details how extraordinarily lucky this stroke of genius was. If they had risen a year later (or a year earlier) neither record deals would have been offered. A new generation was looming and the tectonic plates of the music business were rupturing. Peer-to-peer networks and file sharing was going to become commonplace. And old- style business (record companies and contracts) were over. For a while it looked like the industry was going to hell in a Napster haversack. They nabbed their contract just in time.
Ben Welch is a competent writer and reliable chronicler. He describes the band's sound — filled with "Plenty of sophistication […] counter riffs and melodic call-backs…" And he admits that their song writing was more often a case of magpie-like thievery. They stole bits from every band they admired (like Pantera for example) and their "pop element" seemed to come from a love of Dylan and Springsteen.
During 1992-96 and the Britpop years, the American record-buying public turned away from the music of their influential cousins from across the water. BLUR failed to break into the U.S. (even after two months of relentless gigging in 1992.) OASIS was roundly condemned after a concert in the Radio City Music Hall. Even the cheeky-chappy & all-round entertainer Robbie Williams could not gain a foothold in the States. But Bullet for My Valentine was able to make a success of it. Although they were careful not to let it go to their heads "A lot of bands go over there and try to take on the American lifestyle […] We're British and we just want to go over there and show them what we can do..."
So, although the famous drinking session in Phoenix derailed their first American tour — the band eventually found themselves opening for Rod Zombie. (He made their life hell, by the way — although the lads themselves were never so impolite as to talk-down the Zombie tour.)
Eventually, through diligent hard work, common sense and peer-respect, the band from South Wales were able to share the stage with their heroes: Metallica. "They were every bit the gentlemen they hoped they would be…" says Welch, who describes the heavy metal band from Los Angeles. He could have just as easily been describing "Bullet for my Valentine."
In 2007 Tuck was forced to have a tonsillectomy, and all decisions were put on hold. Shows with Metallica were canceled and it seemed that the future of "Bullet" was in real danger. Welch is keen to point out that these throat problems were not new… it was a looming disaster that prefigured all things …
In February 2016 Bullet for My Valentine announced that their drummer "Moose" Thomas would be out of the band for a few months (Jason Bowld from AxeWound would replace him) — and so their story continues …
"Bullet for My Valentine: Scream, Aim, Conquer" is released by John Blake Publishing and describes the tense and often exciting story of one of the most popular heavy metal bands in Britain.
This book follows their journey from humble beginnings in a dilapidated church in Bridgend and culminates with the band earning a place in the rock 'n' roll pantheon alongside Iron Maiden and Judas Priest.
The book describes a long-haul journey. The band experienced their fair share of buffeting and battery along the way (not least from the music press.) But the fans remained loyal to the music and the artists became increasingly strong because they sought to fulfil their own destiny … to become one of the United Kingdom's most successful heavy metal exports.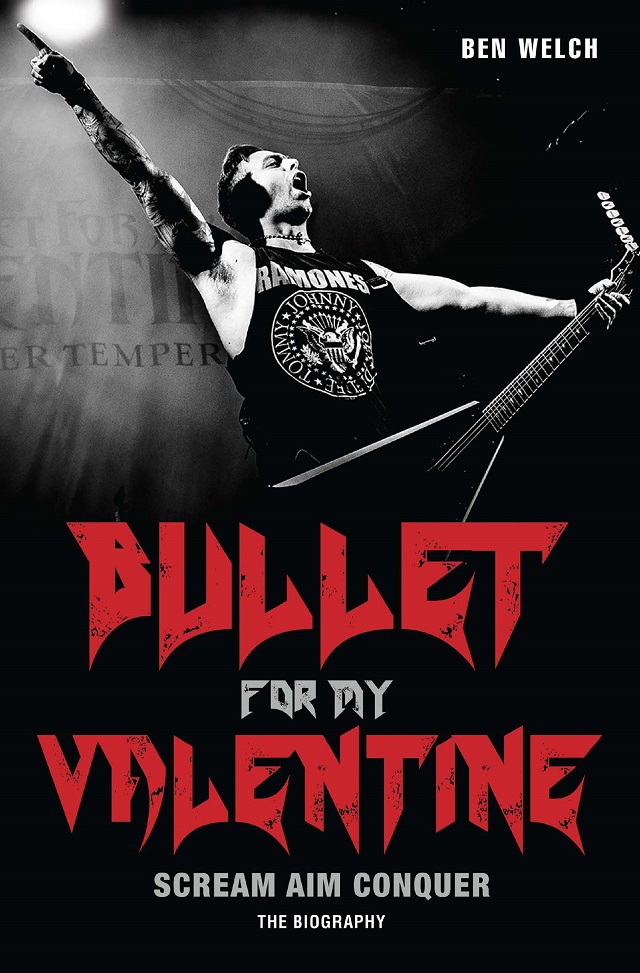 Bullet For My Valentine: Scream, Aim, Conquer by Ben Welch is out now, published by Music Press Books – John Blake Publishing – in paperback and priced £7.99
Stay tuned to our Facebook page– where you can WIN a copy of 'Bullet For My Valentine:Scream.Aim.Conquer' by Ben Welch!!
Review Overview
Summary : A great history of Wales' metal heroes of the 21st century. recommended to anyone who is in to BFMV or metal in general