This is Joe Bonamassa's heaviest record for some time, and I'm not just talking musically. He aired a few of these numbers back during his spring UK tour where their subject matter didn't  register, though obtuse comments made by the guitarist in press releases, alongside him having moved to Nashville and the album's title being what it is, it gave the impression he might've found God. Not that it should be a problem per se.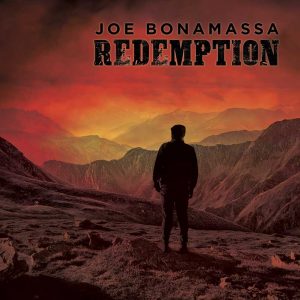 However, a recent magazine feature interview wherein, having had a few after show drinks, he didn't sound in the best frame of mind and when you listen to Redemption properly you begin to worry how much of his personal life this blues boy is burying at the crossroads. If this album isn't about a break up, then for his sake it better be part of the catharsis to prevent one.
'Evil Mama' take Bonham's drum intro for 'Rock and Roll', interrupts it with car smash of chords and rolling bass, then has horns and guitar syncopating over a heavy duty take on Muddy Waters'  'Rollin' & Tumblin' riff. Bonamassa comes in with a deeper powerful voice than usual amid added harmonies and what sounded like heavy boogie number live becomes on record a rework of the Blood, Sweat & Tears formula with a really mean powering rhythm section underneath. Bonamassa then take a sharp turn with his riffing and it's like they're cruising down the road barely missing traffic as he solos hard and wild one moment then gets stuck in the headlights of Beck's classic 'Freeway Jam' the next. Despite all these reference points along the way he comes across well making it his own blistering tune.
'King Bee Shakedown' is a sprightly heavy jitterbug of  rock and roll, coming on like a tooled-up Little Feat, while 'Molly O'' marries a Zeppelin heavy blues dirge on the down beat to Bad Company on its cheerier middle eight, 'Deep In The Blues Again' is upbeat cowboy rock musically with an added British folksiness to the guitar à la Richard Thompson, but  lines like "I just got a call from my baby and she asked me where I am?" reveal an air of despair and guilt. That such feelings get exasperated on 'Self-Inflicted Wounds' with warm chords left to hang on the harmonies of what's essentially a slow blues, dipped in Nashville introspection  is rammed home as the rhythm dig in deep and the guitarist takes a sharp tingly wrangling solo that echoes his firmly stated grief here.
In need of relief, the New Orleans junkie blues of 'Pick Up The Pieces' is amusing and much needed with an intriguing horn intersection, while the 'The Ghost Of Macon Jones' proves a true musical delight – There's this sweet opening  that sounds like early Yes playing the intro for a Smokey Robinson cover before becoming a train hopping rockabilly tune reworking Clapton's Cream riff for 'Outside Woman's Blues' with his voice again noticeably deep and forceful. Bonamassa's solo during an instrumental section again recalls that Yes brief with an added country & western feel, alongside there being some more fine harmony vocals to the foreground on its last section.
'Just Cos' You Can Don't Mean You Should' pitches us musically in the direction of those giants of the blues who aptly took the surname King. There's sharp brass with bright bold and yes occasionally flashy guitar but impressively so and entertaining in what's a song of regret. 'Redemption' itself features an acoustic guitar with pounding bass drum and little else for while before the band comes in alongside tender gospel harmonies – The overall impression is that he's pulled on  a pair of cowboy boots and has walking by Page & Plant who are on their way to Clarksville while he's off to Nashville only for a seismic shift to take place and we're transported elsewhere as 'Kashmir' style orchestration ensues with him soloing over.
'I've Got Some Mind Over What Matters' brings back some fun into the mix and it's good to here Reese Wynan's old Joanna tinkling away and keeping him company. A little more keyboard, nylon string guitar and voice follow that with the sad brittle beauty of 'Stronger Now In Broken Places'. Then, it all comes to an end with 'Love Is A Gamble' played in the manner of his late mentor BB King with long sustained notes amid a flurry of finger curling complex licks.
If, as it sounds, this is a cry for help, somebody close needs to listen. If, as his detractors have claimed, he doesn't really play the blues from his soul I suggest they take a listen here for while here are some big old rock tunes for sure, the guy's either busting a gut a better actor than anyone gave him credit for.