It's fair to say that back in the day all those pretty boy rockers in their skin-tight jeans never conceived of a time they'd be shaving their heads to make them look rugged enough to avoid accusations of premature balding, likewise if truth be told there are ladies who once fitted into a dress size smaller but here they all are gathered in their hordes, queuing round a city block this cold Sunday evening, ready to worship at rock 'n' roll's altar… And a heavy duty funk metal one at that.
But 30 minutes later within, a wash of keyboards fill the hall, a big roar goes out from the audience, and amid jungle rhythms and assorted sound effects the Dan Reed Network take up their positions bathed in warm lights. Amid Dan Pred's ricocheting drums fills, a dirty scratching guitar riff plays out and Dan Reed sings  "Somewhere in the world tonight" with a voice that sounds like it could have replaced Gabriel or Collins in Genesis in some alternative world. Fortunately for us, he's his own man, bouncing round the stage from side to side, then jumping back as his aide-de-camps let rip, bass player Melvin Brannon II's soloing briefly first before Brion James makes his guitar scream. As the major applause finishes on their conclusion there's no doubt they opened with an appropriate number in 'Resurrect'.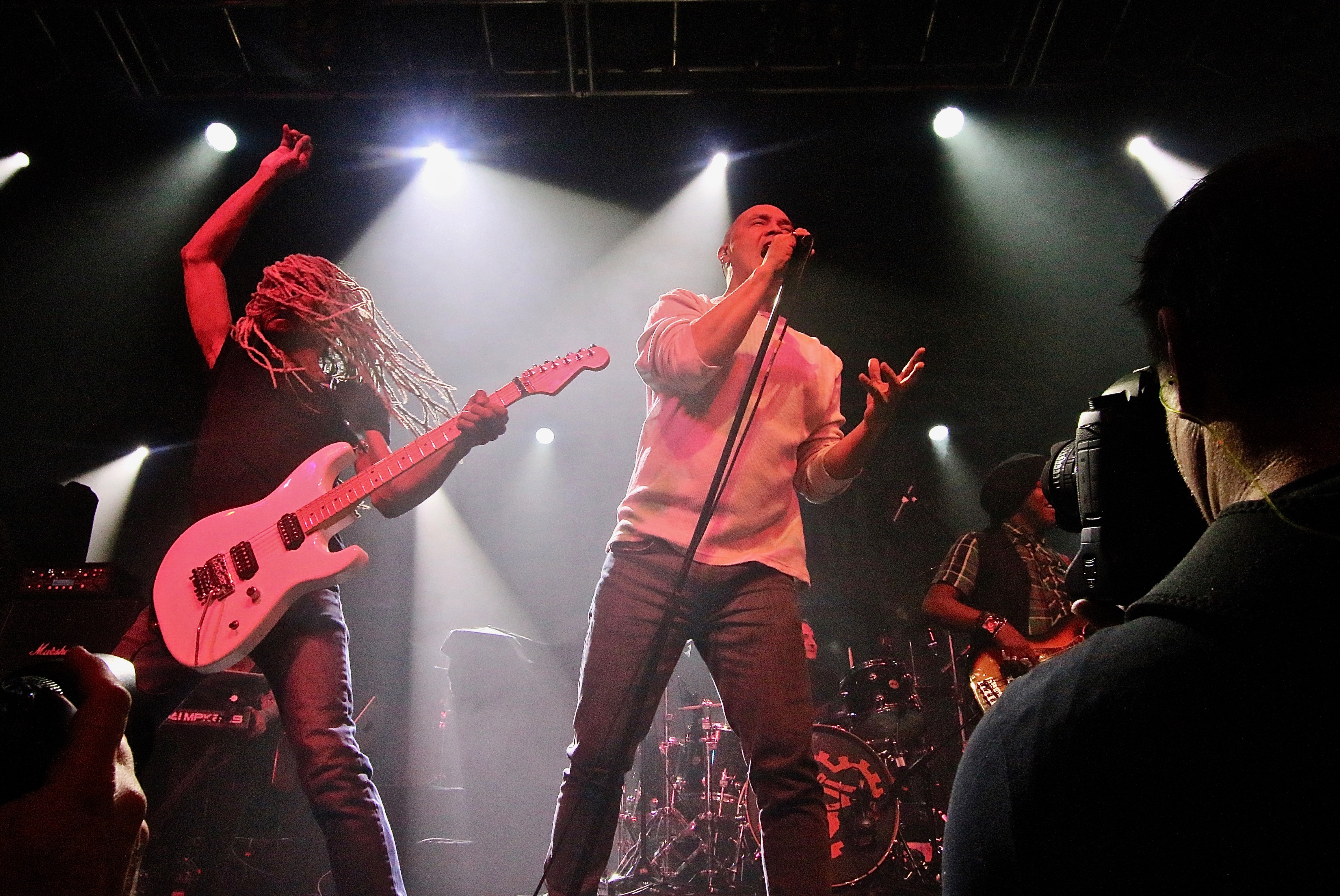 'Under My Skin' follows with real gusto via some bravura playing and energetic performing, the audience moving as one to its beat and singing along dutifully to the chorus of 'Forgot To Make Her Mine' that comes next. Body slamming party rock comes next with 'Baby Now',  James'  dreadlocks swaying as he solos, giving way to a mighty "cher-chunka-chunk" from Brannon II's bass before returning to James for the broken chorded intro to Metallica's 'Enter Sandman' given a quick spin before they're back in to finish their own song off with a heavy punch.
In counterpoint, 'Rainbow Child' floats in on a bed of sultry keyboards and guitar harmonics, building to become something of a power pop-prog mini-epic. Reed tells us 'Champion' from last year's Fight Another Day album is "About hanging out with positive people rather than drama queens" and there's a gospel feel affected by Rob Daikers layered synths, James taking centre stage for an arresting guitar solo, the song followed swiftly by the spiritual rock of  'Ritual'.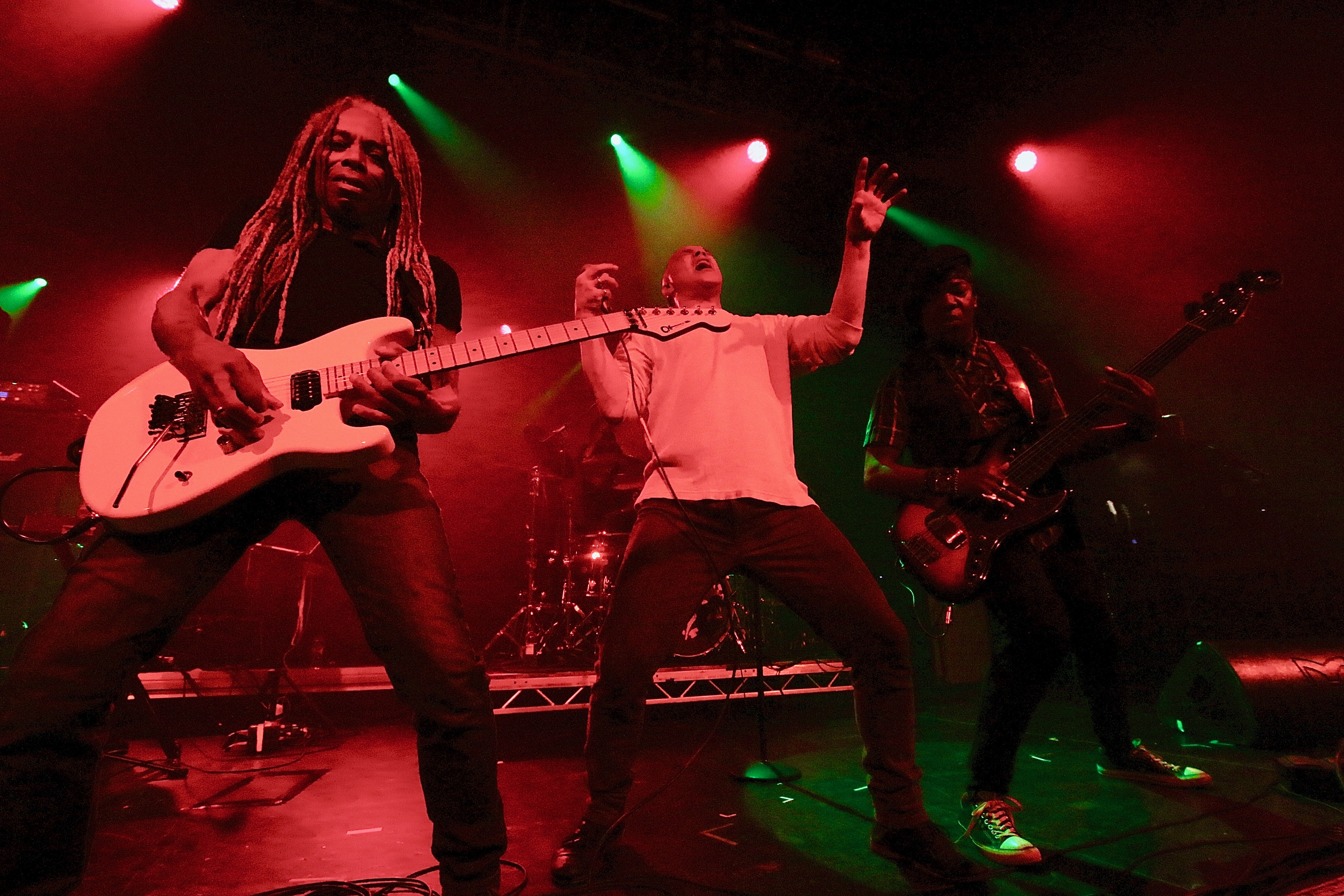 In what's been the coldest winter for some time, there's a hot and sweaty atmosphere here within the Academy, and the only complaints are that the Dan Reed Network are about to end their set – That it's one they've changed both in terms of song choice and arrangements since touring here earlier in the year shows they're a well-honed act. Leaving us wanting more 'Get To You' is a good time sexy mash-up of rock and funk, leaving many in need of a post-coitus e-cigarette; that or its dry ice floating towards the stage instead of from it.
You see a lot of bands listed as special guest on posters and press releases but it isn't just paying lip service here with the case of the Dan Reed Network.  From their first song the audience was up, cheering and singing along meaning people had come to see them as well as the main act. That they also had an excellent sound system and a fully working light show indicates headliners Extreme also have respect for them, and Reed thanking their road crew for their work on the tour vindicates the value of working together towards a common goal. The end result being that everyone wins.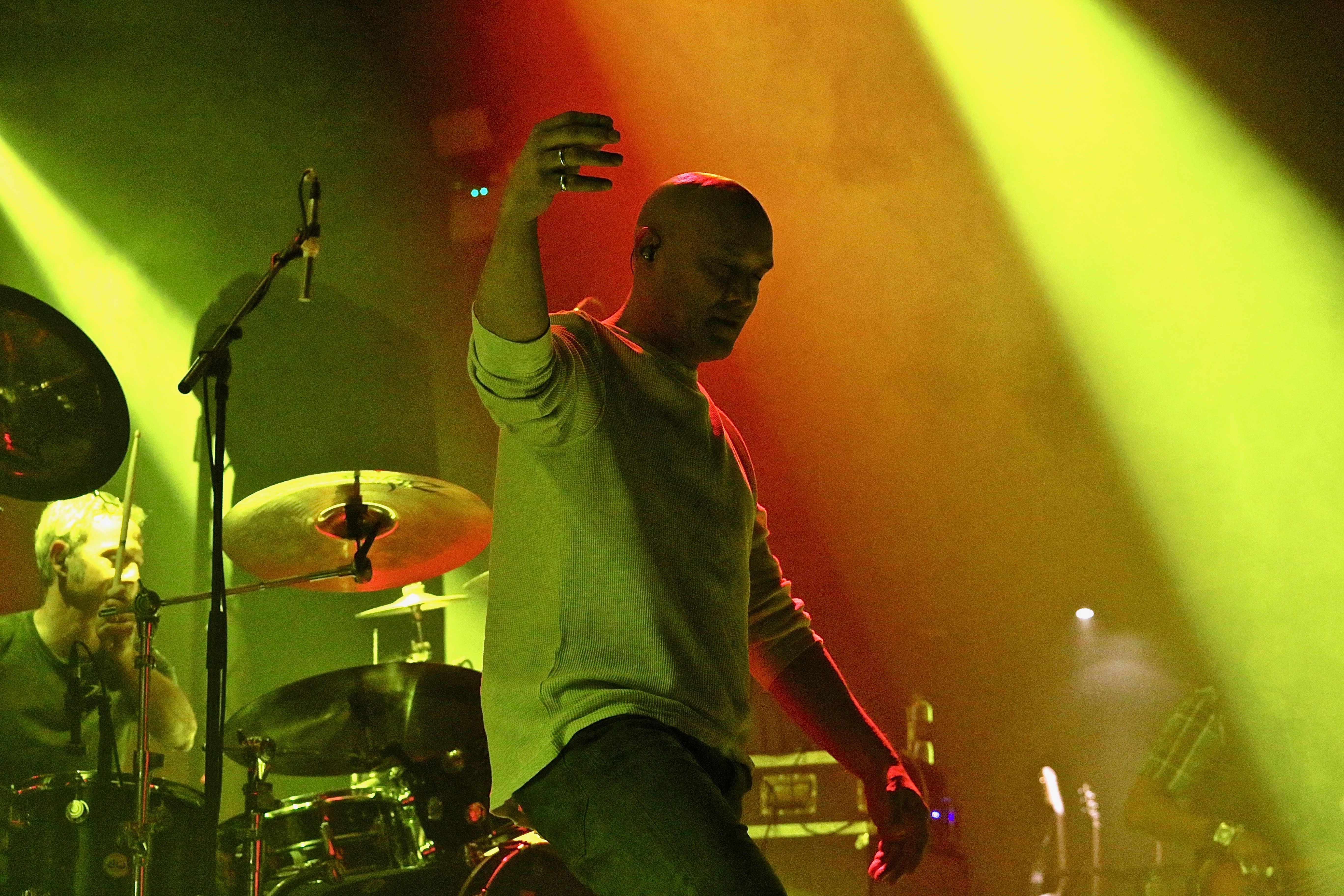 Sunday night curfews at your modern rock concert mean it's not long before a heavily throttled guitar emits a searing six string scream of feedback from out of the darkness. Next moment we're blinded by white light as Extreme pummel their way into  'It's A Monster' Pat Badger on bass and drummer Kevin Figueiredo digging into a chunky groove as vocalist Gary Cherone bounces on stage, thin as a rake, wearing a woolly scarf and matching bandana that he'll have on all night, whereas Nuno Bettencourt will go through a series of costume changes during the evening (an influence  from being pop singer Rihanna'ss guitarist when not employed here, perhaps). Either, way his four string partner Badger solos ably before handing over for a clear noted piece of shredding from Bettencourt.
More exemplary deliveries of that kind are found in the following 'Li'l Jack Horny' but one also notes either occasional keyboards or samples filtering in from offstage, whether a Queen influence or a modern contrivance who's to say. The youthful desire within band members to run up and sing or play from on the drum riser also becomes apparent early on; that they're able to do this all night long while some of us find it hard going on the old back standing here a problem only the middle-aged rocker will appreciate.
While its early on in what will be a long set, Badger's deceptively languid funk bass line receives hefty cheers from the crowd as UK top twenty UK hit 'Get The Funk Out' gets an airing, with audience bobbing and singing along loudly. Such enthusiasm is wonderful; the guy bellowing hoarsely out of tune all night into my left ear is not. Tonight we're going to get an awful lot of Pornograffitti, and why not the album proved far more successful over here when it first came out, than over in the USA, and the songs from it remain people's favourites.
That stated, as Cherone notes later in the evening, Extreme are actually celebrating the 25th anniversary of its follow-up III Side To Every Story on this very day, and we get a particularly heavy rendition of  'Rest In Peace' wherein Bettencourt practically melts the stage with his guitar soloing. 'Hip Today' and early single 'Kid Ego' feature more guitar pyrotechnics, while 'Play with Me' from their eponymous debut album is  new to me, but grabs the styles of Montrose, Starz and early Queen to make an impressive song all their own.
Looking around its songs the audience have come here for. Much as Bettencourt is obviously a gifted shredder it does become a little disconcerting that at times it feels like the Bettencourt show as he  also applies a talk-box, has the rudiments of a drum kit brought to the side of the stage to play alongside Figueiredo's own solo, and will later be alone on stage for the acoustic instrumental 'Midnight Express'  (with added offstage loops and samples) and the electric wizardry of 'Flight Of The Wounded Bumblebee'. A minor gripe on my part, no one else seems to let it bother them having a great time.
That Extreme still include an acoustic set is a worthy holdover of an old rock tradition. And why not, Extreme opened the door way for a number of bands to hit the singles charts with such numbers back in their heyday. Badger also has an acoustic/electric bass during some of these numbers and Bettencourt handles a 12 string rather nicely. On 'Tragic Comic' it's the band vocal harmonies you notice most while with the euphoric 'HoleHearted' it's Cherone hitting higher counter melody lines that capture your attention even as he can't contain himself to sit cosily on a stool so gets up to sing to the crowd.
Then, as soon as Bettencourt's done his solo piece, Cherone's grabbing the band's favourite drum riser position to give an a cappella rendition of the old soul number 'Cupid' as the band return to blast their way into their own 'Cupid's Dead'. Constantly working the stage there's heavy funk and whirring blasts of metal as they move onto 'Am I Ever Gonna Change' ending with Bettencourt referencing Van Halen's 'Eruption' as his fretboard goes into overtime as the song's dying notes wring out.
With both guitarists and singer manning the front of the stage for the first half of 'Take Us Alive' it's not long before they're chasing each other up towards the drum riser. Then the pace loosens a little as they deliver 'Stop The World'. Bettencourt opens the song with echoed blues inflected funk, Cherone howls and they enter collectively into the song's groove, Badger's deep bass throbbing away at the heart of it,  with some excellent harmonies from the band.  
Either the bloke singing badly behind me has turned me both deaf and a little dumb because my notes tell me we get a right fine country picking metal version of Elvis classic 'That's Alright, Mama' between 'He-Man Woman Hater' – And for saying the Pornograffitti album was held in some quarters as misogynistic (though the band countered that it was more a themed work about the subject as I recall) no one seems to care here tonight, least of all the ladies who pretty much equal the guys in number.
With a squelch of notes, the roaring slam-dunk home run of 'Decadence Dance' erupts forth. The band all smiles as the audience wave their arms as one in the air, the song rocking like a monster new-born: big, beefy, with melodic vocal asides and Bettencourt sweet as honey with his liquid playing. A more than admirable conclusion to their main set.
Ensuring value for money Extreme return for several encores. Armed with a fetching black acoustic, Bettencourt plays the opening bars of 'Stairway To Heaven' before they deliver a moving 'More Than Words', spoiled only by the raised hands holding mobile phones to record the scene: Is it really more important to tell other people about being there than living the moment yourself?
Regardless, when they finish Cherone notices a makeshift banner and calls out to the audience members – It transpires a couple have just got engaged and hearty congratulations are offered. Peace and love to one side, all tooled up again they give us  'Peacemaker Die' and 'Warheads' with motorway revving riffs, stop-start drama and sing-along high school rock all merging into one. They end with a broken chorded take on 'We Are The Champions', that while hardly one of my favourite Queen numbers the audience respond to with overwhelming glee over, as they have done all night.
Figueiredo the remaining member left on stage throws drum sticks to those in the balconies, Cherone returns leaping onto the crash barrier and high-fiving fans along its full length, leaning against the balcony wall to reach up to those he can, those of us further back can just make out Badger walking in the pit and doing similar without the acrobatics. As they return up to the stage, Bettencourt returns to throw out plectrums, collectively they bow and a packed audience prepares to make its way home.
Two bands that made a name for themselves in the late 80s-early 90s, neither from LA or New York. Their influences extending beyond the poodle rock fashion of those times, they've been able to reform with a more mature hindsight. The Dan Reed Network having released new material have the edge moving forwards and were my preference overall on the night, Extreme bear the brunt of being tagged a heritage band with no new material to show. However, for such a well attended Sunday show on a winter's eve it's a testament to the quality that so many of their songs that have stood the test of time, and those songs so obviously shaped and influenced many of this audience when they were younger, a little more innocent and the world was theirs for the taking. As they leave tonight, let's hope those feeling have been rekindled in their hearts as they embrace the New Year.
Two bands putting energy into what were strong song performances, with impressive light shows and a solid sound system throughout. Tonight you got value for money, and that's no lie.
(Dan Reed Network photos taken & (c) Martin Tierney).