Four piece support act The Hand & The Flowers make amiable sounds from onstage, ranging from a crunchy blues rock of the early ZZ Top persuasion on opening number 'One Is The Truth, The other is A Lie' to more Rory Gallagher styled rifferama on songs like 'What You Want' though their soloing is less frenetic. Most interesting are numbers like the extended 'Blame It All On Me' where there's  a sense of experimentation with the guitar arrangements.
Ultimately however, they fail to project visually. Only the frontman playing duel vocal/guitar roles engages with the audience, the others simply stand looking at each other as if in rehearsal. It could be nerves for they play well enough. This might work in a crowded bar once we've had a few drinks, but here among tonight's small seated audience I feel it's all too cosy.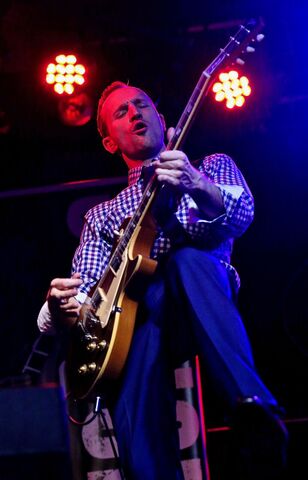 Fortunately,  JW Jones will prove the exact opposite. Tie on straight, boots polished and Gold Les Paul shining bright, the Canadian is ready for business and launches into the instrumental 'Wham' from his latest album High Temperature.
From the get-go he moves stage front drawing our attention, takes a step back and careers left then back again; ensuring he's got our attention and that we've also taken in his rhythm section hammering away as the guitar wrangling fest acts as introduction and warm-up.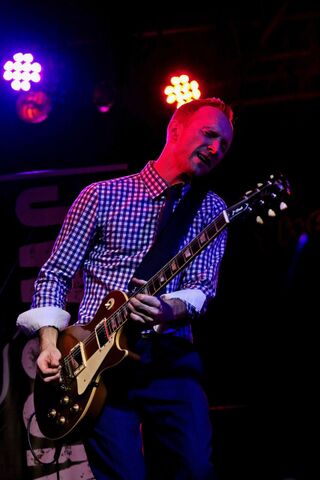 Next up is the album title track. Shorn of its studio piano jangling it becomes an old school rock number with extended guitar solo as he gets up on the drum riser before returning stage front. From the same album, 'Price You Pay' also undergoes a live metamorphosis more akin to 70s period Rolling Stones, being heavy chorded prior to another extended solo or two.
Between song he jokes with the audience, using that stoical yet near-surrealistic sarcasm Canadians carry off well (like Brits who didn't lose an empire but found the promised land). Among his wry observations comes the comment that the album might even go platinum if everyone in the audience buys a copy.
The infectious 'How Many Hearts' follows next, grooving along with melodic guitar phrases picked out as bass player Laura Greenberg adds harmony vocals. He tell us he's spent the last hour practising BB King licks and by the time he gets to 8o he may be as good as the blues great was in his 30s. Riding in on Greenberg's bass line come a lot of guitar sustains and triplet pulling. Next he's singing "Ain't got nothing but love for you" over a steady beating, sharp chorded rock steady tune with some guitar shredding sneaked into the solo.
"Time to get different," he declares as they deliver 'Watch Your Step' from his award-winning Belmont Boulevard album. With a hypnotic rock and blues riff opening he makes exaggerated Jimmy Page like movements across the stage. It becomes a dirty fat sound with juicy power chords poured out in syncopation and accentuated by drummer Will Laurin.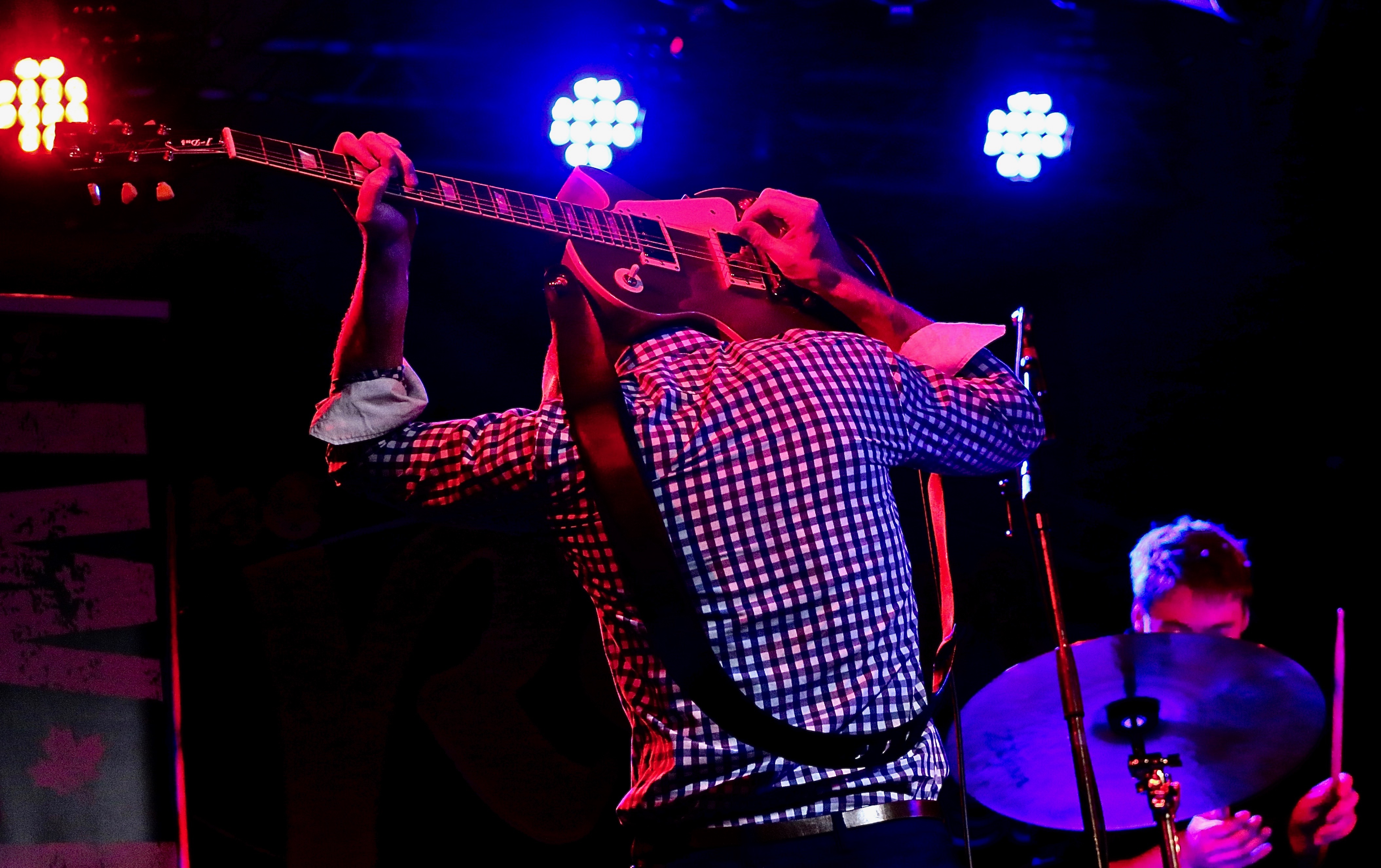 'I Don't Believe A Word You Say' is a boogie blues with slow sustains amidst a series of runs, but it's mainly his right hand playing style I'm becoming increasingly engrossed by: he switches between playing with a plectrum and a curious method whereby his thumb plays the lower ended strings and forefingers the high end, but not in an arpeggio manner.
The song itself is played with toned variety, and getting ever faster when JW Jones calls out: "Gonna take it up a notch" and we get a dash of instrumental country picking amid Bo Diddley beats leading into  Hendrix's 'Voodoo Chile' and 'Third Stone From The Sun' between a variety other styles played out during Belmont Boulevard's 'West Side Magic Boogie'.
Slowing things down, with a capo fitted on his guitar we get a slow 12 bar blues Jimmy Rogers' song to be followed by that riff Clapton ripped off for Cream's 'Strange Brew'  heralding a hip funky deep Buddy Guy cover in 'Tell me What's Inside Of You' .
Back to his own more recent work he tells us that the video for 'Same Mistake' was "recorded a year ago today". It's hook heavy pop rock with a blues underscore, as standing at the front of stage he lays into a sweet BB King style solo while across the way Greenberg makes with a two step dance movement. Me, I'm singing along, badly, but then no one's listening to me. Jones' voice however is clear, warm and with a rougher holler to it than on record.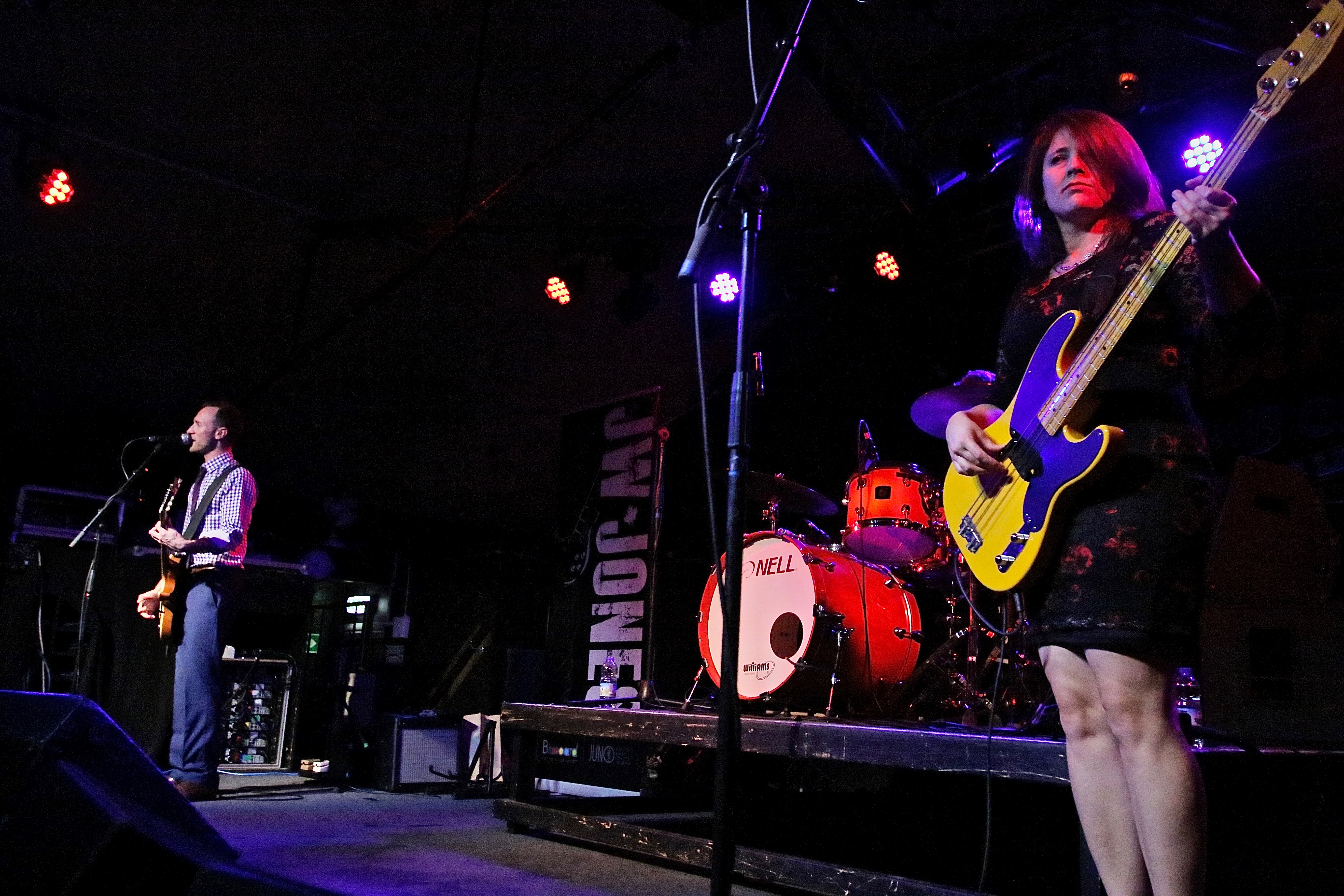 Greenberg begins a bass solo as Jones saddles up alongside Laurin on the drums before taking over, the circle continues with Laurin on bass and Greenberg on guitar, before another swap around and
Laurin takes a drum solo as the others exit off stage.
This entertaining fun continue on their return as they extend into a rock 'n' blues melody that takes in 'Daytripper' by The Beatles and either Zep's 'Communication Breakdown' or Sabbath's 'Paranoid' (same song really, ain't it), a waving of the Canadian rock flag with Heart's 'Barracuda', a move across the border for the Batman 60s and Spider-Man 70s animated TV series themes, island hopping for the Hawii Five-0 theme and back to England where Hendrix first wrote 'Purple Haze'  and 'The Wind Cries Mary', and then this evening's dinner party gets raucous again as Jones gets up on the drum riser playing the Stones' 'Brown Sugar' aided and abetted by Laurie drumming the strings of the guitar before Jones returns stage front.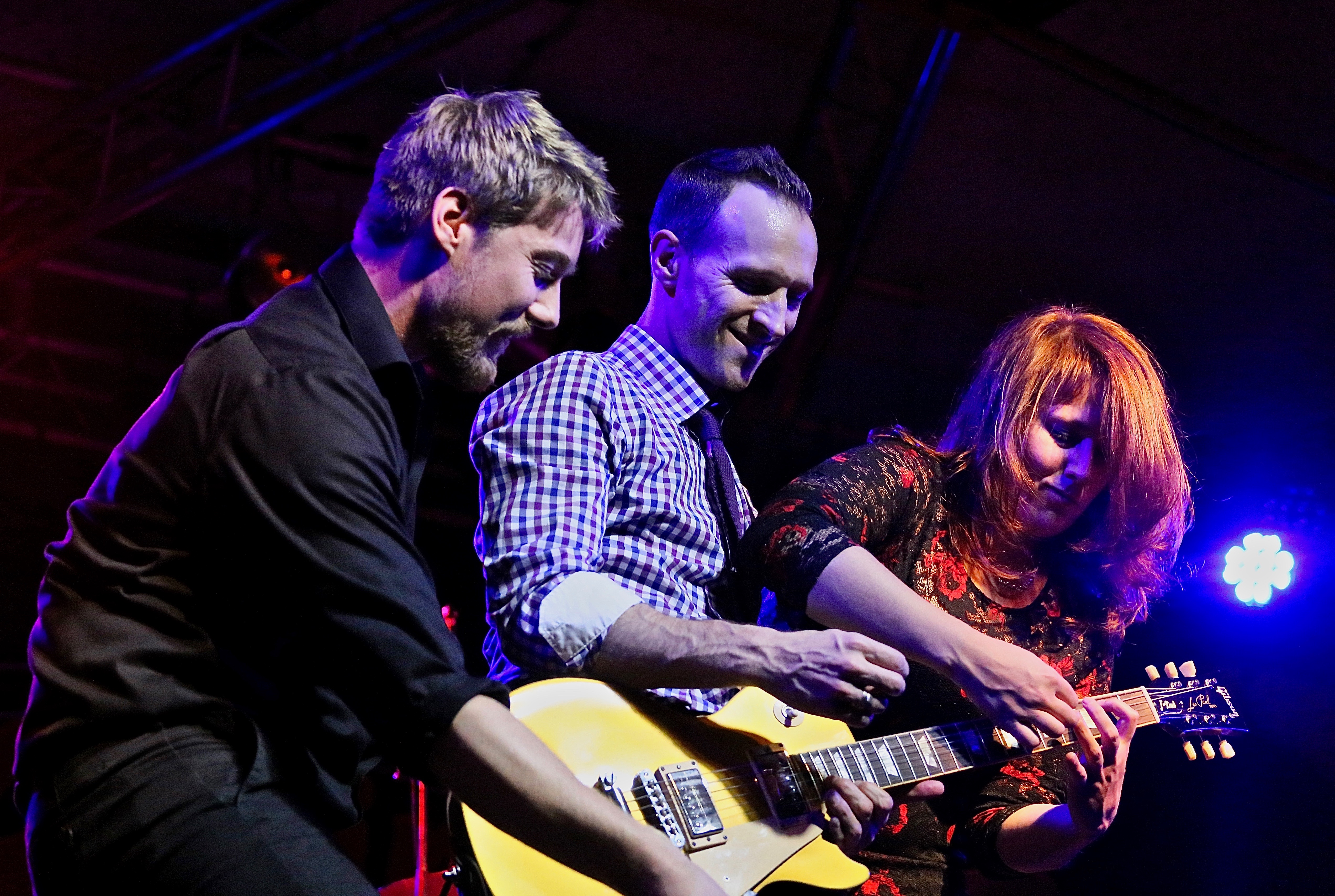 But hey, there's even more gimmickry coming our way as one by one Greenberg and Laurie join Jones on the same Les Paul he's been playing all night (and as featured on the record sleeve of High Temperature) for all three of them to be juggling a three part solo between them before returning to their standard roles and the ever speeding restrains of 'Johnny B. Goode' taking us towards a searing conclusion.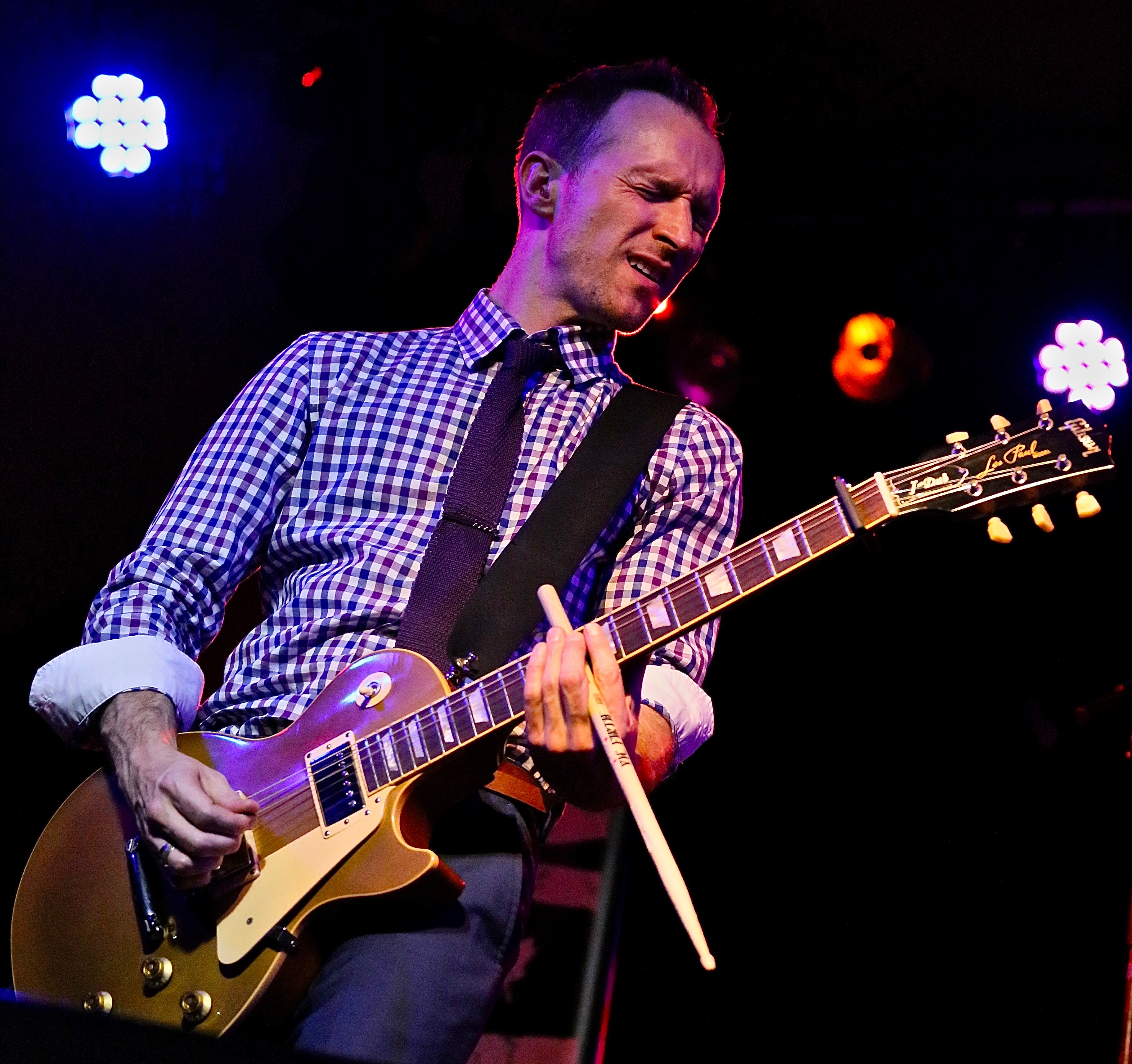 Those present got more than their money's worth tonight; good songs, excellent band, a sterling show. I trust this tour proves successful and JW Jones returns to these shores before too long, because you are really missing out if you've not seen him live.
(Photos by Martin Tierney).