Live at Manchester Academy
Straight out of Tokyo, Man With A Mission, blast us with hard-hitting rock stirred up with some nu-metal and a dose of electric to surge up the crowd with excitement. Adding to their uniqueness the band are dressed in what seems to be wolf masks, adding more fun to the set. They play some of their recent tracks 'Raise Your Flag', 'Seven Deadly Sins' and new track 'Dead End In Tokyo'. Their cover of Nirvana 'Smells Like Teen Spirit' puts the cherry on top of a great set-list. A nu-metal electronic revamp of this iconic track was really interesting to hear live. We're not sure many people in the crowd know who Man With A Mission are, but judging by crowd response they have done a great job and defiantly got the everyone hyped up for Don Broco.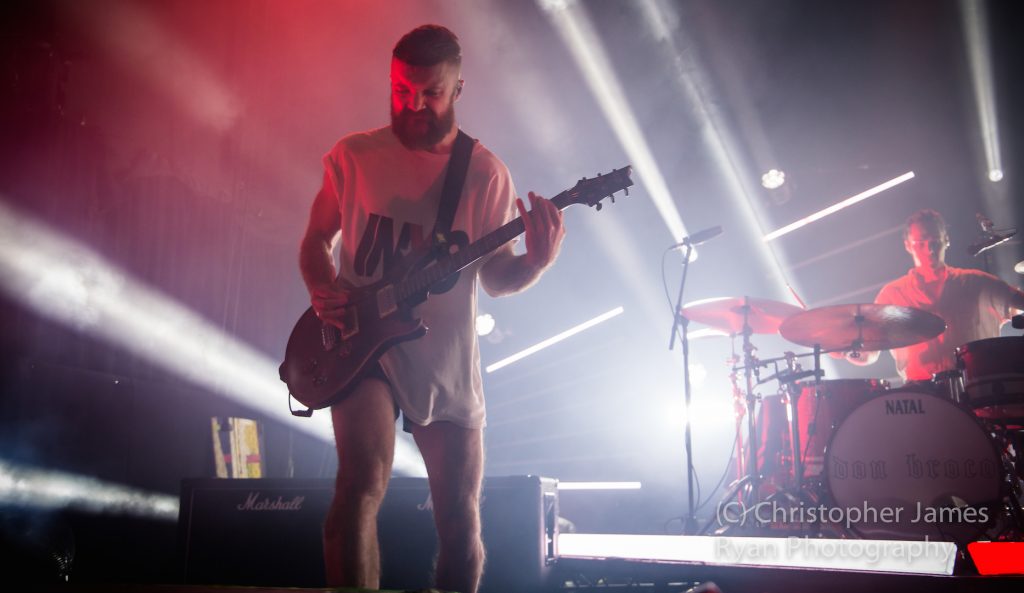 Don Broco have broke many barriers in the rock world, hitting the waves hard in the mainstream with their upbeat-happy-electric-rock  adding a dash of that 80's vibe thus creating super love from fans. Launching their third album Technology earlier this month there is no stopping Don Broco from invading your airwaves with their catchy beats. Lead singer Rob Damiani mentioned that within a week of launching Technology, the album had reached the top 5 in the album charts. The lads are over the moon with it!
From start to finish all the members are bouncing all over the show, you can defiantly tell it's going to be a great night! DB are one of those bands that instantly get you in the mood, makes you all happy inside. It's like the feeling you get when you see cute puppies. Good happy feelings all round the crowd are having an immense time.
Tonight will be a mix of classics and new ones, which is always what we love to hear. Rob says he's glad to be back in Manchester and to spoil us they play 'Greatness', the new single from the album. Tonight they have sang for the first time 'Greatness' …oft it went down a treat!
Of course playing the classics 'Pretty' and 'Everybody' which sure did get the crowd going mental! You must love those donco boys! During "What you do to me" Rob asks for a pit… yes a pit… at Don Broco… allllrighty then! This happened a few times during the show which made it that more mental.
More shenanigans include a quick selfie mid-show before the lads look like a total mess at the end of the set and some people from Switzerland have come over to the UK to see DB! Rob saw a sign hanging from the balcony, how mad is that!
'Thug Workout' is another huge highlight of the show. Possibly one of the best/ funniest songs I've seen both the music video and now performed. Rob askesthe entire crowd to sit down and reenact one of the dance moves, doing push-ups, what a proper workout this show has been! Topping it with a pit! Lavely!
Honestly tonight has been so much fun! If you want a laugh and memorable night forever then see Don Broco. Their music will get stuck in your head and the wacky dance moves will forever be in your favour.
Until next time Chris signing off.