Genre: Metalcore
Young and eager, An Elegy who formed last year are equipped with their instruments and a goal in mind. 5 piece metal core outfit AN ELEGY are ready to take the UK by storm and are certainly one to keep an eye on. Made up of five friends across Coventry and Birmingham and their love of all things heavy. The band have spent their time behind closed doors perfecting their craft and in turn have put their own stamp on their interpretation of the fusion of the metal and hard core genre!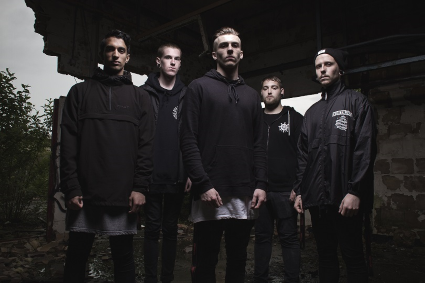 The pitfalls of having the volume turned up loud – 'Chailleann Tu Me' just skinned me alive! In true metalcore colours, with clean and more scathing vocal entourage, it slashes like a serial killer's knife and ravishes the senses in this opening track that holds nothing back. It shrill and ear piercing cymbals literally take the skin off your bones, helped along with melodic guitar and pumping rhythms. 'Embrace the Rain' hits the ground running and literally runs away with your audial canal. The vocal ranges are all-out heavy while the higher cleaner vocals clean your ears like a Brillo pad!! It also unveils a melodic rhythm with striking riffs and an untamed drum beat. 'Ghost' is an eerie track packed to the brim with distorted layered guitars and a bass that kicks like an angry mule. The vocal dexterity holds no bounds as they scrape the depths with an all-out bruising infusion that turns shrill and equally as brutal, not to mention the vibrant incidental vocal noises that adds in a band trademark to their perfect craft.  'Ghost Pt II' with equal power and velocity the next track on the E.P springs forward and simply engages on all levels for a profound mix of melodic and brutal. 'Hidebound' with its stunted riffs and kick beats set the precedence for a well-balanced track that delivers – and then some! For young musicians they sure know how to pack a punch right to the gut! The whole track wallops and slams using a far reaching riff that electrifies and captures the senses perfectly! 'VII' When will I ever learn about volume control? This is another track that turns your ears inside out! It constantly endeavours to erupt and spreads its deadly venom through heavily intimidating rhythms.
The swathe of healthy lures enthral in abundance and leaves the listener invigorated with the aftermath it leaves as each track finishes and makes one hungry for more of the same.

Its deep seated roots are hardy and steadfast and continually captures an amazing essence of metal within its tendrils.
I love metal core because what you get is the sheer power and raw edge that finds a way to inject itself into your veins and leaves you pumped up long after the tracks have ended.
To be released 27th July 2015.
Review Overview
Slashes like a serial killer's knife!
Summary : Its deep seated roots are hardy and steadfast and continually captures an amazing essence of metal within its tendrils.