Genre: Death Metal
Formed in the beginning of 2014 by Tobias Gustafsson and Erik Rundqvist with the mission to continue spreading brutal grinding death metal, after disbanding Vomitory in 2013. Guitarist Anders Bertilsson (ex-Coldworker) and guitarist/vocalist Andreas Björnson (Fetus Stench) soon joined the ranks and CUT UP was finally complete!
Relatively new death metal band Cut Up from Sweden have now landed on the map and giving, a kick up the metal ass to other bands of the same genre and reminding them that Sweden will not lie down and hand over the crown to anyone anytime soon!
'Enter Hell' is one of those rampageous tracks that leave you short of breath at just the thought of head-banging to it! The braying guitar riffs are rife and steady through-out while a smattering of drum beats descend vehemently on the aural with a hearty grazing vocal make this a superb track to open the album on.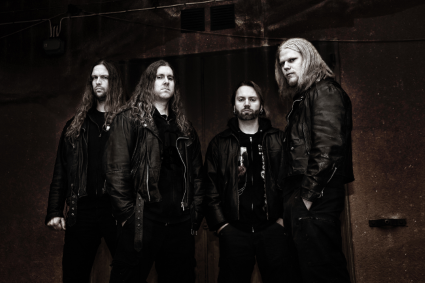 'Burial Time' is yet another feisty mass of angry seething that holds a vexing riff and antagonistic beatings that fester under a heavy and hateful vocal lure. The heaviness just seems to burst out of its confines as if nothing can tame it!
'Remember The Flesh' is somewhat slower paced but none the less extremely heavy and caustic. Its characteristic displays a slightly sinister edge and furthering on from that is a catchy melodic core that sizzles in death metal style.
'A Butchery Improved' sees good use of the drums as they are battered to within an inch of their lives! Vocally it is insanely frenzied and gruff.  It delivers an intense blow to the gut before offering a slower pace rhythm that literally is cut up probably hence the title!
'Brain Cell Holocaust' lives up to its name with some very macabre riffs that breed a certain discontent! The power that oozes from its gnarly structure are nothing less than brutal and a perpetual swamp of noise that gorges on the ears.
'Forensic Nightmare' the bands title track offers us another brutal fracas that is soaked in evil. It sort of mangles the senses in a way that is highly pleasing to a death metal fanatic, need I say any more?
'Camouflesh' The day a death metal band doesn't sing about flesh will be when the earth stops revolving I expect, but this clever title delivers a corrosive blow to the temporal lobe that nobody who experiences it will ever recover from.
'Order of the Chainsaw' is a slow brooding and menacing composition that swaggers under its own weight which is heavily laden with ripe riffs and damming blast beats.
'Stab and Stab Again' – I don't think anyone even the most crazed serial killer could stab anything this fast and with so much ferocity, even on speed!! Its fast, it's heavy and it holds all the characteristics of a superb death metal track!
'Bunker Z16′ is another wild and untamed track with great guttural sounds that spew forth with a frenzied nature. Vocally exciting it wallops with a metal fist and smothers the aural cavity with a physical and emotional depravity that is deeply scarring.
'Dead and Impaled' is the final track on the album and ignites with a lethal edginess that bites to the core with sharp rabid teeth!

Again, a relatively new band in the shape of death metal emerges from the bowels of Sweden.  They are the essence of loathing, hatred and malice all rolled into one! You may think that is harsh but it is what it is and performed by the Swedes is one notch higher as Vikings don't do things by halves. This band know where they are heading and it is to the top of the metal community with a vengeance!
The towering compositions rage with an attention seeking attitude that suggests this band will not stop until they are where they want to be! And if that means pillage, and plunder then so be it!
Cut Up 'Forensic Nightmares' is out via Metal Blade Records on 30th June 2015
Review Overview
Summary : The towering compositions rage with an attention seeking attitude that suggests this band will not stop until they are where they want to be! And if that means pillage, and plunder then so be it!