So here we are again visiting Sweden, the masters of music whether pop or grind they have all aspects covered.
First track 'From Ear to Ear' is a bold and arduous stomp that doesn't mind using its size 14's to batter and bruise the ears as well as the body.
'Necrophagic Madness' spreads an unearthly tone with rapacious rhythms and toys with the psyche in the most evil of ways.
'Behead the Dead' is probably a title that is very unnecessary in reality, but in Cut Up's land it is probably a daily occurrence. The vocals are damning and proud along with potent drum beats and electric riffs that go all out to please.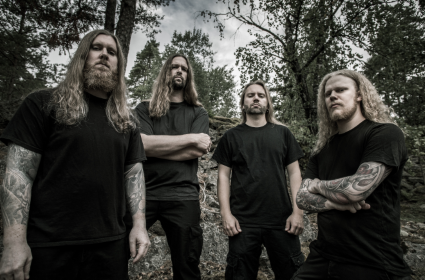 'Wherever They May Rot' is jam packed with a meaty goodness that stems from a superb melodic rhythm and bludgeoning drum beat that moulds the track into one ferocious monster.
'Vermin Funeral' sparks off a vicious but compelling dark rhythm with a strenuous vocal. Its virulence has your cards marked. The riffs tell their own story!
'By Hatred Bound' is another fast track that leaves you in a real head spin. It's dirty and caustic and so a perfect track of grizzly gnarliness.
'Psychosurgery' is what you need at the end of this album to straighten out your head. It shows no let up for being vehement and hasty to get its point across. The roaring vocal infuses the track with utter venom.
'In the Aftermath' it's hardly something one wants to think about, but in this event, it looks like it is going to be a lot messier than first thought. The mash-up of guitars and bass hooks work superbly well along with the thunderous crash of drums and powerful roars.
'Master Dissector' – Just as you think the titles cannot get grosser – you would be right for thinking they can and do. The onslaught is fraught with sadistic riffs and violent kick beats – this one lives up to its name so check your vital organs on leaving.
'Cranium Crusher' – well, this happened a long time ago when I pressed play on the computer… it is a dark passage with strong strides that catch you up and sweep you along a very bumpy but adventurous path!
'Raped by the Blade' is a slower paced track but none the less steeped in heaviness and reveals startling horrific images as the music plays out to this degrading title.                     
Cut Up Where Ever They May Rot is out via Metal Blade on 24th March 2017.
Review Overview
Summary : A bold and arduous stomp that doesn't mind using its size 14's to batter and bruise the ears as well as the body.