A year after the release of their  debut Ethereal EP, dark metal outfit Deathwhite return with their Solitary Martyr EP.
The first track 'Pressure' is an epic sounding song that boasts some more mellow moments amid powerful riffs and volcanic hooks that explode with ferocity. The vocals are clean and exact for the track and stir up some rugged emotions. The song has an agenda that leans heavily toward nirvana – not the band, but a kind of obscurity.
'Suffer Abandonment' is a lot harder hitting than the first track; the vocals, although, clean are ravenous and savage in places and the rhythmic lures are poignant and pure in their delivery, with a stirring ember that quickly ignites bringing a torrid feel to it.
'Vein' is shrouded in a thick, overwhelming rhythmic texture and, once the veil is lifted, reveals a mellow stringed arrangement which is complemented by some truly powerful vocal chords; it is a sultry track that has explosive qualities.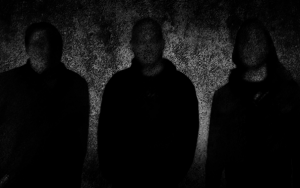 The band's title track 'Solitary Martyr' just grows teeth and rips at you like a hungry tiger killing its prey. It suddenly changes direction to reveal a sweeter sound but only momentarily before a thunderous pulse of agitation sweeps over it. The melodic core is delicious and moreish as well as fully engaging.
The final track 'Only Imagined' moves once more to an ambient guitar that is suddenly struck with a pounding and edgy drum beat, and from behind it comes deep and provocative vocals that capture and lure the listener into a world of sheer imagination.
At times this EP sends chills down your backbone; the rest of the time will have you deep in thought. Although the components are the same throughout, they have been slightly changed to give a deep and harmonious magnetism that pulls you even deeper into some highly polished melodies and muscular rhythms that blend superbly with the clean vocal caresses.
The band themselves are shrouded in mystery. I don't think anyone knows who the band members are? I am wondering if they went into the studio wearing ski masks and using pseudonyms. Maybe so!
I feel that Deathwhite has a lot to offer; their tracks just flare up with no warning and then calm down just as quickly, so you don't know what to expect, making the element of surprise prevalent.
Solitary Martyr will be self-released by the band in August of 2015. A special, limited edition (200 copies) version of the album will be made available on CD, with the aforementioned Ethereal EP tacked on as bonus tracks.
Listen and Pre-Order here: http://deathwhite.bandcamp.com/
Review Overview
Summary : At times this E.P. sends chills down your backbone; the rest of the time will have you deep in thought.