Cotard Delusion
For individuality and creativity this has to be the track of all tracks. It is noise ridden, black, and fuel injected with barbarous demonic hues. The deluge continues to tear at the ears with its sharp teeth and exudes a chronic madness that pulsates with a barrage of angular crookedness. It is extremely hard to put into words what this band have brought to the table, but saying that, there is nothing more appealing than a prime evil feel with rip roaring screams!
Failed Manifestation
The cavalry of intense rampage continues to flow endlessly like a black mass of carnivorous monsters that have landed from another planet! The sound perpetually wraps itself around the aural cavities like an angry and hungry snake! The screams are powerful and unrelenting, combined with unyielding, and savage noises creates a wealth of energy.
Keratoconus
To say this is just as evil as the previous two tracks is an understatement. It would leave its peers cowering for mercy! Sounding like an exorcism gone wrong is perhaps a good way of explaining it, however, as it is so unpredictable this is what makes it great listening, not knowing what to expect or what will run from its gigantic structure or ooze from its textures – perhaps you are better off not knowing!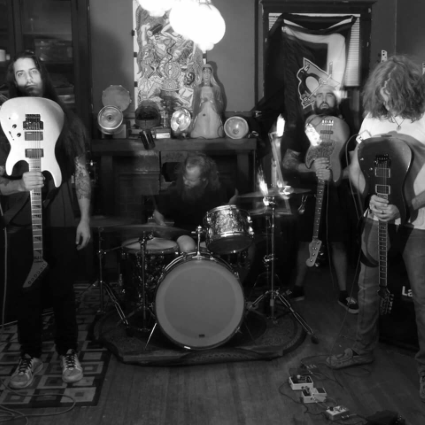 Latex
There is nothing subtle about this track, or indeed any other track on this EP. It doesn't coax the listener it simply drags and mauls its victims into submission, tearing them limb from limb with jagged teeth! The powerful noise ridden barrage continues to pour down and soak with relish the unwary and then with a crude awakening it begins to grip with an iron hand.
I have enjoyed every track on this strange EP because it is just that 'strange'. The evil effects are ruthless and inhumane and bring it to a new level of vulgar! This is not meant to be derogatory in any way, more a compliment of sorts as the noise brutality and cruel vocal onslaught hits like a giant tsunami.
Vicious and uncouth are the levels it sinks to in order to get its message across and no doubt the band members will probably have to be exorcised after playing this let alone the listeners who are caught up in the bands evil wrong doings.
Dendritic Arbor will release Sentient Village/Obsolescent Garden on 30th December 2015.
Recorded and mixed by Dave Cerminara at Treelady Studios. Mastered by Noel Mueller/Grimoire Records. Art by Hannah MacAulay & Maxwell Beehner. Ageless Christian Records.
Review Overview
Summary : This is one hard hitting EP not for the faint hearted!!