There is a big surprise waiting for you at the start of this album with its wondrous sound on sequencer that reminds me of an ebbing and flowing tide. It is most definitely my kind of metal, melodic and ferocious, with dual vocals clean and screamo that make for great listening, and a great title 'It Lives'.
'Friction' is a melodious journey into familiar territory and one superb track that gives its all, with soothing low toned roars and sharp clean vocals.

'The Revenge of Regina George' blusters into the spotlight, inciting revenge from every angle, however, the melodic slices of rhythmic clean singing really lifts the sound.
'Acta Non Verba' is another rampant track with a tango of melody that dances with the audial and of course that gruff growling sends out poisonous tentacles that grip.
'Devil Skin' gets down to business from the start of its creation. Clean vocals prevail closely followed by a dark throaty rasp that bares its gnarly teeth. Yes, another well-executed track!
'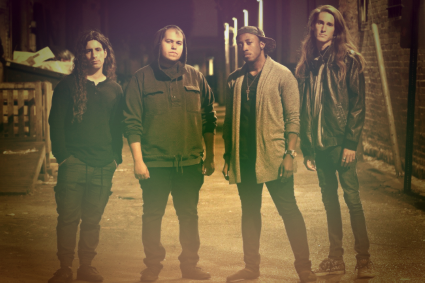 Empty Avenues Lead to Bad News' never curtailing its menace the track grows nasty and darker as it progresses, although the melodic metalcore keeps it grounded.
No doubt like the previous tracks 'Support Group' would cause a gigantic mosh pit where you would get swallowed whole. I love the keyboards that briefly put in an appearance on the track and also the rampaging rhythms that make it highly entertaining.
'There's Something in the Air' from the off hits the ground running and twists and turns into a ferocious beast, although there are keyboard notes that jangle in the background and accompanied by the dual vocals is something else!
'This World Ain't Big Enough' is another attempt to surprise the listener, with a beautiful opening and softer more mellow moments. This band are so diverse it's a total pleasure to review. It's a bit like beauty and the beast in music form!
'Tranquillity Lane' is not quite as tranquil as you might be lead to believe. It rewards the audial with a vocal adventure and big surround sound that encompasses the listener.
'Smooth or Not Diamonds' is as rough as it gets, well musically anyway. No complaints here as I bask in utter vehemence. The clean vocals are really crisp and seriously catchy, but don't forget that urgent roar as it sizzles past the ears at a rate of knots.
Dreaming Awake Friction is out 14th April 2017 via Imminence Records.
Review Overview
Summary : Dual vocals clean and screamo that make for great listening.