Trying to get into someone like King Diamond for the first time can be difficult. With twelve albums under his belt, the former Mercyful Fate man is a long way into his career and knowing where to start can be so confusing, you end up just walking away. Luckily, this is where releases like 'Dreams of Horror' come in. A greatest hits collection that encompasses all the hits from his career to date, it is the perfect starting point for young fans looking to get an insight into this legendary band.
Opening, appropriately, with 'The Candle', which opened debut album 'Fatal Portrait', new fans will quickly see just how many people King Diamond has influenced over the years. The most obvious modern band to draw a comparison to are Ghost, whose vocal style greatly resembles the King's banshee esque wail. From there we begin to take a journey through his albums, in general taking two tracks from each and all in chronological order.  It is a journey that takes in classics like the rocking 'The Family Ghost' and the twisted sounding 'Welcome Home'.
The compilation is split into two discs. Disc one encompasses the first five albums of King Diamond's career, taking us up 1990's 'The Eye'.  The only album to have more than two tracks is 1989's 'The Conspiracy', which alongside the melodic thrash of 'Sleepless Nights' and 'At the Graves', also provides the short, almost spoken word piece, 'Let it Be Done'. It is one of the few tracks that really stands out as an odd choice, but it does allow for a nice segway into 'Eye of the Witch'.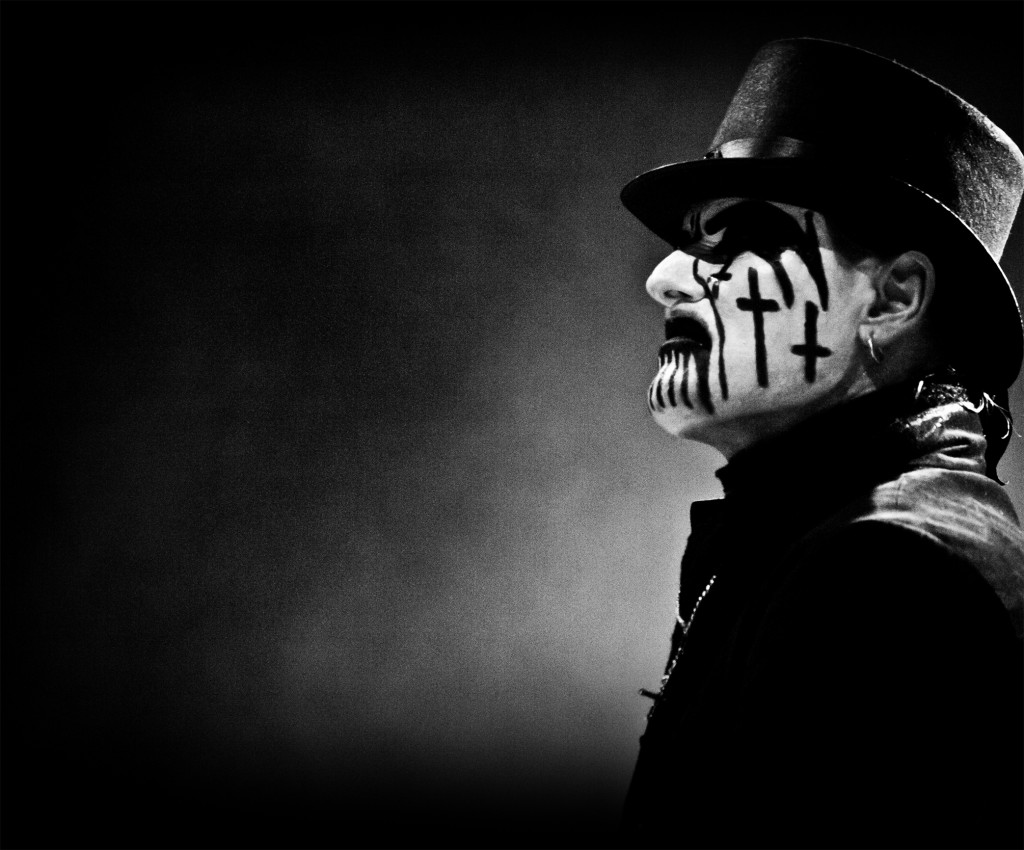 The second disc kicks off with 'Dream', before dropping into the foreboding creepiness of 'The Spiders Lullaby'. This creepiness is a recurring theme within King Diamond's work and it is easy to see that the shock rock of bands like Rob Zombie, owe a lot to the atmosphere that he perfected.  His songs often sound like the perfect soundtrack to your worst nightmares and are all topped off with that wailing voice screaming over the top.
'Heads on the Wall' brings around a change in tempo, with its slow melodic stomp showing a different side to the bands style.  Although when it twists into a fist in the air rocker, you can't help but headbang along with glee.  'Voodoo' and 'Abigail the Revenge II' are the only albums to be restricted to one track.  It is easy to see why in the case of Voodoo, as the bongo heavy sound of the title track definitely stands out from what has come before and what will come after.  It does include a guitar solo from the legendary Dimebag Darrell however and for that reason alone is worth a listen.
The biggest issue many will have with a King Diamond compilation album is that with a band that so often creates concept albums, taking some of these tracks out of their original order may affect the flow. While there is no denying you are not going to pick up the stories that this band have crafted throughout the years, it's not truly a worry that comes to fruition. This albums flows a lot better than many greatest hits selections and at times it's easy to forget this is a career retrospective, rather than a normal release.
King Diamond has survived a lot in his career. Fifteen different band members have gone in and out of this band, with only the man himself and guitarist Andy LaRocque being permanent members. While he also went through triple bypass surgery back in 2010. Despite this, 15 albums into his career, it sometimes feels like it is forgotten just how good the man is. In a world that tends to overuse the word legend, he truly feels like one and this compilation gives you a glimpse into exactly why that is. If you are an old fan you can give it a miss, you probably have everything on it already, but for people who are yet to find their way into King Diamond's disturbed world, 'Dreams of Horror' may be the perfect starting point.
King Diamond

'

Dreams of Horror' is out now via

Metal Blade Records

.
Review Overview
Summary : The perfect starting point for people looking to get into King Diamond for the first time.