You may have heard of the awesome Patent Pending before, you know, the New York pop-punk band that came out to the Chuckle Vision theme at Download 2013? Yet, you might not know who 'Mario and The Brickbreakers' are. Or maybe you have if you have played any classic Nintendo game. Do the names Mario, Luigi, Toad and Yoshi ring a bell? This EP came about after the band optioned 'Hey Mario' as their next single. This track is the opening track on the EP and inspired this whole project. The video that went up to promote the single features footage from the red-capped plumber's latest adventure but the band wanted to do more than that. Coming soon is a 30 minute mock-documentary about Mario and The Brickbreakers as a rock band a la VH1 Behind The Music.
As mentioned earlier the opening track is PP single 'Hey Mario' which is an awesome track as it stands featuring NES style samples and lyrics exploring theories on Princess Peach maybe not being worth Mario's time. Slightly similar to 'Luigi's Ballad' ,by Starbomb (which funnily enough came out around the same time as PP's Brighter). The tracks that follow are featured in the documentary and show the progression of the Brickbreakers as a band. The second track 'My Princess Peach' is a pop punk love song which could have been a great b-side to 'Hey Mario' in the days of CD's and could be performed on their tour later this year. The style of this song could even be a nod to their touring buddies Bowling For Soup.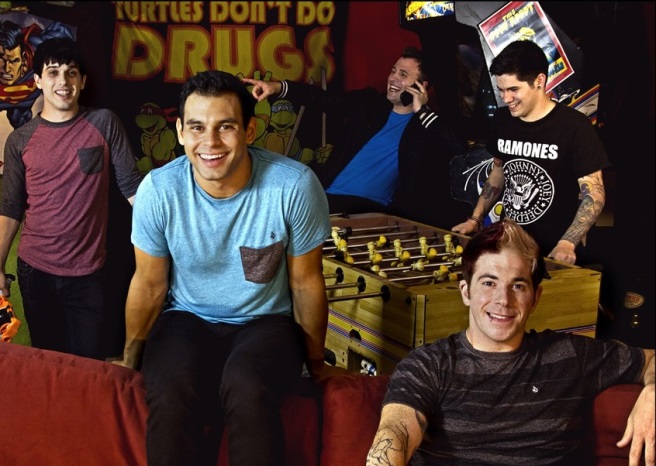 'Boom Boom Pass The Mushroom' is a reggae tinged song which I could imagine a band like OPM or even Sublime releasing, well, if this was the Mushroom Kingdom. The lyrics are similar to summer stoner anthems, replacing drug references with 'power mushrooms' (from the Mario games). 'Rainbow Road' is definitely a highlight, in the same way PP's cover of 'Break Stuff' on 2013's 'Spring Break '99' EP was. This is a country power ballad between Mario and Peach. I never thought of the final race-track on Mario Kart in this way before! If this song was on the Super Mario Bros '93 movie, it might have saved it. 'Up In MyTower' takes a turn in a totally different direction with Peach (palyed by Lisa Goe) dueting with Mario in a hip-hop fuelled pop song, similar to Ke$ha or Katy Perry. This track is stuffed with sexual innuendos, total opposite to the previous track.
The final track is '$ Maker' which is another crunk-esque hip hop track reminiscent of Snoop Dogg track Wet. The fact the album ends in this track and is far as you can get removed from the first two tracks just reminds us this isn't a full on PP album but part of a side project. This also serves as a great taster for the comedy doc the band have in store. At £3.49 on iTunes, it's worth a look, even if you're a Nintendo fan who wants a giggle.
6/10
Patent Pending 'Mario & The Brickbrakers: Greatest Hits' is out now via Second Family Records.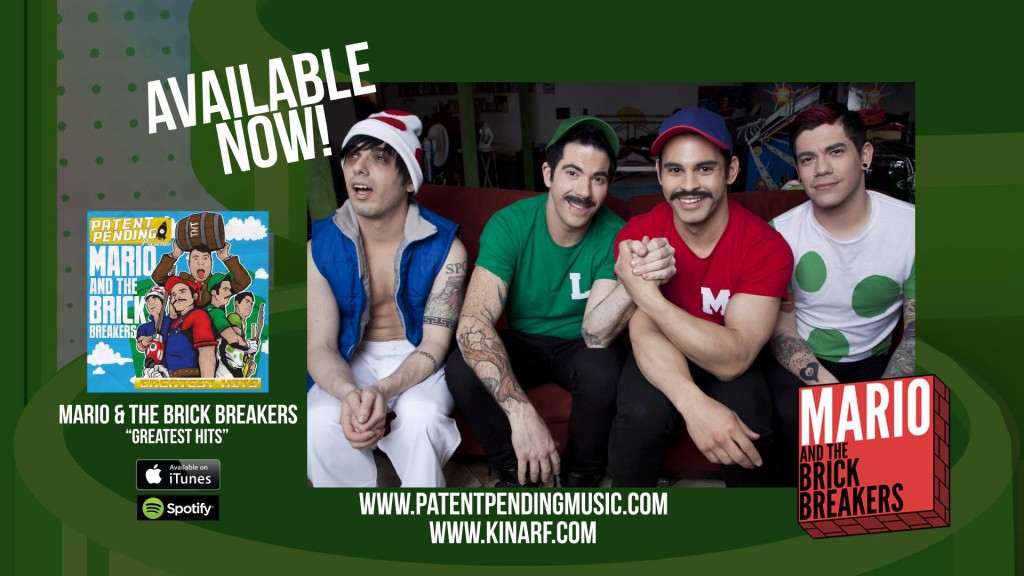 —