"Pissed On is very excited to release our debut EP the Hanged Man via Advocate Records. This record had drawn influence from a wide variety of acts such as Pig Destroyer, Discordance Axis, Swans, and Noothgrush as well as embuing the sounds of hardcore, grindcore, black metal, harsh noise, and death metal. Thematically, this record carries a narrative through 5 songs; a nihilist writes a final manifesto, in an attempt to warn the world of our true lack of purpose and the discouraging and sometimes relieving fact that we all die. It is an experiment in metal and melody and I hope you enjoy it."
-Davin Jones (Vocals, Noise) and Tyler Byers (Guitars, Noise).
Pissed On make an extreme and beautiful racket, it's grand listening that really flings itself out there and pulverises everything in its wake! The vocals stand up to a lot of strenuous screeching and growling which really fuels the fires somewhat! I can never seem to get enough once they start up, but then I have always been a little bit of a freak! I love my metal strong and exuberant, and like to feel it clawing back the energy it expels and feeling the gut wrenching power hit my stomach with such velocity it is like being hit by an express train!
Mostly, the tracks from bands like Pissed On are short but I think there is a reason for that, and that could be, there is only so much energy one can produce before falling into a deep coma, or it could be they just want to produce enough adrenalin to make you want more, or it could be a combination of both.
For me, call me greedy if you like, but the more tracks that breed this exquisite fuelled aggression never last long enough, but that is what the replay button is for isn't it?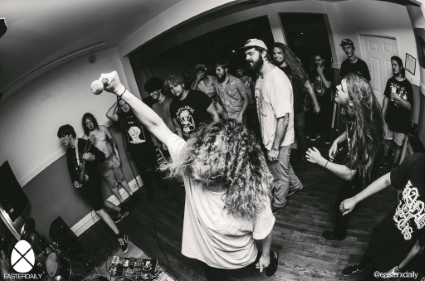 Bands like this can do slower tracks and still make them heavy as f*ck just by bass drum and screech alone, although the heavy riffs and mesmeric bass hooks do help to charge the energy along the way.
The Hanged Man can hardly be heard when it begins, but soon racks up a torrential mountain to climb as the lurid music escapes and smacks you round head a few times. Vocally triumphant and brittle it does battle on its own terms, with an unholy slower beat that sounds like Satan's hooves on a laminate floor! Each beat is like a step further into the abyss, the dark void opens and into it slithers a powerful masterpiece that has well and truly made its demonic mark!
Personally, I prefer the really fast numbers that sound like an exorcism being carried out, they are much more in keeping with what goes on inside my head and brings on a turmoil of imagination that just keeps growing frantically!
It's not everyone's beverage, but it certainly is mine, and will be for a long time to come I reckon!
Pissed On The Hanged Man is out 17th March 2017 via Advocate Records.