Karabas Barabas formed in late 2015 in Jacksonville Florida when Andrew Tuzhilin (bass/vocals), Josh Davis (drums) and Phranque Gallo (guitar/vocals) got together. The name comes from a villain in a Russian fairytale and they have released a follow up to their first album, Return of the Sexy Demon. Subtly titled Sex With The Devil this new one features guest musicians, cellist Jane Scarpantoni and percussionist Mike Dillon.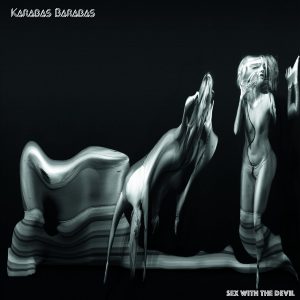 This is almost impossible to categorise: if you can imagine Frank Zappa crossed with a heavy metal Barron Knights (remember them?) and a bit of Lou Reed thrown in, then you come close to the quirky yet captivating sound. The only band with a similar rock approach full of daftness and deftness is My Son The Bum who also played eccentric very well. That's what is prominent when listening to this…fun being had by all and a welcome awaits should you wish to join in.
Opening with 'Sex With The Devil' (the best track) has strange percussion behind a fun guitar pattern and develops into a damn good track, even if the subject matter is somewhat unusual. Then we have 'That 70s Song', which is just that, a poppy fluffy song à la The Archies. 'Fuckarana' goes all Foo Fighters with dischordant guitar.

'You Can't Do That' seems to be about being banished to Eckyeckystan by one's offspring before creating a robot army and returning to take over…yes, really. 'High Five' tells of being "sorry that we had to sell the cow" to a Floydish backing.
Numerous listens leave you wondering why this is so catchy and enjoyable. OK, it won't be on repeat but the instruments are played well and it's just so unusual I can't help but like it.