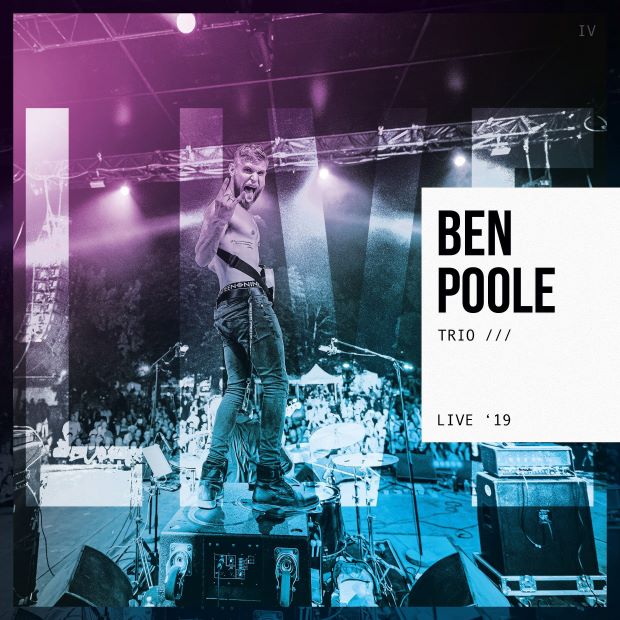 Blues rock guitarist, singer-songwriter Ben Poole releases his new double live album Ben Poole Trio /// Live '19 on Friday 31st next year.
As previously reported at RAMzine here the songs on record were recorded over three nights in July this year at Old Schoolhouse in Barnsley, The Half Moon in South London and Bootleggers in Kendal, Cumbria.
It is Poole's first live recording since 2014's Live at The Royal Albert Hall.
Showcasing some of his most popular songs including 2018's critically acclaimed Anytime You Need Me and 2016's Time Has Come the record features former King King drummer Wayne Proctor and bass player Steve Amadeo alongside Poole himself on guitar and vocals.
Featuring a really nice raw earthy sound and some fiery guitar on the tracks we've heard in advance of the record's release each CD runs at just under an hour.
Disc 1 Ben Poole Trio /// Live '19 features'Intro', 'Take It No More', 'Win You Over', 'Start The Car', 'Have You Ever Loved A Woman', 'The Question Why', 'Further On Down The Line' & 'Don't Cry For Me'.
While Disc 2 opens with 'Lying To Me' and follows through with 'I Think I Love You Too Much','Found Out The Hard Way', 'Stay At Mine', 'Anytime You Need Me' & 'Time Might Never Come'.
The album can be pre-ordered by clicking here.
For an interview with Ben Poole at RAMzine  click here.