Oklahoma rock act Cosmic Wool will have their eponymous full length debut in stores on 15th December 15 through Nemesis/Vanity Music Group and has been described as sounding like "Soundgarden, The Red Hot Chili Peppers and Prince kicking out one wild ass, baby!"
Formed in late 2013 by brothers Nevada  (guitars, keyboards, backing vocals) and Rado Romo (lead vocals, bass) – both formerly with Nuclear Blast artists Anti-Mortem and Nevada currently also a member of Texas Hippie Coalition –  along with John 'Drew' Williams (guitars, keyboards), who they met through mutual friends. The line-up was completed by Tom Frizzell (drums), after he answered an advert posted on social media.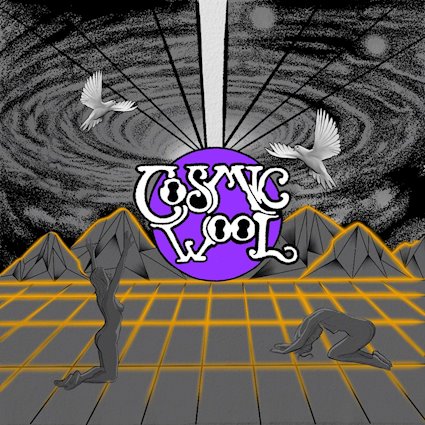 Cosmic Wool started life as a jam band during breaks in the Romo's touring schedule until the dissolution of Anti-Mortem in late 2014.  Thereafter the band released their debut three song maxi single/EP Over Your Eyes and began touring. "We found a home away from home in Wisconsin, Minnesota, and Illinois," said singer Nevada Romo. This popularity lead to a further EP in 2016, White, where they developed their cosmic-rock roots incorporating character driven music with groove lines, dance breaks, and experimental guitar riffs.
"Some fans yell 'Space rock!!', while others claim disco has returned when they hear our music. Fans can't figure out how to pin the sound down, but they come back for more – it's the only place the only place they know where to get it," Rado Romo commented.
Writing and reworking songs that would culminate in their first full the results have been described as "a very personal affair and the culmination of years of tearing down and rebuilding" working Chainsaw Kittens guitarist Trent Bell as producer at Bell Sound. "We met Trent through another producer we're friends with named Dustin 'Provo' Provenzano who did the first Cosmic Wool demos as well as the Anti-Mortem demos. Bell Sound is a huge facility," the band's frontman pointed out, "So we took full advantage of that and recorded most of the guitar, bass and drum tracks together in the same room.  We also experimented with state of the art synths and keyboards to round things out."
Cosmic Wool's debut album is out on 15th December.