Stiltskin frontman and ex-Genesis lead singer Ray Wilson has announced the release of his fifth solo studio album Song For A Friend, dedicated to his much missed friend James Lewis who passed away in 2015.  The record will be available on June 3rd and has been described by the singer/songwriter as "a collection of musical short stories". It will be available as a CD with booklet and black vinyl LP.
Song For A Friend showcases Wilson's "up close and personal" storytelling style, stripping bare to reveal tales of loss, friendship and human emotions. Opening track 'Old Book on the shelf' takes listeners to a cafe in Amsterdam, where a man sits alone unable to find inner peace. When he notices a solitary book on a shelf he comes across a memoir of his own life, and with that the realisation that his peace and happiness will only come if he accepts himself for who he is and stops trying to fight it or prove himself to anyone. This fable prepares listeners to the intimate stories that follow.
"The meaning of life is the journey: this album encapsulates the journey," said Wilson. He then elaborates: "This album was written to inspire. When you feel like giving in, when you feel you are losing the will to keep pushing or fighting. This was written to help you dig deep, and fight for joy and peace in your life".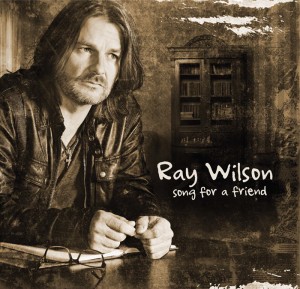 From Lewis' tragic suicide to his partner's accident, life on the road and some of the friends who touched his life in one way or another, it has been declared that Ray Wilson shares his experiences, feelings and beliefs without holding back on Song For A Friend.
Scotsman Ray Wilson is renowned as the frontman for rock outfit Stiltskin who scored a hit single with 'Inside', and as lead singer of seminal prog legends Genesis from 1996 to 1999, covering vocal duties on their 4th best-selling album Calling All Stations. After the band split Wilson's fame continued to flourish as he produced a further studio album with Stiltskin and embarked on a prolific solo career. His live tribute Genesis Classic in 2009 involved ten musicians from across Europe, with members Stiltskin joined on stage by the Berlin Symphony Ensemble. He has also been a live guest with artists as diverse as The Scorpions and Steve Hackett.
In 2015 Stiltskin guitarist and collaborator, Uwe Metzler, sketched out some acoustic ideas, and once again Wilson's solo journey began. Helping Wilson on Song For A Friend together with Metzler and drummer Nir Z are Lawrie McMillan on bass, Kool Lyczek on piano, Hammond and melotron, Ali Ferguson on guitar, Marcin Kasper on sax, brother Steve Wilson on backing vocals, Mario Koszel on percussion and Peter Hoff on percussion loops, with mixing courtesy of Yogi Lang.
The songs featured on Song For A Friend are as follows: 'Old Book On The Shelf', 'Over My Dead Body', 'Cold Light of the Day', 'Song For A Friend', 'How Long Is Too Long', 'Not Long Till Springtime', 'Backseat Driving', 'Parallel Souls', 'Tried And Failed' and 'High Hopes'.
To pre-order Ray Wilson's Song For A Friend on CD click here and here and on vinyl click here and here.