World-renowned drummer John Macaluso has played with the likes of Yngwie Malmsteen, James LaBrie, TNT, Symphony X and Ark, Labyrinth and Mike Romeo has co-founded multi-national rock band Stone Leaders whose  self-titled debut album wi'l be released this autumn via Vanity Music Group.
The band essentially came together when Macaluso was doing a drum clinic in Zagreb, Croatia and he asked the organiser to sort out some local musicians to jam with.  Macaluso then met guitarist Ivan Mihaljevic and bassist Marko Karacic of Croatian band Side Effects ten minutes before the clinic began and decided on what they would play.  The start of the clinic (now basically a full-fledged gig) was the Deep Purple classic 'Burn' and it brought the house down. Right then, the trio knew they had something special so when New Yorker Macaluso went back to Italy (where he now lives) he contacted Ivan and plans were made to get together and write and record an album.
Throughout the meetings together in Italy and Croatia the band discovered that they also clicked as friends as well. As songwriting began. Macaluso and Mihaljevic started the process with Macaluso recording his drum tracks with song arrangements in mind then Mihaljevic took the drum parts and started writing riffs and moods over the top with some help from Karacic on a couple of songs.
As the drummer explained: "The writing and recording process is much different than the way most bands do it. We did it the way my past band Ark did. First I went into the studio and did a demo of only drum arrangement before any notes were written. I recorded the track with songs in mind, intro, verse, chorus etc. Then I sent these tracks to Ivan and then the songwriting process began: recording over the drum tracks while writing the song. I also gave him a song title so he could capture a mood and not just write cold over drum beats. It worked with Ark and worked for Stone Leaders also. Ivan and I really click as a writing team, he is very talented and thinks out of the box."
The songs started to take shape, morphing into something different than just the usual prog, rock or metal album. "This was something darker and more mid-tempo but hypnotic and deep at the same time," Macaluso said. "Ivan then wrote vocal melodies over the riffs and I chimed in with lyrics that really fit the vibe of the music and there it was, Stone Leaders was formed." The band was done and ready to start laying down tracks for the album.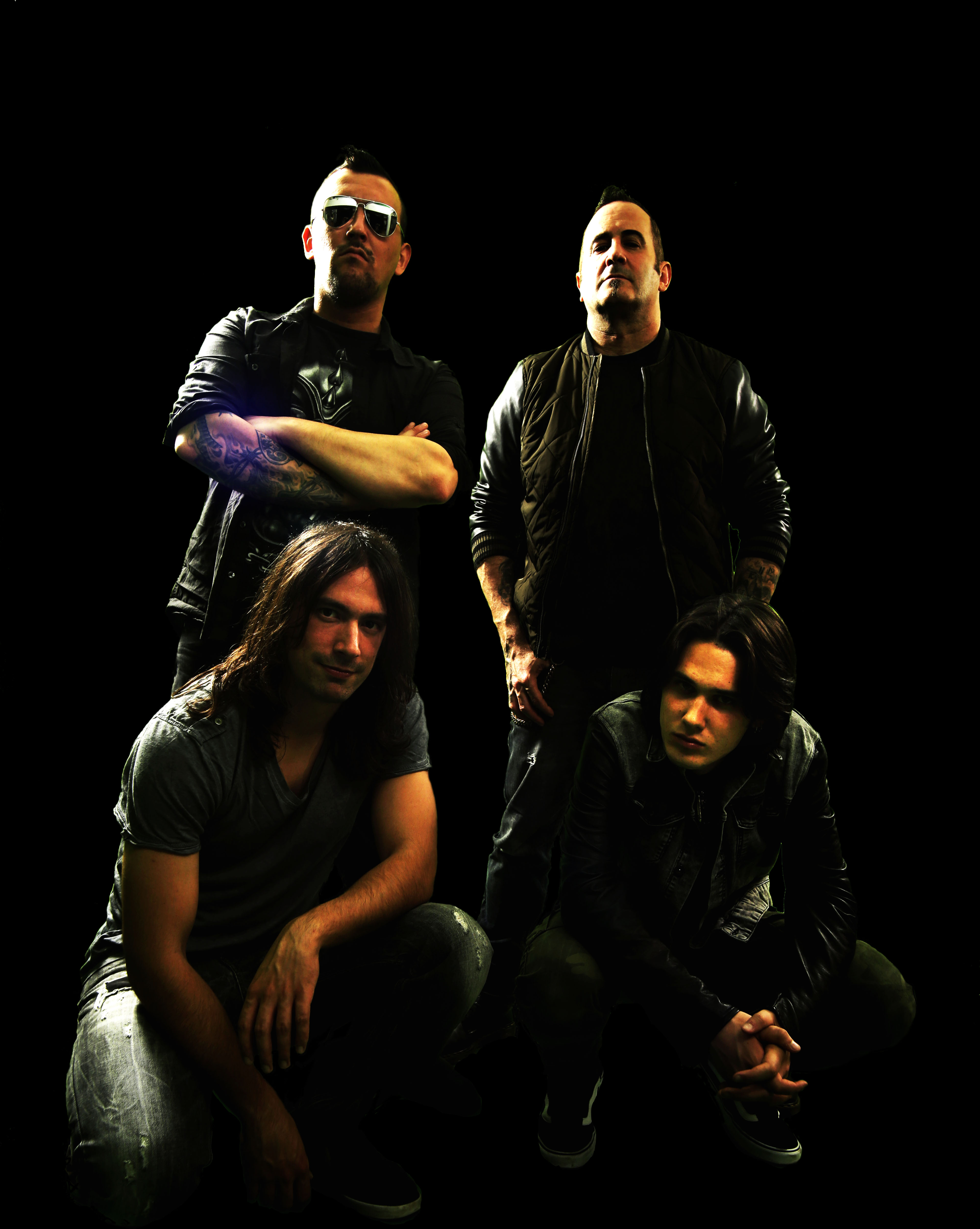 "You know, before a band records it's better for the mood and work ethic if the band already has a name, obviously, but sometimes the hardest part is actually coming up with a name," Macaluso discloses. "I had this book of lyrics for my old band, Ark and Ivan was looking through it. One of the songs that we never finished was called 'Stone Leaders' which Ivan said would be a great name and I agreed. The song was about world leaders immortalised as stone statues, so basically Stone Leaders are statues."
With the stone leaders lyrics as inspiration Macaluso designed a cover where the soldier is being told from the war angels that lead them into battle and are the guardians that peace is here so they are no longer needed. The soldier holds an alligator on his lap to show peace within the universe, an idea he got from an actual Gettysburg photo from in which an American civil war soldier actually posed with an alligator on his lap. "You don't see it initially but once you do it grabs you!"
Dino Jelusic (Trans Siberian Orchestra, Animal Drive), also from Croatia, was brought in to add a second lead vocal to the mix as well as keyboards. "For the music we wanted to make and the mood we wanted to create we realied that keyboards were necessary as well as having a different voice in the mix rather than Ivan just layering his own voice behind his own lead vocal." Ivan knew Dino so he called the uber talented keyboardist and vocalist and who is a great singer as well as keyboardist." Introduced by Mihaljevic, the inclusion of the keyboard player/vocalist meant the final piece of the Stone Leader puzzle was in place."
Produced by Mihaljevic and Macaluso, the album has been described as "dark groove prog" and features the following tracks: 'Box of Fire', 'DVB4U4ea', 'Fire Up the Oceans', 'Blind Crusade', 'Shot by Lies', 'Toxic Guide', 'Heartless Stereo', 'Unearthly Designs', 'Electric City', 'Ignited', 'Geavity' and 'Seeker'.
Commenting on the record Macaluso explained: "The songs are more groove oriented than mathematical like most prog metal bands today. We have time changes that are really only there to fit what the lyrics are telling. The music is there to compliment the story that the vocal is relaying. Another thing, the songs aren't so extended that you don't remember what the intro of the song was when it ends. They're medium songs filled with hooks. Lyrically, the songs are both spiritual as well as realistic. There's some fantasy but not really in a sci-fi sense, more in the way of mind battles, searching, life, death, addiction, religion. We try to touch on everything."