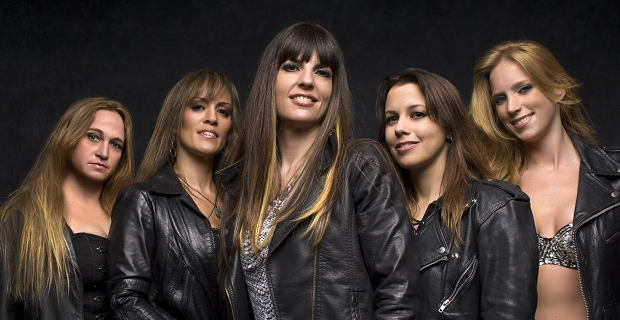 The world's first all-female Iron Maiden tribute band The Iron Maidens have announced a one-off show at Shepherds Bush Empire on 14th April 2016.
Excited front-woman Kirsten Chickinson said:
"For years people have been asking when we're coming to the U.K. so it feels almost surreal that it's finally happening. To play London – the city where Iron Maiden actually began in 1975 is thrilling and also daunting; I expect the home fans to be the most discerning but we are definitely up for the challenge! To see where it all began, this is hallowed ground".
Formed in 2001 in Southern California, The Iron Maidens quickly established themselves as one of the most notorious tribute act in the US, progressively expanding their fame far and beyond the Americas. The five women have conquered the attention of fans and fellow musicians with their musical prowess and electrifying live shows, where they perform hits and fan favourites from all phases of Iron Maiden's career with appearances by mascot Eddie, the grim reaper, the devil and more.
Professionals with diversified musical backgrounds, ranging from orchestral and musical theatre to blues and rock, The Iron Maidens feature Linda McDonald on drums, Nikki  Stringfield and Courtney Cox on guitars, Kirsten Rosenberg on vocals and Wanda Ortiz on bass.
While Iron Maiden's latest album has topped the charts – The Iron Maidens celebrate the recent release of their first full-length studio album, and the first studio tribute CD to a band ever recorded entirely by one artist; the cover artwork featuring a female monster designed by none other than Eddie's creator Derek Riggs.
The Iron Maidens are not just pretty faces: in their career they have been joined on stage by the likes of Alex Skolnik from Testament, Lemmy, Megadeth's Dave Ellefson, Anthrax'  Scott Ian and Judas Priest's Tim (Ripper) Owens. They were chosen to support Danzig, Cypress Hill, Snoop Dogg, Nightwish and Nevermore amongst others. They've been featured in Playboy and Hustler as well as Rolling Stone, Guitar World and Drum magazine.
The Iron Maidens will bring their show to the UK for the very first time on Thursday 14th April 2016, with a one-off date at Shepherds Bush Empire. Courtney and Linda have played in London before with different bands – Linda even at the same venue! While it's the first encounter with the British crowd for Wanda and Nikki.
Tickets are available for The Iron Maidens by clicking here.