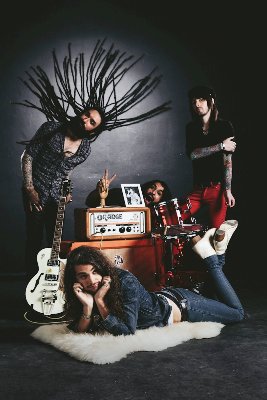 The Lockhearts release their full length album Americana Doom Fuzz worldwide as of 13th April.
Fronted by Tim Meaco (vocals/guitar), with Jameel Majam (bass), Samuel Sheumack (guitar) and Steve "Woodie" Woodward (drums), The Lockhearts formed in Sydney's inner west over a shared love of Aerosmith, The Rolling Stones, Tom Petty and, apparently, hot sauce. Taking up an 18 month residency at Sydney's Brighton Up Bar they developed a bell-bottom swagger in their performances that lead them to signing with Golden Robot Records.
Between recording drums in the stairwell, blowing up vintage amplifiers and selective live tracking to capture the band's onstage energy, they took on a "keep it loose, keep it tight" approach to write moody, guitar-driven songs for Americana Doom Fuzz. Songs that go by the following titles: 'Leatherface', 'The Ocean', 'Call for Help', 'Little Eden', 'London Bound', 'If I Was Your Man', 'Goddamn Pretty', 'Ride Home', 'Polaroids', 'Spectre At The Feast' and 'Xanax'. Singles 'Ride Home' and 'Goddamn Pretty' were released in Australia at the end of last year, along with videos, but have now been released in Europe.
The Lockhearts will be joining label mates The Lazys on a European tour this summer but the only date confirmed for the UK thus far is Wednesday 6th June at The Blackheart, London.
Americana Doom Fuzz by The Lockhearts is available for pre-order in all formats by clicking here.