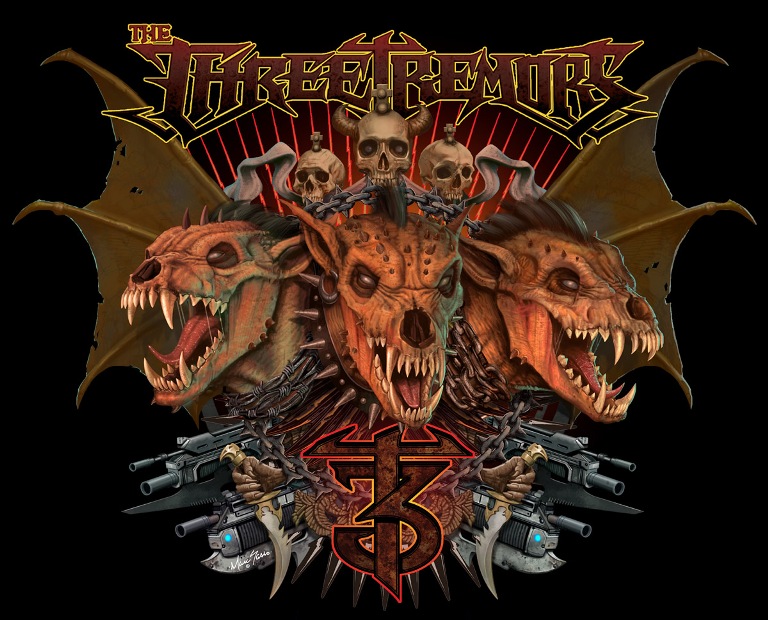 Heavy metal trio frontline trio Tim 'Ripper' Owens, Sean Peck and Harry Conklin have released The Three Tremors their collaborative debut album on Steel Cartel Records, and in its wake a new video for single 'Bullets For The Damned'  that premiered on Billboard over in the USA.
The CGI-heavy animation features The Three Tremors trading vocal licks on a desolate, post-apocalyptic landscape, where they also do battle with giant, scorpion-like alien creatures.
"It was all green screen stuff. I felt like Arnold Schwarzenegger for a second," Owens said. "It's kind of a throwback, like the whole CD is — it comes straight at ya, a lot of stuff going on and really a power punch of everything. That's what this (group) is – The video's over the top, the music is over the top, everything. That's something that's been gone for a while, so we're trying to bring it back."
https://www.youtube.com/watch?v=6VUKyuyllAc
The Three Tremors album itself features 12 new songs depicting what have been described as "monumental stories of time honoured heavy metal themes".
They are:: 'Invaders From The Sky', 'Bullets For The Damned', 'When The Last Scream Fades',  previous single 'Wrath Of Asgard', 'The Cause', 'King Of The Monsters', 'The Pit Shows' 'No Mercy', 'Sonic Suicide', 'Fly Or Die', 'Lust Of The Blade', 'Speed To Burn' and as bonus track 'The Three Tremors'.
For more on The Three Tremors at Ramzine click here.