Team RAMzine are a friendly community of Rock and Metal music fans, we all share a passion for music, so we're a great place to make like-minded friends. The benefits of being on our team include free CDs, downloads, tickets, and festival passes. RAMzine also provides you a place to learn and progress within media and music journalism. It's your platform to be as active within music journalism as suits your schedule, knowing that you get out what you put in.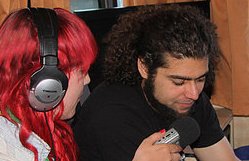 We welcome those with media skills who are passionate about Rock and Metal music to get in touch about joining our team. You may be good with social media, and you want to gain some experience within media/journalism/the music industry, or maybe you would like to build up your video or photography skills. If you think you have a skill you could offer us, please do get in contact.
Current Vacancies: 
Assistant Editor (Remote):
We are looking for an enthusiastic and engaged Assistant Editor to join our team. You will be 1 of 2 Assistant Editors. You'll need to love alternative music, be social and digital media savvy, and have top notch grammar skills. You'll need to be super organised and happy to get stuck in. This is a voluntary, home based role and you can choose what time you have to put in to it. You'll need to be available at either evenings or weekends to speak with the Editor via Skype and able to commit to the role on at least a weekly basis. This is a role that welcomes your ideas and support, please get in touch via the the form below if you are interested.
Desired Skills: Editing articles, creating social media posts, general administration.
Responsibilities List: 
Edit & Publish Articles on the website on a weekly basis. (All in pending to be published by the Sunday). 

Assist the Social Media Exec with posts on Facebook / Twitter / Instagram. 

Be alert in the world of Rock/Metal to ensure that we are posting current/big news relevant to our industry (EG: A Rockstar passing away, Festival Announcements etc).

Contribute creative ideas. 

Proofread articles for the zine.

Design pages of the zine in InDesign using the zine template (If you have InDesign).
More responsibilities could be added after time if required.
---
News Editor (Remote):
Do you want to make a difference in the rock and music scene and make people think?  We're looking for a News Editor to head up this section on our website but also help ensure articles are localized for readers, to bring it home for them and give it relevance. This role will include editing articles within the section along with the editorial team, coordinating and distributing press releases to writers on a weekly basis and coming up with engaging topics and article ideas. This role will also work closely with the Social Media Exec to ensure RAMzine publishes 'hot off the press' news quickly. 
Desired Skills: Editing, creating social media posts, general administration.
---
Music Journalist (Remote):
Do you have a passion for Rock And Metal music? Whether you prefer a certain genre within Rock And Metal or are up for giving anything a listen, we need you! We are looking for reviewers to write between 400-600 word reviews on the latest Rock And Metal albums. This is a voluntary, home-based role and you can choose what time you have to put into it. We are also on the lookout for music journalists who would like to attend and review festivals, live gigs, and conduct interviews with artists. Please get in touch with the below details if you are interested.
There is no current deadline to apply for this role. 
---
To apply for a role please email vicky@ramzine.co.uk with the following details:
Name and location you are based.
Why you feel you are a good fit for the role and what experience you have.
Who your favorite bands are and why. 
Please note that all roles are currently on a voluntary basis.