Team RAMzine are a friendly community of Rock and Metal music fans, we all share a passion for music, so we're a great place to make like-minded friends. The benefits of being on our team include free CDs, downloads, tickets, and festival passes. RAMzine also provides you a place to learn and progress within media and music journalism. It's your platform to be as active within music journalism as suits your schedule, knowing that you get out what you put in.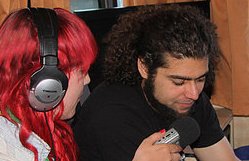 We welcome those with media skills who are passionate about Rock and Metal music to get in touch about joining our team. You may be good with social media, and you want to gain some experience within media/journalism/the music industry, or maybe you would like to build up your video or photography skills. If you think you have a skill you could offer us, please do get in contact.
Current Vacancies: 
Social Media Exec (Remote): We are on the hunt for a fellow music fan who has tons of ideas to develop engaging, creative and innovative content for regularly scheduled posts, which enlighten audiences and promote brand-focused messages. The role will include writing copy and creating photo/video content for social media, as well as scheduling our articles to reach the masses via our channels. Experience in Adobe Spark and a social media scheduling platform is preferred, however we are also willing to train people. Please get in touch with the below details if you are interested.
Deadline to apply: 17th January 2021. 
Music Journalist (Remote): Do you have a passion for Rock And Metal music? Whether you prefer a certain genre within Rock And Metal or are up for giving anything a listen, we need you! We are looking for reviewers to write between 400-600 word reviews on the latest Rock And Metal albums. This is a voluntary, home-based role and you can choose what time you have to put into it. We are also on the lookout for music journalists who would like to attend and review festivals, live gigs, and conduct interviews with artists. Please get in touch with the below details if you are interested.
There is no current deadline to apply for this role. 
To apply for a role please email vicky@ramzine.co.uk with the following details:
Name and location you are based.
Why you feel you are a good fit for the role and what experience you have.
Who your favorite bands are and why. 
Please note that all roles are currently on a voluntary basis.