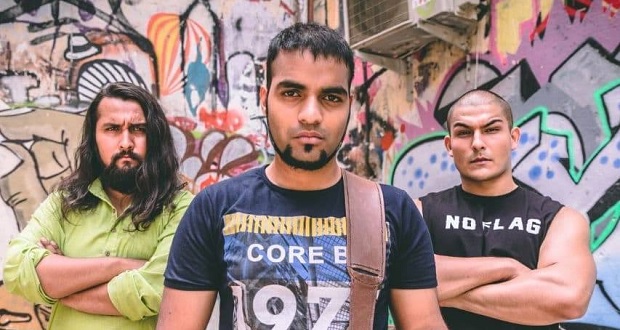 It seems that the internet is a powerful marketing tool in the music industry nowadays, and Bloodywood are a great example of this. From being a metal covers band to now being an 'Indian street metal' juggernaut, Bloodywood has travelled the world to spread their word of positivity and diversity. We took time to talk to vocalists Jayant and Raoul to talk about being metal maharajahs and what they plan to do at Bloodstock 2020 (fingers crossed).
In a nutshell, how would you describe Bloodywood?
Raoul: Bloodywood is a family and a movement as much as a band. Our music is about creating a lasting positive impact on the planet.
We don't get many metal acts from India, what is the rock and metal scene like there?
Jayant (vocals): The metal scene here in India is a bit small if you compare it to Europe/US but it's a tight-knit community which is growing fast and not just metal, the entire Indie scene is growing exponentially and with the amount of good music and talent coming from the country and obviously with the help of social media, the world is gonna see a lot of Indian artists taking up the international scene by a storm. 
You're new track 'Yaad' is a bit different to your other material, what was the thinking behind this?
Jayant: Whenever we choose a subject to address in our songs we look for something that had an impact on our life.'Yaad' is also one those songs for us that has been close to our hearts, the lyrics and the emotions behind them comes from our experiences in life and what we felt about it as we grew up to be the people we are today. People react to emotions in their own unique way so in a way you can say that when we combined our experiences and emotions, we got 'Yaad'. So the process was the same, but the outcome for some was that it sounds different.
Most of your tracks have been widely shared online, do you feel social media is very important these days?
Raoul (rapper): Definitely. People across the earth are more integrated than ever because of social media, it allows us to connect with everyone who resonates with our music and our message. It also gives us the power to act in unison and go beyond the music to create an impact. If you scroll through our comments, you'll find that the people, along with ourselves have created some of the most beautiful places on the internet. Our success has been built on the positive side of social media.
You are due to play Bloodstock (fingers crossed) do you approach international audiences differently?
Jayant: Yes we are, headlining the Sophie Lancaster stage is a huge honour and we look forward to that. The way we approach our audience is the same no matter where we are, we have received a lot of love and support from the people and we want to give that love back. Bloodywood is a family, that is us and the people who listen to us and give their love and support, you don't treat family differently, you treat the family as family. 
Hopefully, it's still going ahead. Do you think the coronavirus pandemic will have a lasting effect on the music industry? 
Raoul: We love that Bloodstock's been defiant in the face of this dire situation, hopefully, it'll be safe to go ahead. We feel this pandemic is a wake-up call for humanity, especially considering we're in the middle of a climate emergency. We will get past it, but we have to be better than before, and that includes the music industry. We promise we'll be a part of this change, if not lead it.
As you mix metal with hip hop and bhangra music (at least that's what we call it here) do you find musical inspiration from all kinds of music?
Raoul: Yeah we do, we listen to all kinds of music! And although as individuals we're partial to genres like metal, hip hop, and rock, all of us appreciate good music no matter where it's coming from. The music we create embodies this, it shows that no matter how different genres may seem they all share a connection. It may interest you to know that Karan produces for The Snake Charmer (India's most well-known bagpiper), Jayant is passionate about gentle electronic and acoustic music, and Raoul creates poetic rap music with a mission.
While we are on the subject, what do you call this music? Or don't you care about labels?
Jayant: People call us a lot of different things. We just call it "Indian Folk Metal" for simplicity because if we were to enlist every genre we blend it would be a very long label.  
You started as a covers band, do you still play covers in your sets?
Jayant: We did covers initially to get eyeballs on this little metal band from India called Bloodywood. Experimenting with the music that we create, we finally found a sound that worked well for us as well as for our listeners and that's how we started working on our originals and got a positive reception. We do play covers in our live sets, sticking with the fan favourites and that goes with our current sound of "Indian Folk Metal" we hopefully will move to an All Originals set soon.
What's next on the horizon for Bloodywood? New album? World tour?
Raoul: Our second European Tour is still on the cards, we have so much love for the people there and it feels like it's going to be on a much higher level this time, so we're hoping for the best. However, due to the coronavirus pandemic, it feels like this is a year for creation. We're already working on our next track, we haven't dismissed the idea of an album, but we're going to take it one song at a time and see where it leads. If this is a year for creation, next year will be all about performance. Nothing's planned yet, but we're more than ready for a world tour!
Bloodywood is due to play Bloodstock Festival 2020, headlining the Sophie Lancaster stage on Friday, August 7th. Go to bloodstock.uk.com for more info on the festival.