On Friday 31st January 2020 there was lots going on in London, the streets were full of anti and pro brexiteers fashioning the various flags, for it was the night that the UK left the EU. It was also the night that President Trump faced acquittal in his impeachment trial. As we got closer to Wembley's SSE Arena, the flags faded away and we ended up in a sea of Five Finger Death Punch, Megadeth and Bad Wolves band t-shirts – As it was also the night that these three bands from Los Angeles / Vegas put on one of the best shows London has ever seen them perform.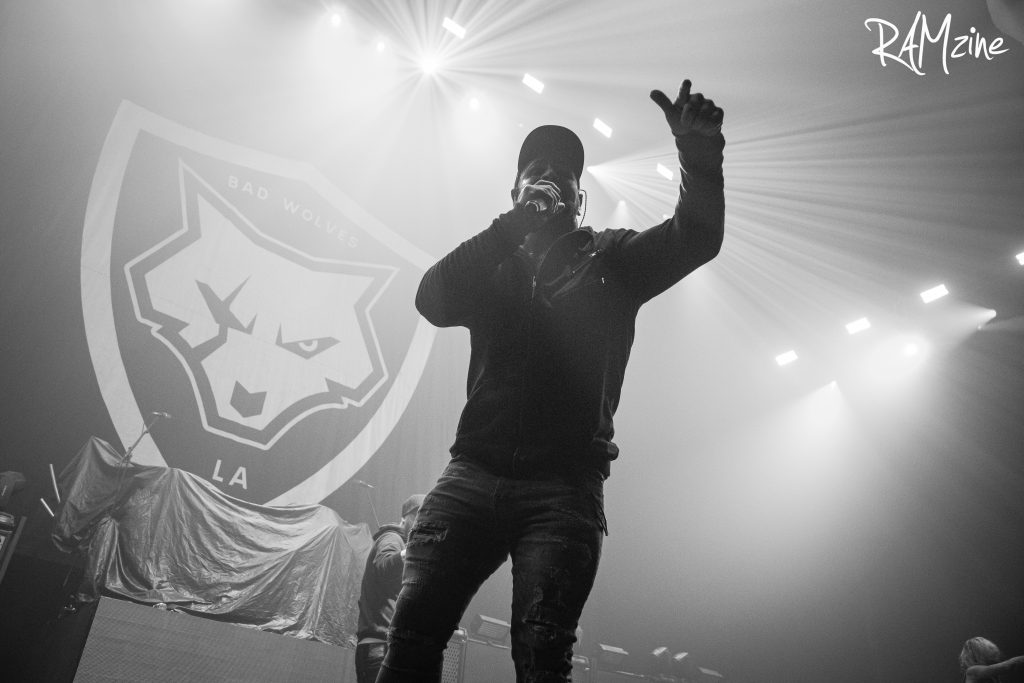 First to the stage were Bad Wolves who set the tone of the night, bringing heaviness and a sound perfect for an arena as they open with 'Killing Me Slowly'. They make a great effort to engage the whole crowd from the offset, making the enormous arena seem intimate. Frontman Tommy Vext tells the crowd "I'm a survivor of suicide" as he speaks about the importance of friends, family, healing and music. The band then play 'Remember When' which is a song about the deeply tragic and real story of how Tommy's twin brother tried to murder him. His twin was sentenced to 17 years in prison and Tommy has not seen him since the trial. Knowing this and hearing the lyrics "If I only knew, then what I know now" makes them so impactful and important, and when Tommy talks about healing through music, you see that he genuinely just wants to share his healing journey with the crowd in the hopes that it will help anyone going through anything even remotely similar. The crowd passionately sing the lyrics back to the band as Tommy holds the mic out towards them.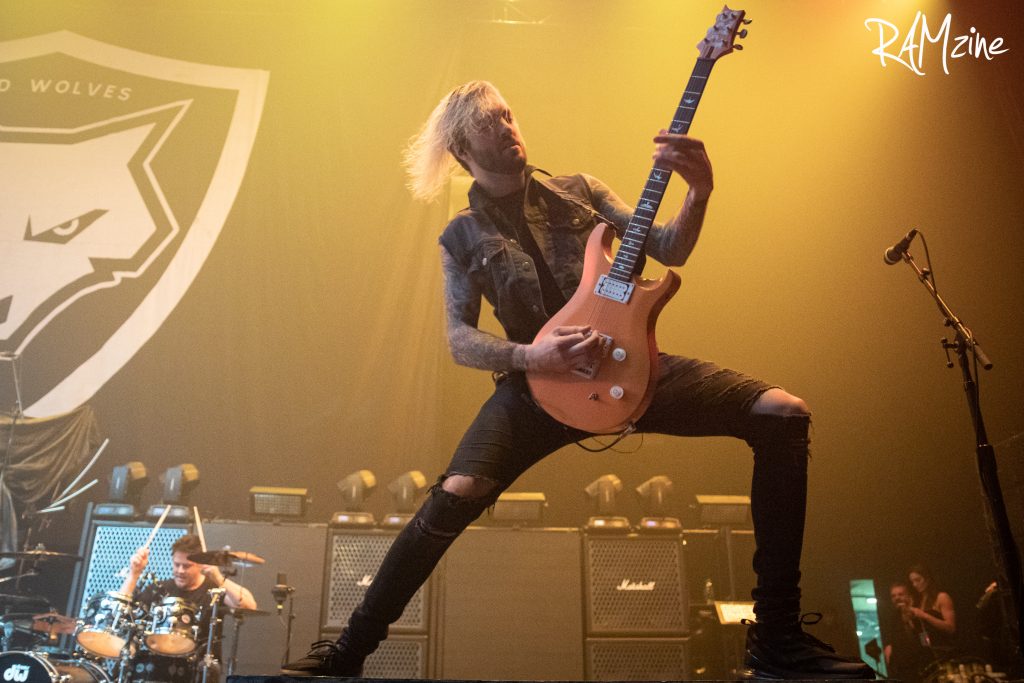 Whilst Bad Wolves have an important message behind them, they are still here "to have a good time". At one point Tommy says "Let's make it look like a Motley Crew concert" as he tells all the girls to get up on the guys shoulders. We were pleased to see some guys getting involved and up on shoulders too.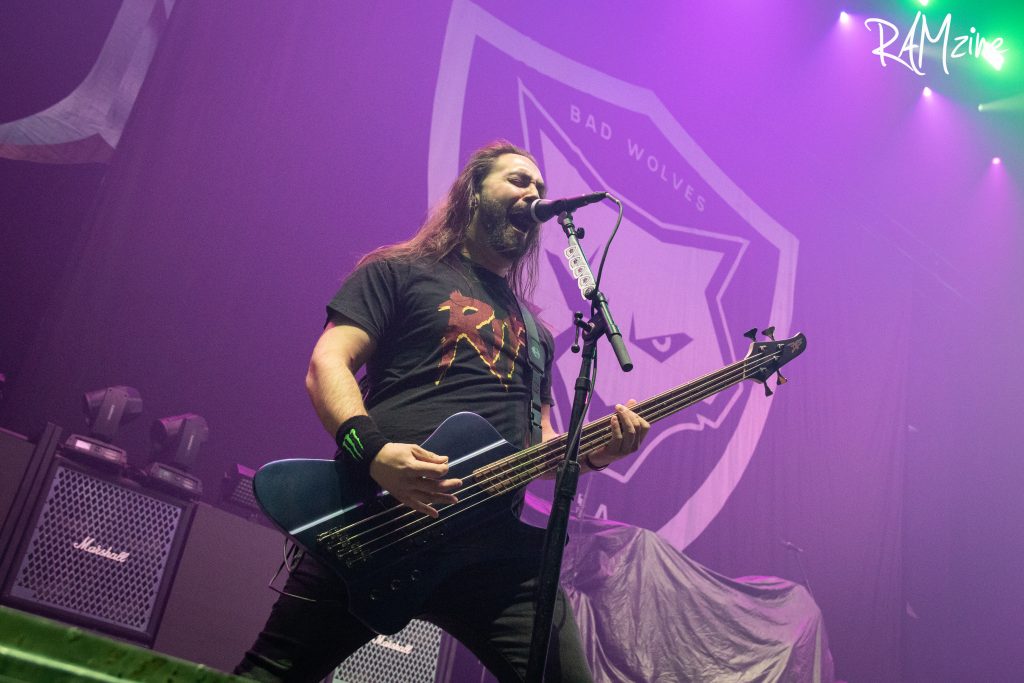 Before Bad Wolves play their cover of The Cranberries 'Zombie' which saw them rise to fame in 2018, Tommy tells us the story of how the motions were put in places at this very arena at a Five Finger Death Punch show. They had been put in contact with vocalist Dolores O'Riordan and they were due to record the cover with her the day after she tragically died. It was then that Bad Wolves decided to release the track, raising over $250,000 for O'Riordan's children. Bad Wolves is also made up of John Boecklin (Drums), who at one point joins Tommy briefly at the mic to say "Hi"; Chris Cain who is by far the most energetic Guitarist on the stage, Doc Coyle- (Guitar) who used to play in God Forbid! And Kyle Konkiel (Bass) who was briefly part of In This Moment. Together they form one hell of a band and we look forward to them returning to the UK.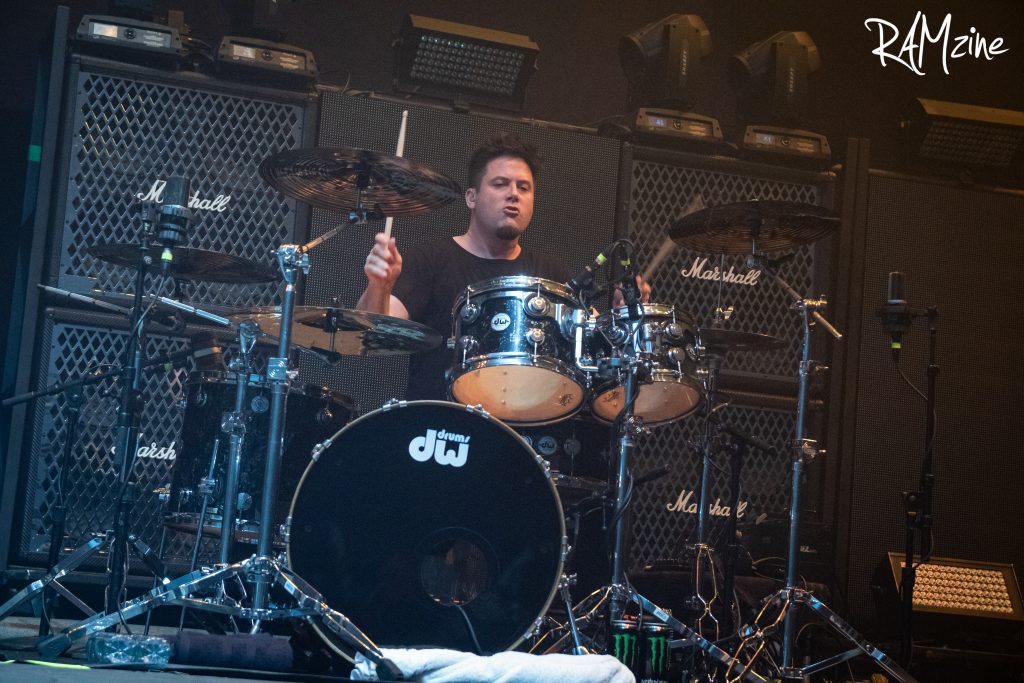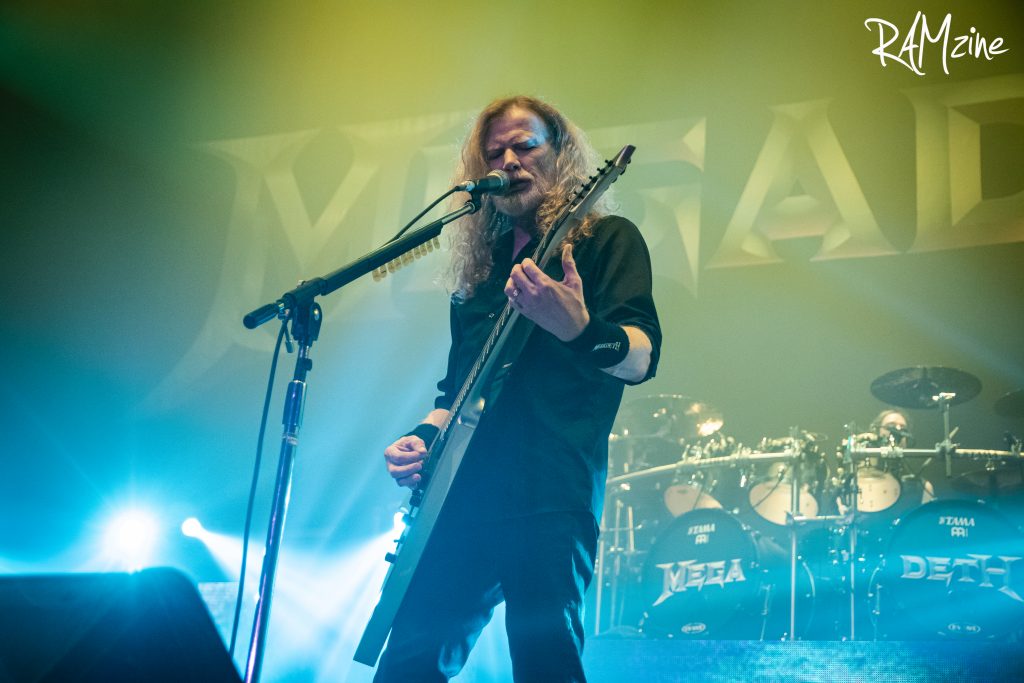 Next up is Megadeth who are of course a legendary band, shrouded in metal history, and so they automatically have respect from the crowd, opening with 'Hangar 18'. You just can't not be excited to see the familiar face of Dave Mustaine on the stage and he comes bearing good news. He tells the crowd that when he was first told that he had cancer the Dr asked if he "was afraid?" He responded to the Dr saying "No, I'm fucking pissed… I can't face not playing again". He goes on to say that he is now "100% free of cancer" clarifying that this "doesn't mean it can't come back or I'm not fucked up in the head, but I'm so excited to be back on this stage with my friends…" showing great appreciation for his fans.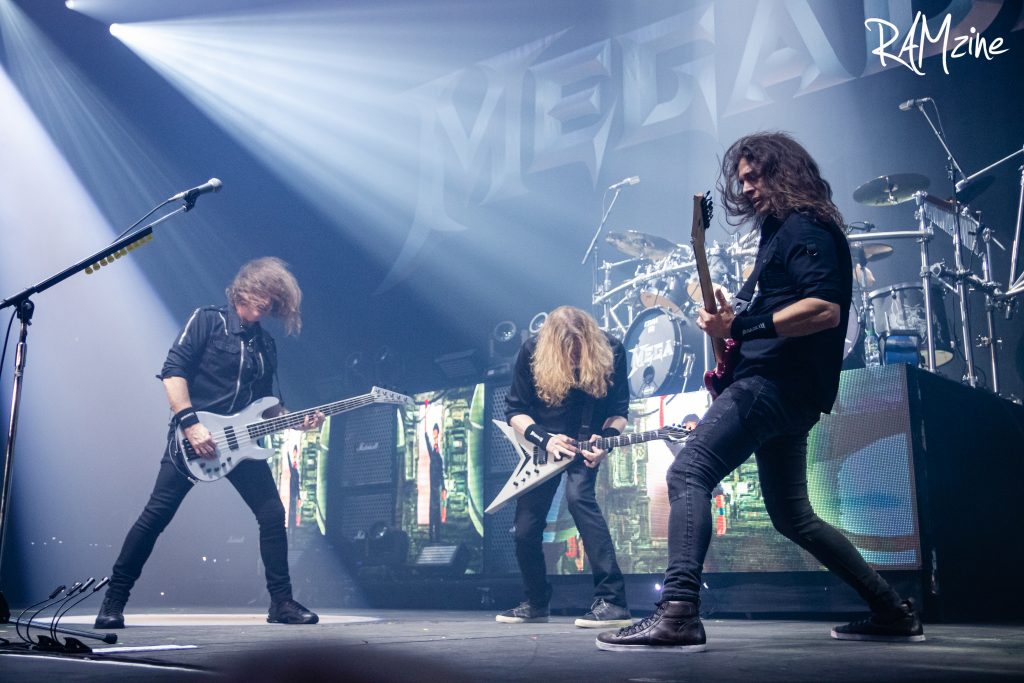 We are treated to a good range of Megadeth songs from albums across the decades, as well as 'The Threat Is Real' and 'Tornado of Souls' they play the Grammy nominated 'Dystopia' followed by 'Symphony of Destruction', 'Mechanix', and 'Peace Sells'. Megadeth end with 'Holy Wars… The Punishment Due' – It's got to be said that the guitar solo's are incendiary!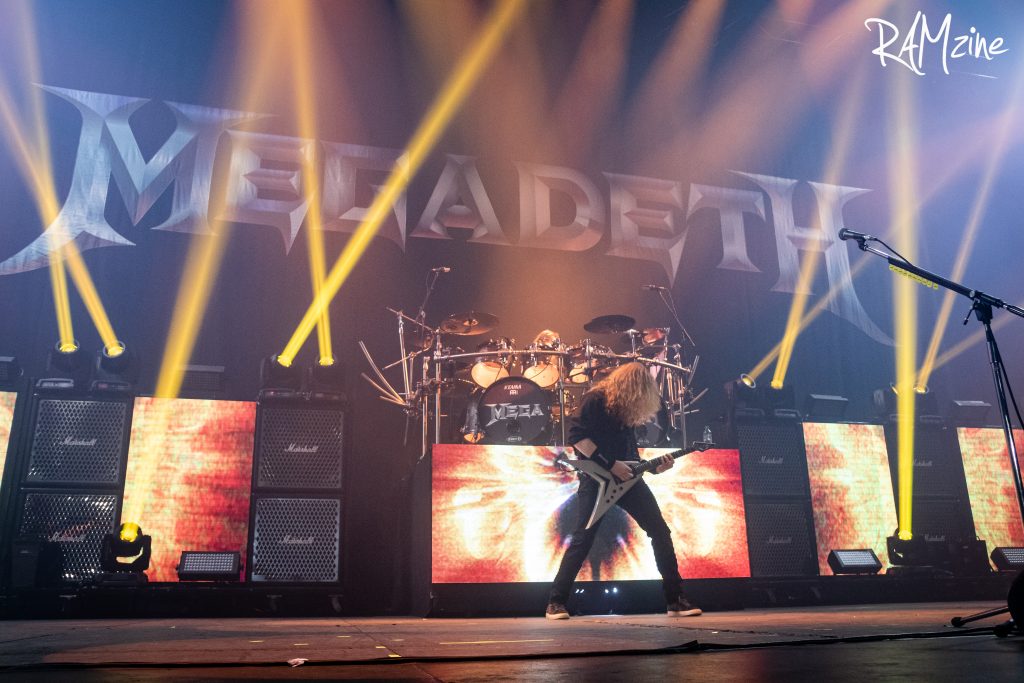 Megadeth have been working on their 16th album, which is said to be due out early next year.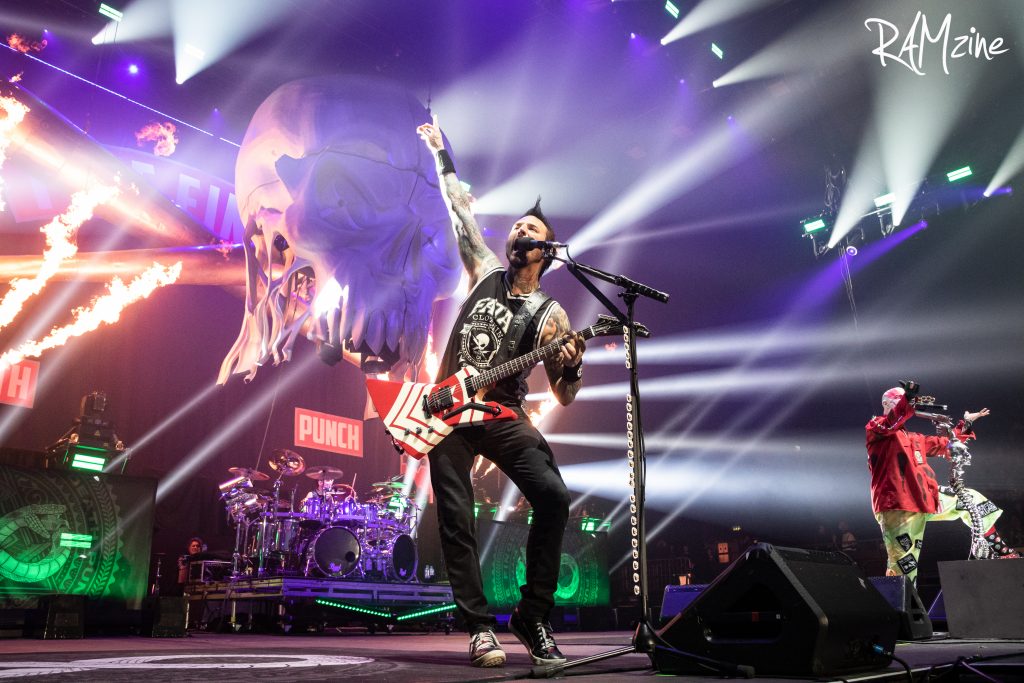 Next up is Five Finger Death Punch (FFDP) who come to the stage playing the highly energetic 'Lift Me Up' and revealing the largest skull and crossbones we've ever seen, although as per the FFDP logo, the crossbones are actually baseball bats. It's a full-on set playing hit after hit, we've got 'Trouble', 'Wash It All Away', 'Jekyll and Hyde','Sham Pain' and their popular cover of 'Bad Company'. There's barley time to grab a drink because you just don't want to miss a good song, and they're all good!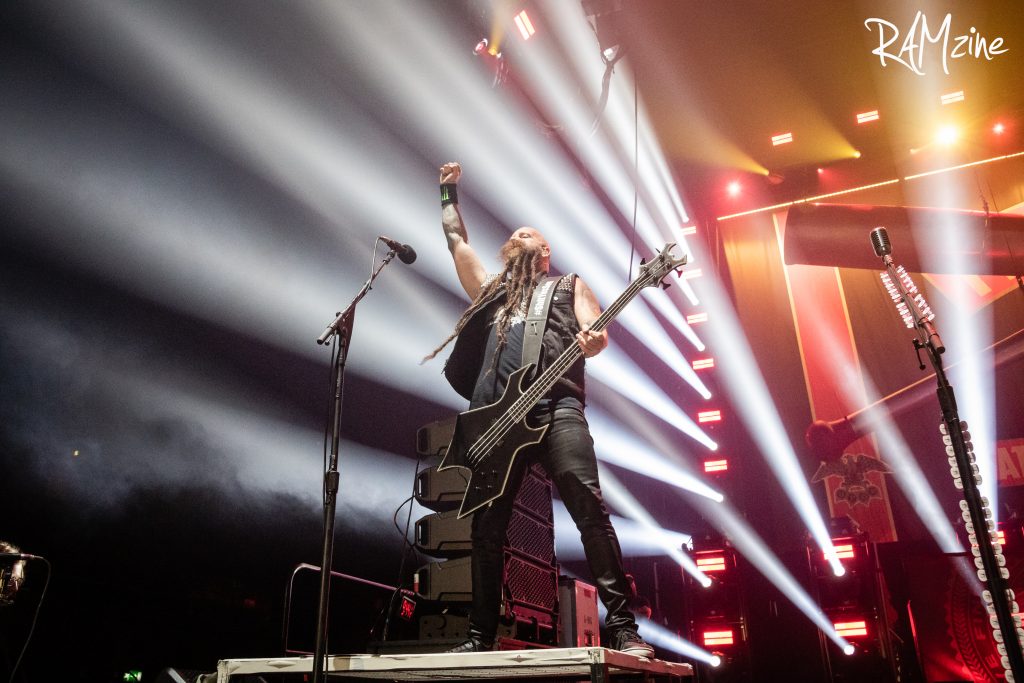 Five Finger Death Punch manage to play heavy, uplifting, badass metal and the atmosphere in the arena is so exciting – And you know what they say about bands who play great arena shows… They will be the next festival headliners! We are already seeing Five Finger Death Punch pop up on slots across the world next to Slipknot etc. The question from us Brits is… when will they headline a stage at Bloodstock or Download? It's only a matter of time.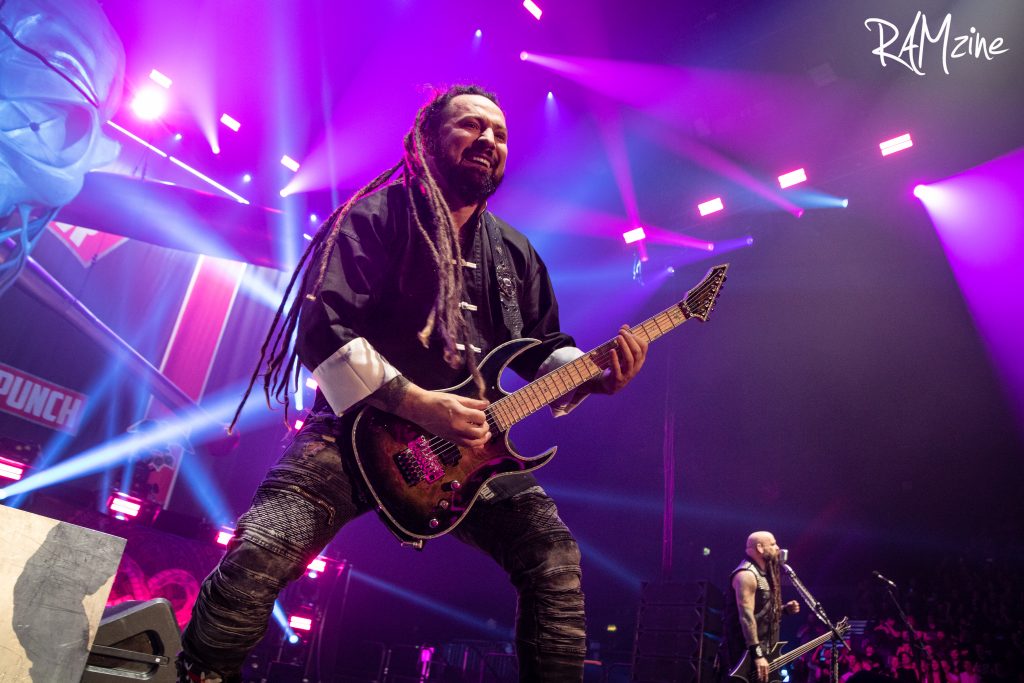 Tonight Five Finger Death Punch announced their eighth studio album F8 due on February 28 via Better Noise Music. Watch their new lyric video for 'Full Circle' from the new album here:
The 31st January 2020 will go down in history for many reasons, but we came away from this night knowing that whatever is happening out in the world, our wolve pack, droogies and knuckleheads have got our backs.