Hammerfest now a long established festival. Which this year took place in Pwhelli, Wales. We have heard rumours of the location changing, but nothing has yet been confirmed. The festival takes place at a Haven holiday site – so festival goers get to enjoy comfortable beds to sleep in, warm showers, and a kitchen. This is a whole new world of festival fun, that you must experience at least once!
This year's Hammerfest was themed 'Book of the Dead'. The first night saw metal fans dressed in Egyptian, zombie, and un-dead costumes. Thursday was a heavy night in all respects. One heavy band that really stood out to us was British thrash metal band Anihilated. They started with the first track of their most recent release 'iDeviant' titled Death To The Deviant.  Annihilated had the crowd fist pumping straight away. Lead singer Si said, "You guys are awesome, we feel at one with you" as they went into We Are Legion. "I want to see the blood of the martyr" says Si, as Annihilated destroy the crowd with 'Blood of the Martyr'. Si is a bloody good front man; he knows how to get the crowd going!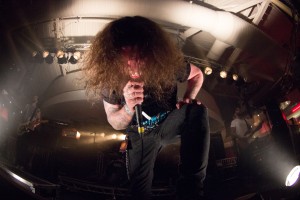 Friday
The Bastard Sons already played once on the Friday, but they came back for another set! Filling in for Black Moth – who had to pull out due to unforeseen delays. If you want to see a band with an explosive performance – then The Bastard Sons are your band. This hardcore rock and roll band are never lacking in energy. "We are the bastard f*cking sons" says lead vocalist, JJ. He sings with perfect timbre in his rock and roll voice. The crowd raise their hands in appreciation. When they play their new single O'brothel, Where Art Thou? People in the crowd are rocking the f*ck out! Most notable to the lads on a stag do. "I'm glad we played again today" says JJ, the crowd reply with a chant led by the lads on the stag do "Yes Yes Yes Yes Yes…" followed by "One More Set, One more Set…". The band finish with the circle pit is in full action. This is a band you simply must catch on their next UK run.
Opening with Kingslayer Grand Magus are welcomed to the stage. There are a group of extremely excited fans at the front, rocking out and having an amazing time. It's not long before the whole crowd is fist pumping and the crowd surfers get going. Grand Magus is an awesome rock and metal band from Sweden, and they have a huge following! The whole crowd at one point just applauding and chanting "Magus Magus Magus". Its bands like this that proves that we are all part of the same team. Fans were singing the words of 'Hammer Of The North' word for word.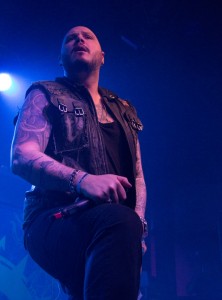 Soilwork have been together for 18 years now, so they know how to smash a festival performance. Their stage presence completely lives up to their hype! Power trio David Anderson and Sylvain Coudret are first-rate together on dual rhythm guitars. I like a band that can show emotion every time they play, not matter how times they play the same set. Soilwork are ones of those bands. "Make some f*cking noise Hammerfest" says Bjorn 'Speed' Strid'. "Soilwork Soilwork Soilwork" says the crowd in appreciation of this melodic death metal band. Soilwork finish with Stabbing the Drama. At the end of the set – in true rock and roll style David Andersson launches his guitar across the stage, which actually hits Bjoen, who launches is right back.
Tonight's headliners are New Jersey thrash metallers – Overkill. They start with Come and Get it taken from 2012 album'The Electric Age'. Overkill may be getting on a bit now, but they are still an excellent explosive thrash band, which have held their sound well over the years. Fans in the crowd raise the metal horns in appreciation of this band who co-exsited alongside Anthrax and Helloween in the 80's. They play Wrecking Crew from 1987. There is something so classic and preserved about this band that can't be re-created. Perhaps it's their experience, but there is something from the 80s that is so hard to re-create in a performance for new bands. It's also rare for a band to be able to pull off the authentic 80s metal evil laugh. The crowd chant "Overkill Overkill Overkill" and Bobby Blitz replies, "How are you doing Hammerfest". Overkill play Electric Rattlesnake,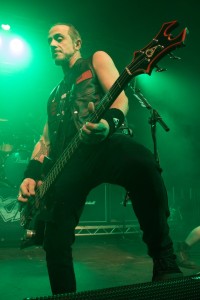 another track from 2012's 'The Electric Age' – it's to this song we see crowd surfers being delivered to the front of the stage. Bobby Blitz teases the crowd, offering a fight. "When was the last time your grandfather kicked your ass" he says knowing how to get the crowd pumped.
"Whether we know each other from the past or you are new to us tonight, we are all part of the same team" say Blitz.
Interestingly when we spoke to Blitz before the show, we asked if Overkill reach out to the younger generation and new fans (interview coming soon). "Leave all those troubles behind and headband" say Blitz. Overkill is the perfect example of a band representing the metal team. Tonight we feel united as metalheads. They play signature track In Union We Stand. This song backs up that metalhead team union. One metalhead raises his leather jacket to show his overkill back patch. The band leaves the stage, and the crowd chants "one more song…". Overkill comes back with another song, 1991's Horoscope. Overkill finish with a cover of The Subhumans song F*ck You. Blitz does a fantastic job of screaming "We don't care what you say F*ck You" in his still pitch-perfect 80s voice. Everyone has his or her middle finger in the air for this one.  
Saturday
Feed The Rhino seem to be making it through all levels of the rock and metal fandom. The younger generation love them, and now the older crowd also appreciates them too. The crowd are on full moshing duty for Feed The Rhino – the guys in the crowd on the stag do making another appearance in dominating the pit. At one point Lead singer Lee Tobin gets in the pit to rock out with everyone. With the Jager bombs very reasonably priced at Hammerfest (2 for £5) it's safe to say that the alcohol is flowing well this afternoon. There are people in the pit rocking the f*uck out, but also making friends. The crowd surfers are out! "You need to go fucking ape shit" says lead singer Lee – and the crowd do, the pit explodes.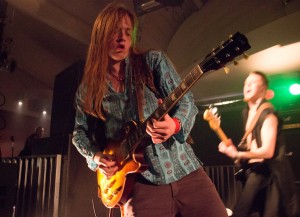 The Vintage Caravan – Hippy by fashion, Rock and blues by sound, f*cking mental by stage performance! Opening with Craving, the first track off of their new album 'Voyage'. This is their very first UK festival appearance. These guys are adept musicians. On first listen you would expect the band members to be a lot older, but perhaps that's because they manifest 60's blues and 70s hard rock. You may have seen the bands most recent video for Expand your Mind where lead singer Óskar licks a rabbit to get high. My favourite part of the set has to be when someone in the crowd shouts out "Lick a F*cking Rabbit". Lead singer Óskar Logi Ágústsson has a way of making crazy face expressions, which come across sometimes comical. As a major classic rock band fan, this band even though fairly new compared to the classics, excite me much in the same way as those classics do. 'Voyage' is a exstramly well-polished, pure rock album. Make sure you pick up a copy.
Breed 77 are a band that we all know, we loved them 10 years ago and we still love them now. They Start with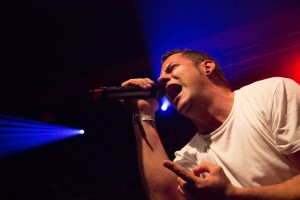 Individuo taken from their 2004 studio album Cultura. "This is a song called Calling Out" says Paul Isola (lead vocals) as they go into their second track. "We are celebrating 10 years for our first album coming out. It came out before Facebook, Insta-shit." The crowd now charged and rocking the f*ck out.
"At places like this it doesn't matter what haircuts you have and what bullshit publications feed you crap. We are still here 10 years later".
We spoke to Paul and Danny after the show they said that they were referring to certain well-known publications. They explained that they support publications such as RAMzine. "Breed77 are still alive and kicking today…this is from our new album The Evil Inside, are you gonna get down with your friend's breed 77… Or is everyone saving their energy for Linkin Park at Donnington" says Paul, as they play Drown. They then play Breed 77 classic Insects, followed by their well know cover of The Cranberries, Zombie.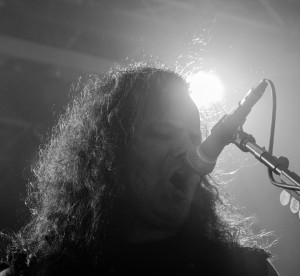 Kreator with their zombies and the un-dead stage set-up, start with Mars Mantra, taken from their 13th studio album 'Phantom Antichrist'. The crowd-headbang in complete synchronisation. Kreator put on a good stage show, with dramatic smoke being blasted upward from the stage fast and furiously. "Hammerfessssttttt Kreator has returned" says lead vocalist Miland "Mille" Petrozza, "I only have one question for you Hammerfest are you readyyyyy". It wouldn't be a metal festival without a wall of death and Kreator create the biggest wall of Hammerfest – a monumental pit erupts. Kreator are thrash at its best. They are fast, loud, and consistent. So fucking awesome. All the metalheads in the room have their hands raised in appreciation of the gods standing before us. The crowd chant the band name.  "Thank you very much…, it feels good to be back in the UK" says Mille.
"I truly believe that religion and politics is pulling people apart. But music brings people of all different cultures together" says Mille.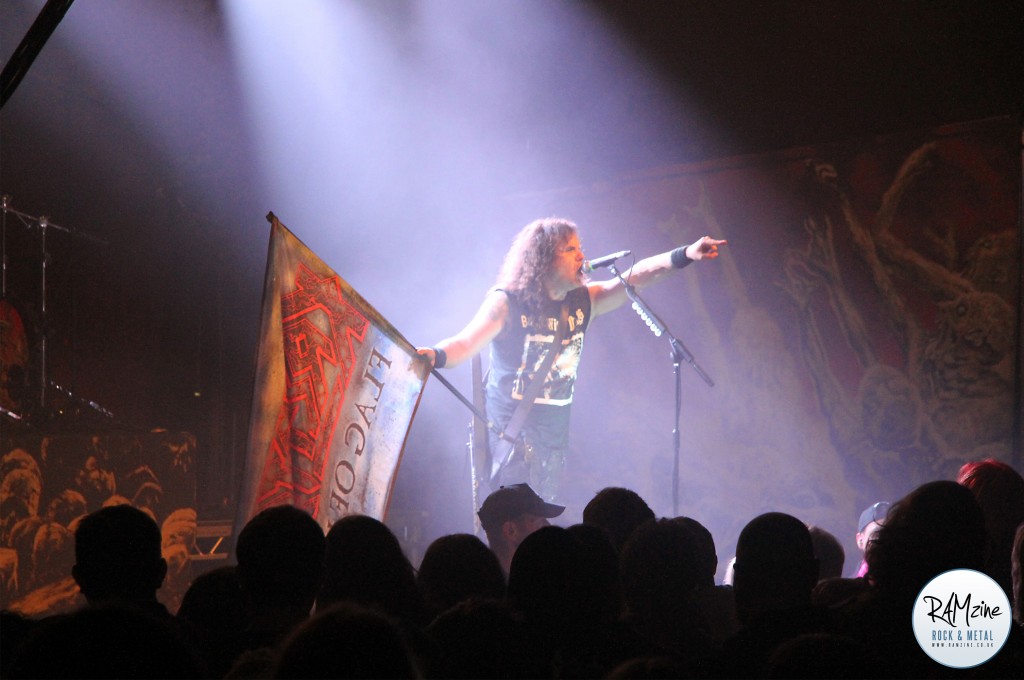 There seems to be a theme this weekend and that is metalheads sticking together, we will not be spoon-fed bullsh*t. Metal in a genre that doesn't create bullsh*t – it is to the point. "This song was created in 1985…. It's time to raise the flag Hate" says Mille as the band goes into their classic track Flag of Hate.
With Thanks to…
RAMzine Journalist: Adam Hemmings
Review by RAMzine Editor Victoria Purcell