Navigating further into the depths of Wales, the blue skies faded and the terrain became more rugged as we drew ever nearer to Hard Rock Hell for its tenth instalment. Seeding various spin-offs throughout the year – HRH Blues, HRH AOR, HRH PROG to name but a few – this is the original and, some might say, the best.
HRH events have the feel of a festival run by fans for fans; there are certain things that set it aside from the more 'corporate' feeling festivals, things like spelling and grammar mistakes in marketing material and signage, and the exclusive and very 'clubby' Dark Circle. Simmering beneath the surface, there is also a sense of proud defiance, as if it is known that there are spelling mistakes, sound issues and timing problems, but it doesn't matter. And, when all is said and done, it doesn't; it is, after all, about the music; this is the over-riding vibe of the event.
Hard Rock Hell is one of the most laid back and friendliest rock festivals on the UK rock festival scene, not to mention one of the most comfortable. There are always a few sound and timing issues, but there is no real sense of angst at any time – people just seem to roll with it.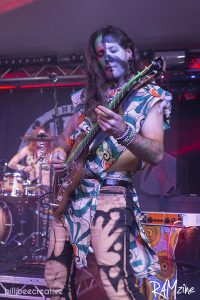 The three-day festival saw a familiar crowd gather to don their denim and leather, and watch some of the finest acts to never break through, some up and comers, and a few veterans of the rock world: the excellent Bernie Marsden (former UFO and Whitesnake), Graham Bonnet (Rainbow and Alcatrazz), Ratt, Ugly Kid Joe, Praying Mantis and Hayseed Dixie shared the main stage while smaller, less established acts such as the incredible Black Aces, Dorje and Vodun took to the second stage for more intimate delivery. The women in rock were well represented with bands like The Amorettes, whose sloppy delivery was put to shame by the likes of Joanovarc and Vixen. Also present this year, was circus-style entertainers Igor Rasputin's Caravan Of Lost Souls.
These things are never without incident; for example, Glenn Hughes cancelled his entire European tour after support band, Living Colour, who did still play main stage on Saturday, got moved to support Alter Bridge on their European tour. Despite the challenges faced by the organisers, it was again a resounding success.
Grab a FREE copy of RAMzine, which includes a 5-page spread of the festival
here
!