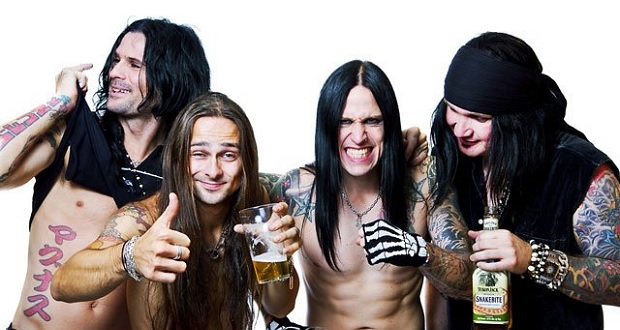 Hardcore Superstar -the Swedish four-piece that had the balls to merry thrash metal and sleaze rock in to a successful formula for party animals. Since their first album in 1998 Hardcore Superstar have been touring with rock and metal royalties all over the world and have performed on massive stages and festivals too. Today we get to catch up with vocalist Joakim 'Jocke' Berg before their co-headline show with Fozzy in London.
Hi Jocke, how's this European tour going so far?
Really good, it's been quite packed every night. I will never forget Belfast, what a crazy crowd!
Were you guys friends with Fozzy before the tour? And what do you think about this collaboration?
We never met Fozzy before but turns up they are really nice guys and we are getting along very well. I think it's a good mix because we don't play exactly the same kind of music even if it's still rock. So in a way it's great that our audience gets to listen to two different types of rock 'n roll.
Other than the current tour, what has been your favourite tour?
We did a co headline tour with Michael Monroe last year in the States and I think that was awesome. Also that was our first time as a band in the States after ten years. We sold out Whisky A Go Go two nights in a row which was pretty exciting. We have been knowing Michael for at least twenty years now so it was the perfect combination.
Is there a particular band you are eager to play with in the future?
My dream tour would be a co headline tour with Death Angel, they are one of my favourite bands.
Which has been the most memorable date on this tour, so far?
The most insane place must have been Belfast. As I said before the crowd was shouting our name throughout the whole gig and the support was amazing.
You have recently released a new single called 'Have Mercy On Me' and I've heard about a new album coming up, can you tell us more?
We have recorded fifteen songs and maybe eleven of these will be on the new album which will be called 'You Can't Kill My Rock 'N Roll'. This record will represent a return to our roots, there's a lot more party songs, so it's going to be typical Hardcore Superstar!
All your past albums have got that something different, is it hard to be innovative after twenty years?
Yes, of course. But in a way we stopped thinking about what people want to hear and now it's more about the songs we wanna do and play. I believe that if people see us having fun on stage they'll have fun too.
What do you think about today's hard rock and metal scene?
There's a lot of cool new bands out there today, to mention one I like Inglorious, they have an awesome singer. Although I grew up with Ronnie James Dio, Lemmy and there's nothing like that anymore. It's hard to think that there's gonna be bands like those in the future sadly.
How do you usually prepare for the show in terms of set list and pre or post show rituals?
I usually need two hours to myself before the show so I can do all my things without stressing. I put my stage clothes on, do my make-up and then I do my vocal warm up for at least one hour.
What's your plans after the tour?
We are releasing a new single on the 13th of December and a video with that. Then we plan to head out in Europe again next year, hopefully USA and Japan too. Plus there's gonna be the new album and we are also going to play a few festivals.