So the day many rock and metal fans thought would never happen has happened – as they wake to the news that Ian 'Lemmy' Kilmister has died of an extremely aggressive cancer after just being diagnosed on Boxing Day.
Lemmy died just four days after his 70th birthday on Christmas Eve. He was born in Burslem, Stoke on Trent in Staffordshire, but spent most of his time living in Los Angeles, California.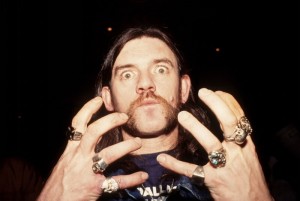 His career started in the 60's – 70's, taking off more in the 70's when he joined Hawkwind as a bassist and vocalist, and later forming Motorhead for which he is now well known. His microphone uncomfortably positioned high had become his trade mark, although Lemmy said it was a comfort thing when the band first started out saying "It was also one way of avoiding seeing the audience. In the days when we only had ten people and a dog!"
Lemmy lived the rock n roll lifestyle drinking a bottle of Jack Daniels a day since he was 30, as well as partaking in LSD, Cocaine and Amphetamines, stating that after traveling for nine hours in a sweaty truck you don't feel like getting on stage all bright and breezy, so it was the latter drug that helped him combat those 'tired' feelings.
Lemmy's legacy will live on in the hearts of millions of fans and it is an extremely sad time knowing that this legend has left the room and he won't be coming back!
I remember writing to him in the 80's when he took over from Tommy Vance doing the Friday Rock Show and I said "Lemmy can I have your autograph? If not your records are going in the bin!" (A joke of course, as I will always treasure my Motorhead vinyl collection). The very next day a hand written envelope arrived containing his autograph – because that was the kind of guy Lemmy was!
Lemmy's contribution to the rock and metal world will never be forgotten – Rock in Peace – you are missed already!!