Californian bad boys Buckcherry have been rocking stages all over the world since they first formed in 1995 and tonight they are back in the UK to play Stone Free Festival together with Megadeth and Scorpions. After the departures of guitarist Keith Nelson and drummer Xavier Muriel and addition of Sean Winchester and Kevin Roentgen, this new lineup is once again ready to rule the rock scene and show that they can certainly keep up the good work. A few hours before their performance we get to chat with frontman Josh Todd who also mentions a new album in the pipeline.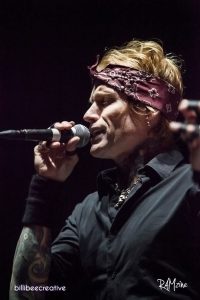 RAMzine: How do you feel about tonight's performance?
Josh Todd: So happy to be back in London, it's been a couple of years, just love it here. And it's good company, Megadeth and Scorpions, it's gonna be crazy. We've been in the UK for about a week now and the shows have been great.
RAMzine: Has the UK had a special meaning for you over the years? And if so, why?
Josh: Yeah it sure does. Well, first of all we had to travel so far from home and to come here and be so welcomed every time it's great. The UK is not a radio driven market like it is in the USA, people get really into your body of work, they are not just interested in the singles which is really cool. Our fans here are very involved, wild and they get into the spirit of Buckcherry. Americans are spoiled, we get a lot of entertainment you know, don't get me wrong American crowds are great and they love us as a band but yeah as I said the main difference is that here you can play the most obscure songs and they'll like them as much as the singles.
RAMzine: What is a song you'll never get bored of playing live?
Josh: Oh wow it's a good question. There's a song called 'Slammin' that I never get bored of 'cus it's just right in my wheelhouse vocally and I like the groove, it's fun to dance too.

RAMzine: You had a recent change of line-up, how's that working for you?
Josh: It's great, we've had a few minor changes over the years and I think change is good. You know I'm not one to live in the past so we always make the band better every time we go through a line-up change, you'll see they are the best players we've ever had.
RAMzine: You released your last album in 2016, is there any new record in the pipeline?
Josh: There is, we wrote about thirty songs for a ten songs record so it's gonna be pretty good. We are gonna go record in September and it'll be out in the first quarter of 2019. We've been playing one of the songs live for about three weeks now called 'The Vacuum', it's a good song and a taste of the record. Overall this is gonna be a well rounded Buckcherry record, every song is good and I think people are gonna be pleased.
RAMzine: What are the main three things you bring on tour?
Josh: These boots which have been re-soled three times, I think I have done well over a thousand shows in those and I feel very comfortable when I put those on. I always bring a round tambourine and I have my jewellery box. The picture you see on it is one of my daughter when she was three and it's been there for a long time, she's twelve now. There's something about this child, because I have three, but I always bring something of hers which makes me feel closer to home.
RAMzine: Is there any band out there you'd like to play with in the near future?
Josh: There's so many good bands out there. I'd love to do shows with the Foo Fighters but I don't know if they'll have us, let's see who else… I wish Rage Against The Machine would do a tour and a record that would be a really great tour for us but they won't probably take us out either as we are so rock. I don't know, we played with a lot of bands but we would play with anyone. We have a really good tour coming up in the States called the 'Gen X Tour' with POD, Lit, Alien Ant Farm. It's a good package!
RAMzine: What's your plan for the rest of the year?
Josh: To do the 'Gen X Tour' like I said, we are gonna record the new album in September and then we are gonna do sporadic dates here and there till the end of the year, probably going to South America and then we are gonna come back here in the new year. Keep an eye out for the new record!