London-based sleazy punks The Smoking Hearts (originally from Bedfordshire UK) are a 5 Piece Rock 'n' Roll band who have promised to bring excitement and danger to audiences – right from the start.
Formed by friends Nobba Green (guitar) and Simon Barker (guitar), as a musical outlet for their sweaty punk fuelled rock alter ego personas – The Smoking Hearts were soon joined by drummer Matty Taylor and singer Rodd Lethal. After releasing a successful and enjoyable début album 'Pride of Nowhere' their vocalist Rodd suddenly quit from the band. He was replaced by Essex hardcore legend Ben Mills (from The Take Over.)
Since then the band have caused havoc across the globe – bringing their explosive and anarchic antics to unsuspecting cultures far and wide. RAMZINE talked to Ben Mills from The Smoking Hearts about rampage, revolution and the band's new album 'Victory' (out March 25, 2013):
RAMZINE: You have recently joined the Bomber Music family – what are your expectations from the deal?
TsH: "Well we signed with Bomber because of their reputation for signing bands they care about and believe in. The deal with bomber is all about getting our music across the UK and Europe with a label that believes in The Smoking Hearts as much as we do!"
RAMZINE: We heard that your live performances contain a certain amount of unbridled criminal damage – smashed guitars and drum kits – is that because you get caught up in the excitement of each performance?
TsH: "Our shows are wild, … [Laughs] We're all big kids so we just behave how anyone would if they were with their best friends listening to heavy music. Sometimes things just get a little bit out of control … there have been times where none of us are left on the stage. But the real fun is in the crowd. We never wanna hold back 'cos who knows when your last show could be? And as far as partying goes, we try and have a party in the van every night of the tour. We plug a lap-top into the telly in the van and have karaoke sometimes too- only on special occasions though."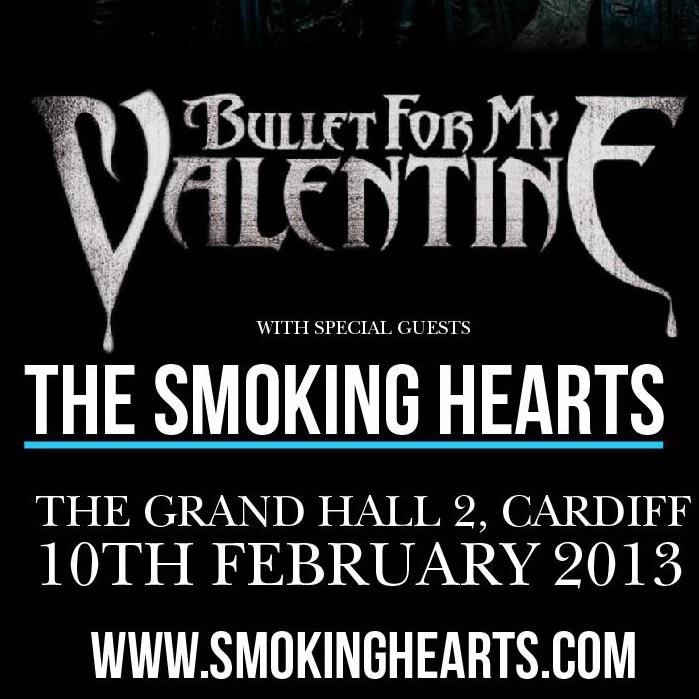 RAMZINE: Do you think you will be able to curb the destructive tendencies when you find yourself in concert with 'Bullet For My Valentine'?
TsH: "We never go out with the intention of causing 'destruction'. We're an energetic band and hopefully the kids will feed off it. To be fair most times we play a show and the bullet boys are in attendance they cause the most damage."
RAMZINE:How do you avoid being blacklisted by venues and hotels/guest houses etc. When you are on the road?
TsH: "By showing respect, we don't break venues just ourselves and our stuff. We have a lot of friends we meet on the road that give us places to stay, so we have a lot of love for those people."
RAMZINE: So, tell us about your album 'Victory'. (Out March 25, 2013) Why this title? What does 'victory' mean for the band?
TsH: "Victory! Is a victory. We worked so hard on that record and it just feels great to have it ready to release. It couldn't be called anything else."
RAMZINE: Is 'Victory' a call to arms? Or is it a celebration of your successes?
TsH: "It's the shape of things to come. It's proof of the hard work we've put in as a band."
RAMZINE: How does 'Victory' compare with 'Pride of Nowhere' your previous record? In what way has the group progressed since March 2010?
TsH: "It's a massive leap, I wasn't involved in pride of nowhere. But I was a fan of the band and that album is awesome, but victory towers over it."
RAMZINE: You may still be as rebellious as ever – but would it be fair to assume that there is more quality and substance to be found in your newer work?
TsH: "The new album is better… but I wouldn't say 'Pride of Nowhere' lacked quality or substance."
RAMZINE: We understand that the plans for your album launch for 'Pride of Nowhere' went awry… ( a big power outage) – Are their plans for a major launch party for 'Victory'? How will you avoid any snags?
TsH: "We'll be doing a week of shows to launch the album, including London, Bournemouth and some others. We're celebrating in style."
RAMZINE: NME suggest that The Smoking Hearts are 'The kind of band who'd make sweet love to your sister and then thieve your Poison Idea records afterwards…' Is this a fair assessment?
TsH: "Nah! We don't have a record player! Maybe steal your Meat Loaf records though!"
RAMZINE: You have been favourably compared to 'Cancer Bats' and 'Gallows' – do you think that these comparisons have merit?
TsH: "There is definitely some merit … We're all heavy as fuck – and we all have killer riffs!"
RAMZINE: How important is it for you to have a sense of humour in your work? What is your work/play ratio when recording / rehearsing ?
TsH: "Play the set, have a cigarette, have a beer, argue about something silly, call each other names, play the set again… [ Smiles ] Repeat that until we're too drunk or too tired!"
RAMZINE: You are famous for your fierce energy, undeniable courage and relentless gigging – How do you maintain this hectic pace? Any tricks you should share with us?
TsH: "Tricks?! Nah! We're knackered at the end of each tour! Just sleep when you can, and never turn down a shower!"
RAMZINE: As the self appointed 'Pride of Nowhere' – Do you think of yourselves as having somehow escaped the little-Middle England suburbs and made a stand for others?
TsH: "I come from Southend in Essex. There are so many good bands in this town. CB6, Hospitals, the Deathskulls and the Milksnatchers to name a few. Hopefully more people will take note of the bands we're listening too."
RAMZINE: Would it be fair to describe the band as counter-cultural symbols of rebellion – or is that too heavy? Is revolt really what you are all about?
TsH: "We want to start a revolution… a march on shit music, style over substance reigns supreme in the metal scene. Bands like 'Black Veil Brides' and 'Motionless In White' – who dress up like the 80's threw up on Marilyn Manson – are ruining real music. Leave the theatricals to the masters. It disgusts me to see people like Ronnie Radke [Falling in Reverse] or whatever his name is, exploit fans and treat them like shit, we owe our fans everything and we'll never forget that."
RAMZINE: We wish you great success with 'Victory' and we are looking forward to seeing you perform live soon …
Thank you The Smoking Hearts!